Dark skin during pregnancy
Changes to your skin during pregnancy
beginning of content

3-minute read

Listen

As your pregnancy develops, you may find that you experience changes to your skin and hair. Some women can develop dark patches on their face and hormonal changes can make your skin a little darker.

You may also develop stretch marks on your body, particularly around your stomach where your skin is stretching to accommodate your growing baby.
Chloasma - dark patches on the face
Some pregnant women develop dark irregular patches on their face most commonly on the upper cheek, nose, lips, and forehead. This is called 'chloasma'. It is also sometimes known as 'melasma' or the 'mask of pregnancy'.
Chloasma is thought to be due to stimulation of pigment-producing cells by female sex hormones so that they produce more melanin pigments (dark coloured pigments) when the skin is exposed to sun.
Some women develop these patches when they take oral contraceptives (the pill).
Women with a light brown skin type who are living in regions with intense sun exposure are more likely to develop these patches. The patches usually fade over a period of several months after giving birth, though they may last for several years for some women.
Careful protection of the skin using broad spectrum sunscreens every day during pregnancy and while taking the pill may make it less likely that chloasma will develop. It is necessary to continue to use sunscreen after pregnancy as sun exposure may cause the patches to reappear. Some creams that need to be prescribed by doctors may help to fade the patches.
Skin and hair changes
Hormonal changes taking place in pregnancy will make your nipples and the area around them go darker. Your skin colour may also darken a little, either in patches or all over. Birthmarks, moles and freckles may also darken. Some women develop a dark line down the middle of their stomach, called 'linea nigra'.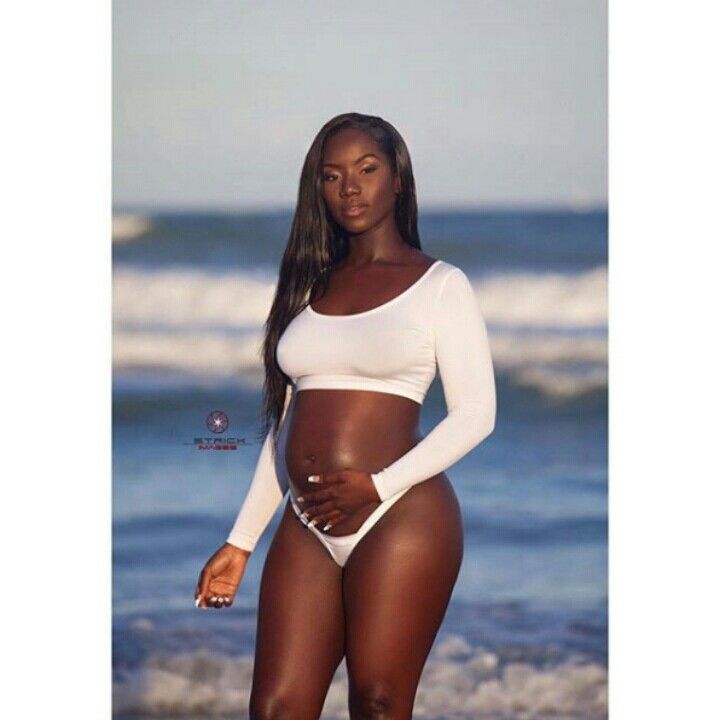 These changes will gradually fade after the baby is born, although your nipples may remain a little darker.
If you sunbathe while you are pregnant, you may burn more easily. Protect your skin with a good high-factor sunscreen and don't stay in the sun for a long time.
Hair growth can also increase in pregnancy, and your hair may be greasier. After the baby is born, it may seem as if you are losing a lot of hair but you are simply losing the extra hair.
Stretch marks
Many women develop stretch marks during their pregnancy, usually in the last 3 months.
They usually appear on your stomach or sometimes on your upper thighs or breasts. Stretch marks are not harmful and over time, your skin will shrink and the stretch marks will fade into white-coloured scars.
Find out more on stretch marks.
Sources:
Royal Women's Hospital Victoria (Common concerns in early pregnancy - itching and skin), The Australasian College of Dermatologists (Striae), The Australasian College of Dermatologists (Melasma)

Learn more here about the development and quality assurance of healthdirect content.
Last reviewed: January 2020

Back To Top
Related pages
Common discomforts during pregnancy
Stretch marks
This information is for your general information and use only and is not intended to be used as medical advice and should not be used to diagnose, treat, cure or prevent any medical condition, nor should it be used for therapeutic purposes.
The information is not a substitute for independent professional advice and should not be used as an alternative to professional health care. If you have a particular medical problem, please consult a healthcare professional.
Except as permitted under the Copyright Act 1968, this publication or any part of it may not be reproduced, altered, adapted, stored and/or distributed in any form or by any means without the prior written permission of Healthdirect Australia.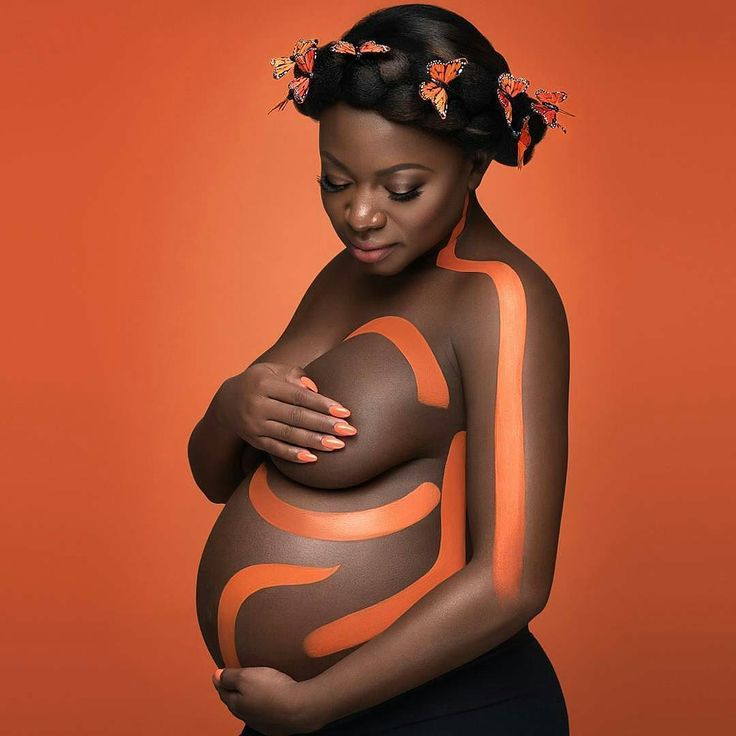 Support this browser is being discontinued for Pregnancy, Birth and Baby
Support for this browser is being discontinued for this site
Internet Explorer 11 and lower
We currently support Microsoft Edge, Chrome, Firefox and Safari. For more information, please visit the links below:
Chrome by Google
Firefox by Mozilla
Microsoft Edge
Safari by Apple
You are welcome to continue browsing this site with this browser. Some features, tools or interaction may not work correctly.
Skin Darkening During Pregnancy: Dealing with Melasma
Are you pregnant and noticing dark spots on your face, arms, or legs?
Pregnancy comes with a lot of changes. But one of the most shocking can be your skin and freckles getting darker.
In this article, we're going to discuss melasma (also known as "pregnancy mask"), one of the little-discussed symptoms of pregnancy.
We'll talk about why it happens, if it's normal, and what we can do if it happens to us.
Table of Contents
Is Skin Darkening During Pregnancy Normal?
Causes of Melasma
Can I Prevent Skin Darkening During Pregnancy?
9 Remedies That May Help
Will It Go Away After Pregnancy?
The Bottom Line
---
Is Skin Darkening During Pregnancy Normal?
Although it may not be one of the most talked-about pregnancy symptoms, skin darkening, known as melasma or chloasma, is entirely normal. It is sometimes referred to as "the mask of pregnancy" because it often appears on the face, especially the forehead, nose, and cheekbones (1).
But while the face is the most common area for discoloration to occur, it can happen anywhere on the body. Skin darkening is also common in areas often exposed to the sun, like your arms and legs, as well as your underarms, where friction can easily occur (2).
Another common pregnancy symptom, the linea nigra, is thought to occur because of the same process.
Causes of Melasma
Just as estrogen causes hair growth during pregnancy, and progesterone can cause bloating, hormones are also the likely cause of skin darkening. But no one is entirely sure which hormone is the culprit.
Melanocytes are the skin cells responsible for pigment. Melanocyte-stimulating hormones increase during the second and third trimesters. Some experts believe that melasma it is caused by increased progesterone during pregnancy because it is fairly common in menopausal women who take progesterone supplements (3).
Others think it is the increased estrogen levels that increase the production of melanin (4).
Who Gets It
The one thing experts agree on is skin darkening in pregnancy is more common in women who already have increased skin pigmentation, including women of African, Asian, and Latin American descent (5).
Can I Prevent Skin Darkening During Pregnancy?
Unfortunately, you need the increased hormones that likely cause melasma to help your baby develop and grow. Estrogen, for example, helps your baby develop normally, while progesterone helps your uterus thicken and be a healthy environment for your baby .
Because these hormones are essential for your baby's development, there is nothing we can do to entirely prevent skin darkening during pregnancy.
But while we can't prevent melasma from happening, there are things we can do to stop it from getting worse.
1. Take Your Vitamins
Folic acid is an essential prenatal vitamin for pregnant women because it helps prevent neural tube defects. It can also help reduce your baby's risk of cleft lip and palate and certain heart defects and can help reduce your risk of preeclampsia (high blood pressure during pregnancy).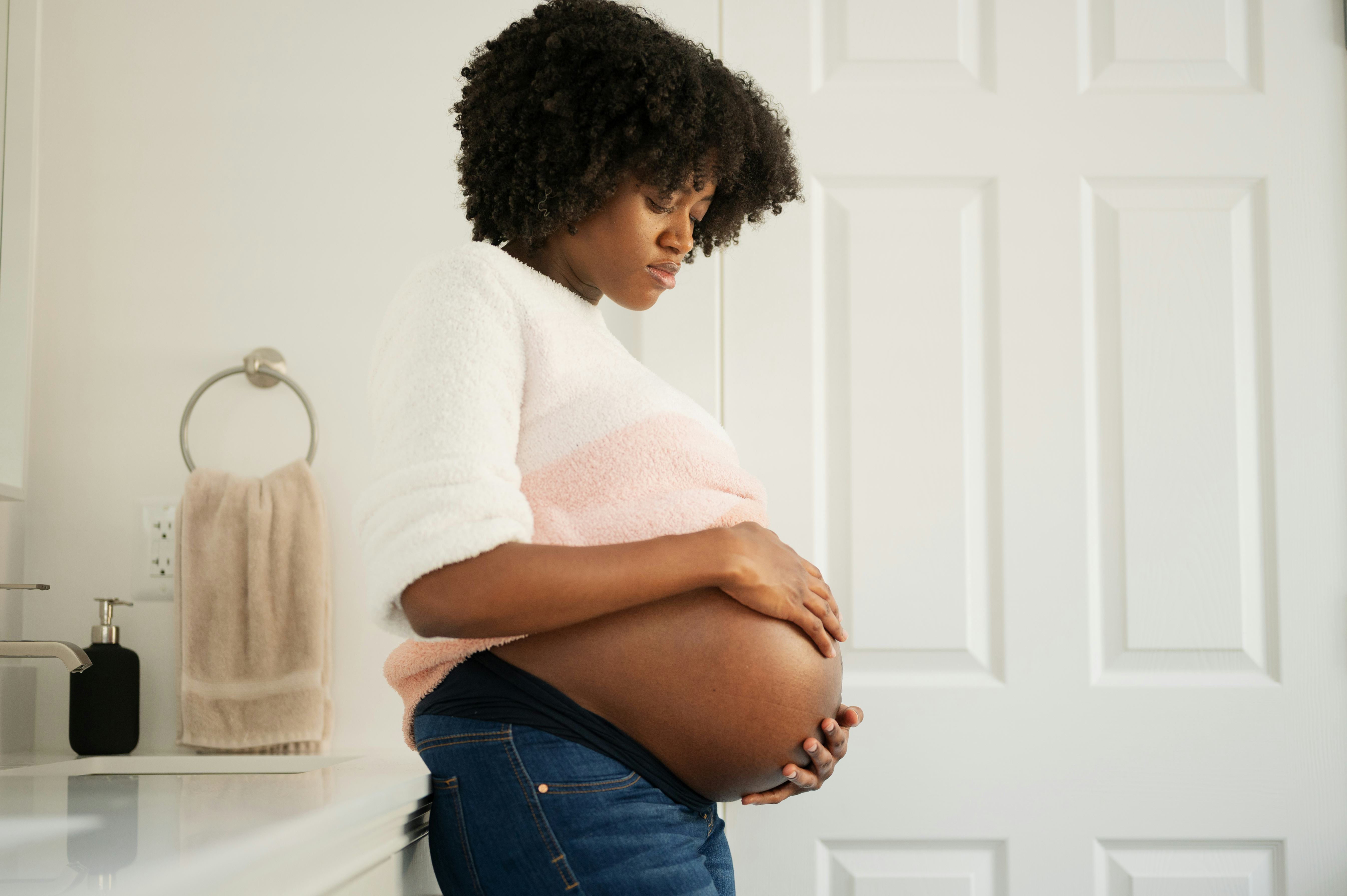 While skin darkening is not nearly as important as your baby's brain health, folic acid also has another little-known bonus use — it can help prevent hyperpigmentation.
2. Cover Up
While sun exposure can help you obtain a summer glow, it also has a nasty side effect of making already dark areas of your skin darker. If you already have patches of skin discolored by melasma, exposing them to the sun can make them worse.
To prevent this, keep your skin covered. Long sleeves, pants, and wide-brimmed hats can help keep the sun's rays off your skin and prevent the melasma patches from getting darker.
3. SPF Is Your Friend
If you're pregnant during the summer, long sleeves and pants might not be a viable option for covering your skin and preventing melasma from getting worse.
Dermatologists recommend wearing a broad-spectrum sunscreen daily as a part of your skincare routine to prevent skin cancer. It can also prevent chloasma from getting worse.
When choosing a sunscreen, avoid those with oxybenzone.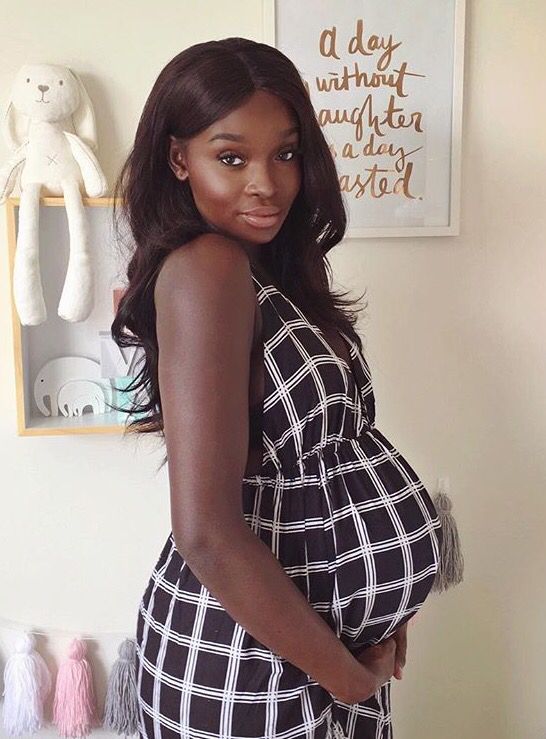 Oxybenzone can cause low birth weight and problems with the baby's hormone levels, which could lead to developmental problems.
An SPF sunscreen of 30 or more can block out 97 percent of the sun's UVB rays (6). Apply it to your face every morning along with your other skincare products and to any area of your body that will be exposed to the sun. Take care to reapply every two hours while exposed.
Remember
Are you going to be working up a sweat or out in the sun throughout the day? Bring your sunscreen with you to reapply it every two hours.
4. Say No To Waxing
While hair growth is another common symptom of pregnancy, it doesn't always occur in the areas we want it to. To not look like an extra in Planet of the Apes, many women seek ways to get rid of it.
But if your extra hair growth has you heading to the waxing salon, you might want to reconsider.
While waxing is safe for both mom and baby during pregnancy, it can also cause skin inflammation, which can make hyperpigmentation worse.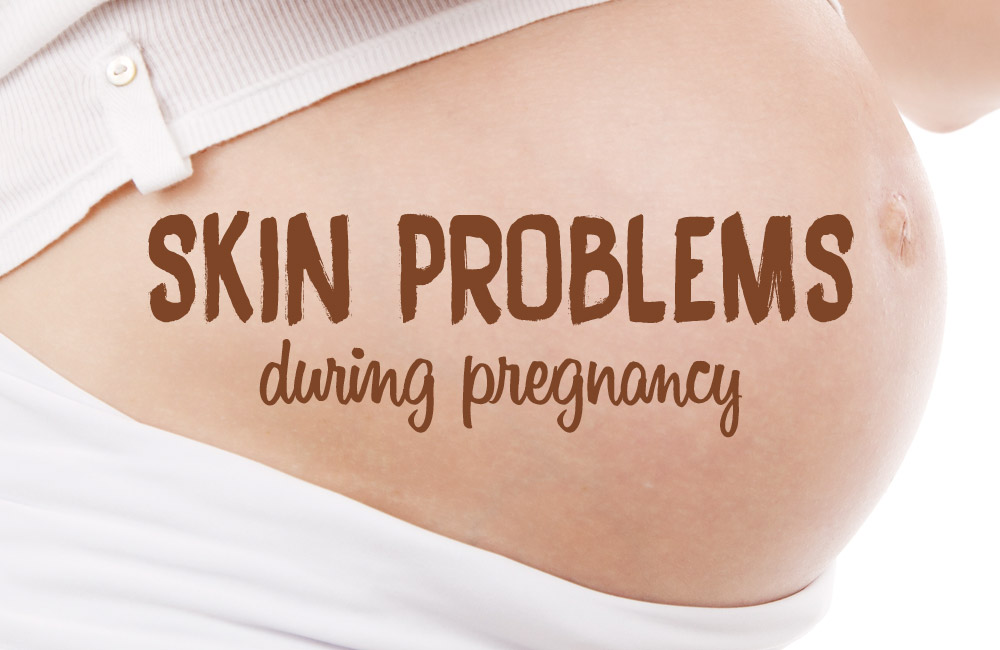 5. Choose Your Skin Care Wisely
While your favorite lotion might have a scent that reminds you of rainbows and butterflies, if you're suffering from melasma during pregnancy, chemical-free and fragrance-free soaps and skincare products are the way to go. The fewer chemicals in your products, the less likely they are to react negatively to the sun on your skin. And since your skin is more sensitive during pregnancy, this will also help prevent other problems such as breakouts.
You may be tempted to try products with hydroquinone or retinol to lighten up those dark spots, but those are not safe during pregnancy. Using these products is safe only after pregnancy and after you are done breastfeeding (7).
9 Remedies That May Help
The best thing to do if you are suffering from melasma is to try to prevent it. But if you're looking for a way to help get rid of hyperpigmentation that has already popped up on your skin, there are some remedies that may help.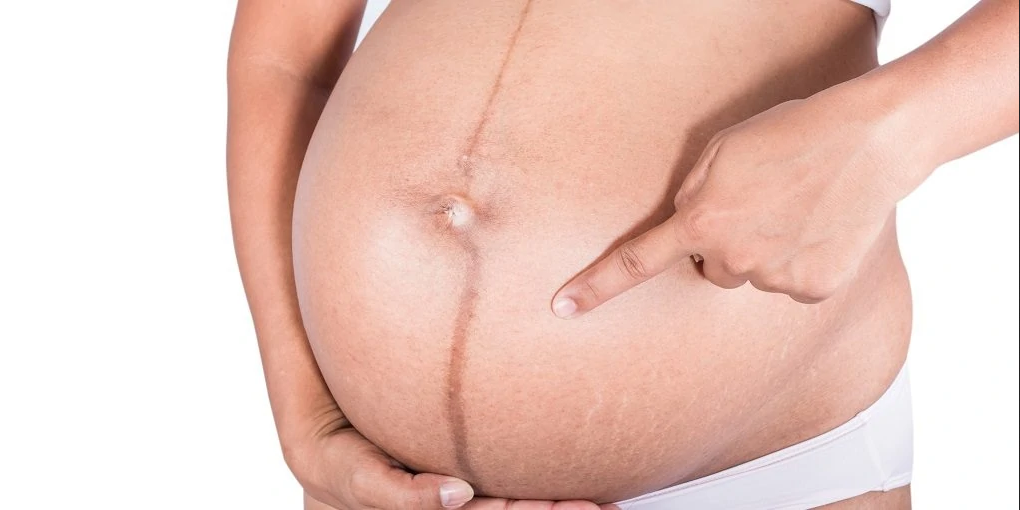 Many of these remedies can be harsh on sensitive skin due to the acids they contain.
Before applying them to large areas, make sure to test them on a small section of skin first to ensure you won't have a reaction.
Exfoliate: Exfoliating once a week can remove dead skin cells, which are often darker than the healthy skin cells underneath. It also may help increase the penetration of the other remedies you may try.
Potato: Cut a potato in half and rub the juice into melasma spots to help lighten the skin. Do this daily for the best results.
Aloe: Pure aloe vera gel, whether bottled or straight from the plant, can help lighten dark spots. Apply the gel directly to areas of hyperpigmentation, let it sit for 15 to 20 minutes, then gently wipe it off with warm water. For best results, repeat this process daily.
Yogurt: Yogurt contains lactic acid, which has bleaching properties that can help even out melasma spots. Apply plain Greek yogurt to your face like a mask, let it sit for 10 minutes, then rinse off gently with warm water.
Onion: Onions contain many sulfur compounds called sulfoxides, which can help lighten dark spots left by hyperpigmentation. To use this method, quarter an onion and place it in a blender. Once it's blended, squeeze out the juice, and rub the juice directly onto clean skin. Allow the juice to dry for 15 minutes, and rinse off with warm water. Use daily for best results.
Apple cider vinegar: Apple cider vinegar contains acetic acid that can help lighten your skin. Dilute the ACV with an equal amount of water, and apply it directly to problem areas.
Milk, honey, and dried orange peel: Orange peels contain calcium and vitamin C and can help whiten dark spots on your skin. Process orange peels in a blender, then mix with milk and honey to form a paste. Use this as a mask to help lighten dark spots while also nourishing and pampering your skin.
Tomato and oatmeal: Tomato juice can help lighten areas of hyperpigmentation because it contains vitamin A, and oatmeal can help exfoliate and remove dead skin cells that are darker than the healthy skin underneath. Mix these two to form a paste, and apply it like a mask. Leave it on for 20 minutes, then rub it into your face to scrub. Rinse off with warm water. You can also add milk or yogurt to this mask to give it more nourishing properties.
Lemon: The citric acid in lemon juice has bleaching properties that can help make dark spots disappear. Cut a lemon in half, and rub the juice directly onto the affected area. Leave it on for 20 minutes for the best results.
Will It Go Away After Pregnancy?
Are you losing sleep at night wondering if these dark spots will remain on your skin forever? The good news is most women will see dark spots fade as their hormone levels go down after their baby is born.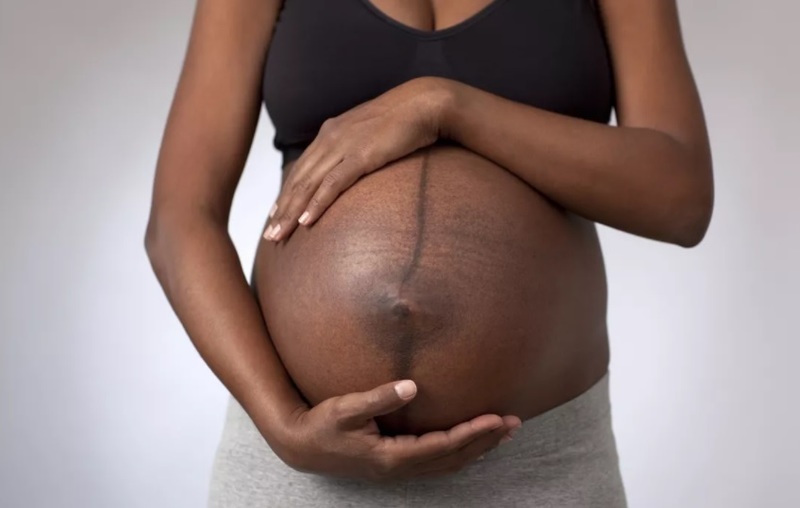 Beware, though, because one in ten moms will find this condition worsens when taking hormonal contraceptives after giving birth (8). So, if you suffered melasma during pregnancy, talk to your doctor about what birth control will help you prevent this from occurring.
---
The Bottom Line
Hyperpigmentation is the last thing you want to deal with when pregnancy has already put things like nausea and heartburn on your plate. We get it!
While there is nothing we can do to stop skin darkening completely, with the tips and tricks listed in this article, you can help keep it to a minimum and help lighten any hyperpigmentation that has already occurred.
Feedback: Was This Article Helpful?
Thank You For Your Feedback!
Thank You For Your Feedback!
What Did You Like?
What Went Wrong?
Pigmentation during pregnancy: how to get rid of it - Parents.ru
Pregnancy responsible for skin coloration. The appearance of such signs suggests that a woman is pregnant.
Whether the spots appear dark or light, depends on the original skin color. These marks, characterized by clear edges and irregular shape, are called melasma or chloasma by doctors.
During pregnancy, they can appear both on the face (on the forehead, chin, around the eyes, on the upper part of the cheeks, on the upper lip), and on other parts of the body: on the inner thighs, areolas of the mammary glands, on the abdomen.
"Mask of pregnancy" on the face: what is it
In some areas, the skin begins to darken in the very early stages of pregnancy. Sometimes the manifestation of this particular symptom prompts a woman to think about pregnancy. First, the nipples and areolas around them, the area of ​​​​the labia and the clitoris darken.
In the second trimester, pigmentation becomes brighter and some expectant mothers get the so-called "pregnancy mask" - pigmentation occurs on the face during pregnancy. The spots appear on the cheeks, on the nose, on the forehead, cheekbones, under the eyes, above the upper lip and on the chin and can be arranged symmetrically.
If a woman is prone to the appearance of freckles, then you need to be prepared for the fact that during the bearing of the baby they will become brighter, and their number will increase.
Pigmentation during pregnancy on the abdomen appears at about the same time. This brown stripe, which stretches from the navel to the pubis, the so-called Alba stripe, exists in every woman, it just becomes more noticeable during the bearing of the baby.
Why pigmentation occurs
The color of human skin depends on many factors, but the most important is the concentration of coloring substances, or pigments, one of which is melanin. It accumulates in special molecules called "melanosomes", which act as a natural filter that protects the top layer of the skin from the harmful effects of ultraviolet rays.
During pregnancy, the production of melanin changes, because the adrenal glands begin to synthesize more estrogens, progesterone and melanocyte-stimulating hormone. Because of this, more melanin is released, which is concentrated in certain areas of the skin.
As a result, the woman develops hyperpigmentation.
Occasionally, chloasma is caused by oral contraceptives taken before pregnancy or a lack of folic acid. Pigmentation can also indicate problems in the functioning of the liver, pituitary gland, ovaries, incorrect cosmetic procedures, the use of low-quality cosmetics or perfumes. Stress also plays an important role in the appearance of spots on the skin.
Genetics also matter. If the mother had such a problem during pregnancy, then it is possible that age spots during the period of bearing the baby will appear in her daughter.
Expectant mothers often ask how pregnancy pigmentation affects the baby. If its cause is not an exacerbation of chronic ailments, then age spots will not have any effect on the unborn child.
Photo

Konstantin Aksenov/Shutterstock
Age spots during pregnancy: a boy or a girl?
There is a popular belief that age spots during pregnancy appear more often in expectant mothers of girls.
This is justified: a girl developing in her stomach takes estrogens from her future mother, and their level in the woman's body decreases. But how then to explain that age spots appear in expectant mothers of boys? In a word, than to guess according to folk signs, it is better to do an ultrasound. It definitely won't go wrong.
How to reduce the risk of age spots
Age spots are a temporary phenomenon, but not so pleasant. What rules should the expectant mother follow in order to reduce the likelihood of their occurrence?
Since pigmentation becomes more noticeable under the influence of ultraviolet rays, protect the skin from the sun: in summer, wear wide-brimmed hats, sunglasses, use sunscreen intended for children;

Carefully read the ingredients list of cosmetic products and choose those that do not contain vitamin A, which stimulates the formation of age spots: : green leafy vegetables, cabbage, quality vegetable oil, cereals, fish, liver and beets;

But fatty foods are best avoided, because they make the liver work in an enhanced mode, and this threatens with hyperpigmentation.

Do not disregard the recommendation of the gynecologist to visit an endocrinologist. This is necessary to check the functioning of the thyroid gland.
Will we be treated?
Many experts believe that during pregnancy you should not take any drastic measures to combat hyperpigmentation, and advise you to calmly wait until it disappears by itself some time after childbirth. But among the doctors there are those who do not mind the use of traditional medicine. In that case the expectant mother should understand that it is unlikely that it will be possible to completely get rid of this problem during the bearing of the baby, the pigmentation will only become less noticeable. And most importantly, before using any remedy, you must always consult a doctor.
These tips, of course, do not apply to cases where chloasma is caused by an exacerbation of chronic diseases. If this is the reason, serious attention should be paid to the treatment of the disease and strictly follow the recommendations of the attending doctor.
Photo

And-One/Shutterstock
Do Home Remedies Work? You can moisten a cotton pad with freshly squeezed juice of parsley, cranberries, cucumber, onions, strawberries, red currants, raspberries, sweet peppers and lubricate the stains with it. You don't need to rinse the juice.
Lotions:
mix lemon juice with two tablespoons of honey, moisten gauze in this solution and hold on face for about 20 minutes, then rinse with water;

Soak gauze in fresh curdled milk, apply on face and wash off after 20-25 minutes;

mix milk and sour cream in equal proportions, soak gauze in the solution, apply on face and rinse with water after 20 minutes.
Masks:
grind the whitening berries listed above into a pulp and apply this mask on the stain for 15 minutes;

apply kefir on the stain and rinse with water after 15 minutes, then grease with freshly squeezed parsley juice;

chop fresh cucumber, apply on the stain and rinse with cool water after 20 minutes;

chop the parsley into a pulp, apply on the face and wash off after 30 minutes.
You can also use special cosmetics for age spots, specially designed for expectant mothers. But here, too, caution and medical advice are needed.
Pigmentation during pregnancy is not a disease
Waiting for a little baby is the most magical and unique period in a woman's life. The expectant mother becomes mysterious, sensitive, caring and unhurried.
The body of a pregnant woman is changing every day, and this is natural - after all, a small defenseless little man is growing under her heart, whose life and health largely depend on her mother.
A woman already from the first weeks of pregnancy notices changes in her body: the shape is rounded, the breast becomes one size larger and more sensitive than before.
Pigmentation is a fairly common phenomenon during an interesting situation. The appearance of pigmentation on the face and body excites many women.
Some of them are interested in the causes of pigmentation on the skin, while others are trying to find ways to get rid of it.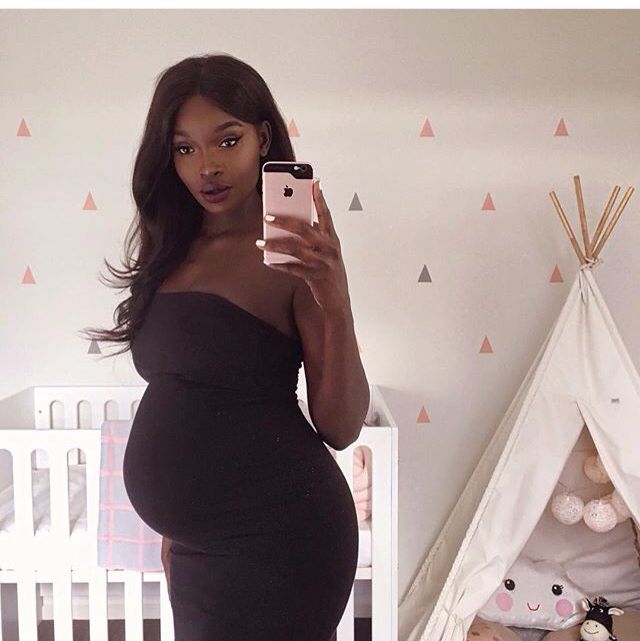 Pigment is a brown coloring matter. Pigmentation is more common in brunettes and dark-skinned women.
There is a popular belief that if a woman's skin deteriorates during pregnancy and age spots become noticeable, she will be a girl! But it is hardly possible to believe in it one hundred percent. Skin pigmentation is a temporary phenomenon, like pregnancy itself, and age spots also happen with boys in the tummy.
Brown spots in pregnant women are called differently: chloasma, mask, hyperpigmentation of the skin. Pigmentation most often appears on a woman's forehead, cheeks, chin, and also happens above the upper lip. A woman can also notice pigmented areas of skin with sharply defined edges on the neck, chest and tummy in the form of a thin strip. If earlier, with the beginning of spring, you had freckles on your face, then most likely their appearance will intensify during pregnancy as a kind of manifestation of pigmentation.
What causes pigmentation during pregnancy? Of course, this is a hormonal restructuring of the body of the woman herself, changes in the work of all organs, primarily the adrenal cortex and pituitary gland.
There are opinions that pigmentation is a genetic phenomenon, and also takes place in case of a lack of folic acid in a woman's body.
In order to prevent and prevent the appearance of pigmented areas of the skin, pregnant women are advised to take quite affordable preventive measures:
reduce the amount of time you spend in the sun. Bright sunlight has beneficial properties, thanks to which vitamin D is constantly produced in the body, but even a short stay in the open sun can provoke pigmentation. If possible, wear light clothing that covers the body, as well as use sunscreen for children with a sufficiently high degree of protection;
carefully monitor your own health, avoid hypothermia and colds;
limit the use of cosmetics as much as possible in the summer to avoid the appearance of pigmentation and allergies;
take complex vitamins specially formulated for pregnant women, especially folic acid;
eat right, include more vegetables, fruits, cereals and dairy products in your menu;
avoid stressful situations, do not get nervous and do not "wind" yourself over trifles.
Experts believe that when pigmentation appears while expecting a baby, a woman should not take measures to remove them and especially worry about this, she should try to calmly accept these changes in the body, because the spots disappear, as a rule, on their own within two months after childbirth. But for a woman in an interesting position, even such harmless spots can ruin her mood and bring her to tears.
You always want to be beautiful and well-groomed!
If during pregnancy you were "lucky" to become a carrier of specific age spots, then here are some tips to make them less noticeable:
You can prepare a mask of kefir and lemon juice. Apply such a mask to the skin, hold for about 15-20 minutes, then rinse thoroughly with warm water;
gentle curd mask is a reliable helper in the fight against age spots: mix cottage cheese with curdled milk, apply this mixture on your face for 15 minutes, then rinse thoroughly with boiled water;
cucumber mask is good for whitening age spots.