Gay couple families
Same-sex Parents and Their Children
Studies estimate that between 1 and 9 million children in the United States have at least one parent who is lesbian or gay. There are approximately 594,000 same-sex partner households, according to the 2000 Census, and there are children living in approximately 27 percent of those households.
It is difficult to obtain an accurate count of same-sex parent families because many lesbians and gay men are not open about their sexual orientation due to fears of discrimination, such as loss of employment, loss of child custody, and antigay violence. There is not a "usual" gay family. Some same-sex couples may decide to have a child within their relationship, while others may bring children from previous heterosexual or same-sex unions. The rise in same-sex parenting is partially due to the increase in options available for same-sex couples to become parents. Although most children of same-sex couples are biological children of one of the parents, a growing number are the result of donor insemination, surrogacy, foster care and adoption.
Most research studies show that children with two moms or two dads fare just as well as children with heterosexual parents. In fact, one comprehensive study of children raised by lesbian mothers or gay fathers concluded that children raised by same-sex parents did not differ from other children in terms of emotional functioning, sexual orientation, stigmatization, gender role behavior, behavioral adjustment, gender identity, learning and grade point averages. Where research differences have been found, they have sometimes favored same-sex parents.
For example, adolescents with same-sex parents reported feeling more connected at school. Another study reported that children in gay and lesbian households are more likely to talk about emotionally difficult topics, and they are often more resilient, compassionate and tolerant. The same concerns that face many heterosexual parents when they are deciding to have children also face same-sex parents including time, money, and responsibilities of parenthood.
Likewise, many of the parenting tasks faced by same-sex parents are similar to those faced by heterosexual parents, such as providing appropriate structure for children, while also being warm and accepting, setting limits, teaching open and honest communication, healthy conflict resolution, and monitoring of child's peer network and extracurricular activities. Some differences may include adapting to different types of family forms, the impact of social stigma on the family, and dealing with extended family members who may not be supportive of same-sex parenting. One of the biggest challenges facing same-sex parented families is that they must live in a culture that supports heterosexist and homophobic attitudes and beliefs, which can affect these families in a variety of ways. A second complication is that these families are usually part of a blended family and include children from previous heterosexual marriages. Some of these families may deal with disagreement from other family members about the authenticity and validity of their family patterns.
Lack of support from a previous heterosexual partner or the other biological parent can cause major conflict and distress within the family system.
Today, there are many therapists available who specialize in gay and lesbian issues and provide a safe, nonjudgmental and understanding environment for the family. Frequently, gay and lesbian parented families will seek therapeutic help for guidance, support, and recognition that they may not be receiving from the broader social arena. Major issues affecting same-sex parented families that are often addressed in therapy:
Lesbian and gay parented families may have concerns about discrimination in parenting and custody arrangements. A parent's minority sexual orientation and/or gender identity status may be brought up in custody disputes as a reason to restrict or deny custody by the children's other parent and/or by the courts.
The many co-parenting and blended family complexities present for heterosexual parents can also be present for same-sex parents with the additional complexities of discrimination, stereotypes, and assumptions.
Relationships and problems with non-biological parent figures are common among lesbian and gay parented families simply due to the biological complexities involved with conceiving children when parents are the same sex.
In same-sex relationships, it is common for extended family to acknowledge intimate relationships differently from heterosexual relationships; this discriminatory treatment can be confounded by parenting relationships as well. Extended family may see parenting as a necessary step in validating a relationship for same-sex couples or they may view parenting with similar biased and discriminatory views, even denying one parent's relationship to the children.
Explaining relationship status and family make-up to school professionals, medical professionals, children's friends/parents, as well as explaining relationship status and family make-up to children, can be uniquely complex for same-sex parents. Though many family relationships may be complex, explaining family relationships is uniquely complex for lesbian and gay parented families because of the lack of societal norms and relevant examples in media, stereotyped notions about such relationships that are common, and the fear of discrimination faced by these families.
Competent parenting may be influenced by gay and lesbian parents' ability to accept and acknowledge their identity and how they are able to negotiate living in a heterosexist, homophobic, or otherwise discriminatory society, while rearing their children in a family unit that is not socially sanctioned. Therapists acknowledge the prevalence both of homophobia that is experienced by the family as a result of the actions of others, as well as the existence of internalized homophobia and how this may impact families. Internalized homophobia is defined as a set of negative attitudes and affects toward homosexuality in other persons and toward homosexual features in oneself. Therapists will help illustrate to the family how homophobia could be impacting them. Both internalized homophobia and experiences of outside discrimination may mean that families need more time in therapy to build rapport with the therapist and to feel comfortable disclosing personal and family-related concerns.
This text was written by Deanna Linville, PhD, and Maya O'Neil, MS.
Locate a Therapist in Your Area
Same-sex parents – two dads
Same-sex parents – two dads | Pregnancy Birth and Baby beginning of content

5-minute read

Listen

There are more same-sex couple families than ever before in Australia. More than 10,000 children live with same-sex parents in this country, and 1 in 20 male same-sex couples has children. If you are in a same-sex couple, this article will help you consider the important questions about becoming a dad.
The options for becoming a parent
Same-sex families can be created in many different ways. For example, a bisexual man may have a baby with a heterosexual woman. One or both of you may have children from a previous heterosexual relationship, or you may decide to adopt.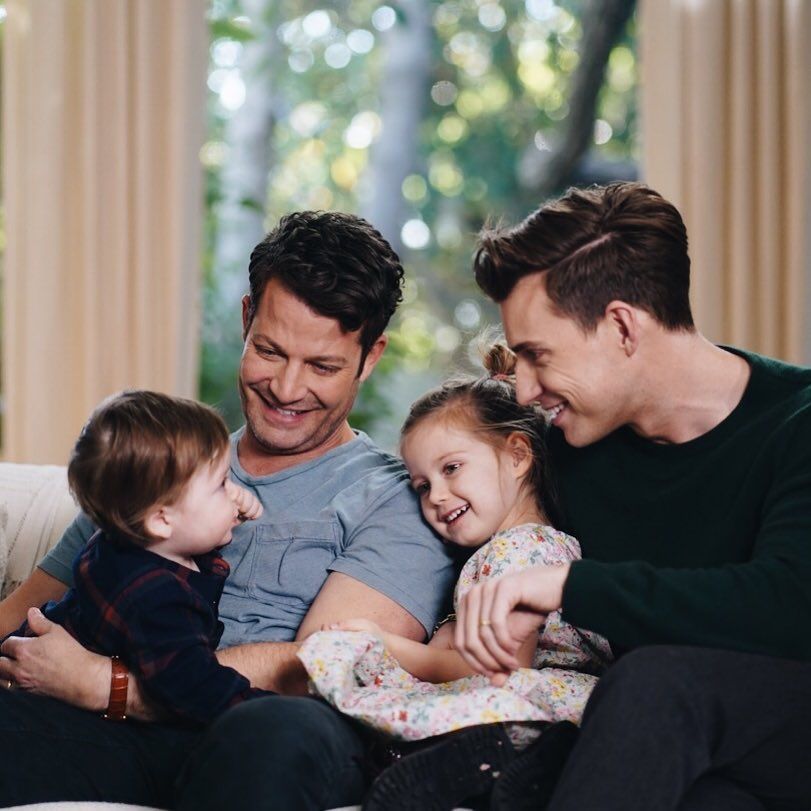 A gay couple may have a co-parenting arrangement with a lesbian couple. Or a gay man can donate sperm to a single woman or same-sex female couple to have a baby.
These days, more same-sex male couples are creating their own families through surrogacy. There are two types. Full or gestational surrogacy is when a fertilised donor egg is implanted into a surrogate through in vitro fertilisation (IVF). The surrogate has no genetic connection to the baby. For legal reasons, this is the only type of surrogacy that many clinics in Australia will be involved in. Partial or traditional surrogacy is when the surrogate's own egg is fertilised by the man's sperm. This can be done at home or in an overseas clinic.
The surrogate can be someone you know, who may then be involved in the child's life, or someone else. In Australia, commercial surrogacy is against the law, although you can pay a surrogate's medical expenses. You cannot advertise for a surrogate or pay someone to find a surrogate for you.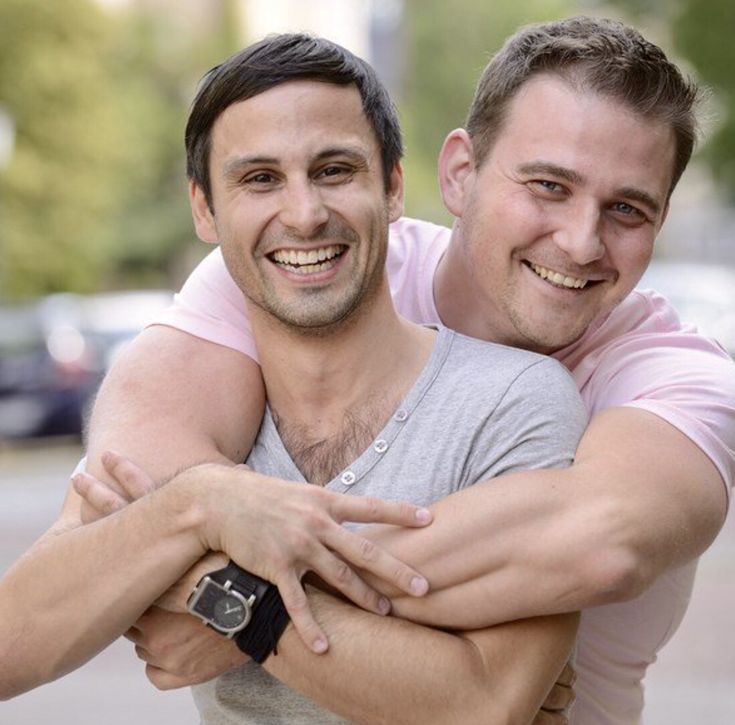 Some men find a surrogate overseas, but this can be quite expensive. It's also very important to understand the laws and regulations of the overseas country before you enter into any arrangement with a surrogate.
For more information on surrogacy, visit the Victorian Assisted Reproductive Treatment Authority website.
Deciding on roles
Same-sex male couples tend to share parenting more equally than many heterosexual couples. Because a lot of planning usually goes into having a baby with a same-sex couple, there's time to think about what it means to be a parent, what roles you will both have and who else will be involved in bringing up the child.
Research has shown that gay couples are more likely to share domestic duties and childcare fairly than heterosexual couples. Gay dads may be more involved in their children's lives than heterosexual dads. Being a father can also raise your self-esteem and give you a sense of fulfilment.
There are different ways to involve the biological mother or other women in family life.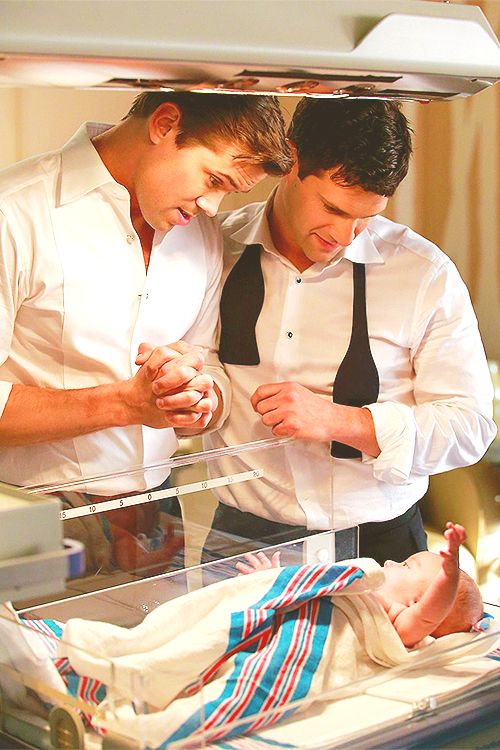 For example, you may introduce the children to mothers, sisters or friends as female role models.
Social and psychological issues
Research has shown that children who grow up in same-sex families do as well emotionally, socially and educationally as any other children.
But even though there is more support than ever for same-sex families in Australia, some same-sex couples and their children are worried about being teased or bullied. It's the stigma of others rather than growing up with two dads that can affect children's wellbeing.
Surrounding your family with plenty of supportive friends, families and same-sex organisations and communities can help your family navigate discrimination.
Children usually find their own way of explaining their family set-up to other people. If you think your child is being bullied, it's important to step in quickly. Schools and teachers are trained to deal with issues like this.
Work and legal issues
It's important to obtain legal advice before you enter into any surrogacy arrangement.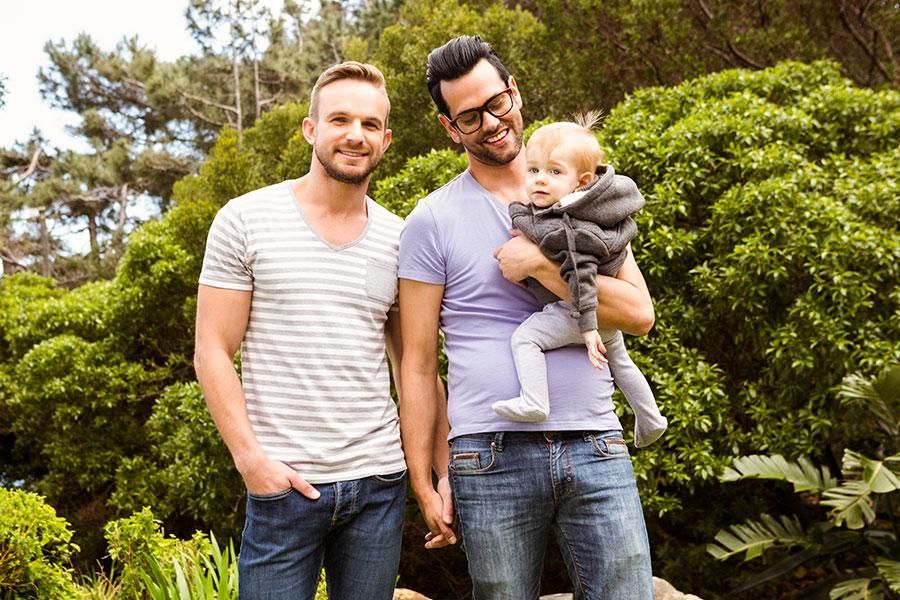 Altruistic surrogacy (when the surrogate mother does not receive any financial compensation) is legal in Australia. However, the law does not obligate a birth mother to surrender the child. Sometimes a court may transfer legal parental rights to the commissioning parents.
The way in which Australian law applies to children born to surrogates overseas is sometimes confusing and there have even been cases where children have been left without legally-defined parents. Sometimes, commissioning parents will need to apply to the Family Court for parenting orders.
If you donated sperm to a woman, you have no legal rights or responsibilities concerning the child. The woman who gives birth to the child and her partner have full parental rights. When they turn 18, children conceived from a sperm donor have the right to information that identifies you.
Same-sex parents and their families have the same entitlements as everyone else when it comes to parental leave, tax, superannuation, social security and family assistance, child support and family law.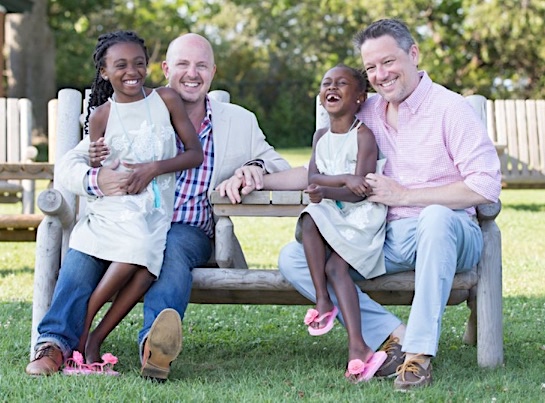 They also have identical entitlements to the Pharmaceutical Benefits Scheme Safety Net and the Medicare Safety Net, immigration and citizenship.
If you are a same-sex parent, it's important to let Centrelink know. You will be assessed for entitlements in the same way as everyone else. Depending on your circumstances, you may be eligible for child support or Dad and partner pay. Visit the Department of Social Services for more information.
More information and support
National LGBTI Health Alliance
OUTspoken families: A resource kit for rainbow families
PFLAG – Parents, Family and Friends of Lesbians and Gays
QLife (National counselling and referral service - call 1800 184 527
Student Wellbeing Hub
Sources:
Australian Bureau of Statistics (Census of population and housing reflecting Australia), Medical Journal of Australia (What makes a same-sex parented family?), Human Fertilisation and Embryology Authority (UK) (Same sex couples), Victorian Assisted Reproductive Treatment Authority (Considering IVF, donor treatment or surrogacy overseas), Australian Institute of Family Studies (Same-sex parented families in Australia), Australian Institute of Family Studies (Children's wellbeing in same-sex parented families), Australian Institute of Family Studies (Same-sex couple families in Australia), Australian Institute of Family Studies (Social support), Raising Children (School-age bullying: helping your child), Australian Institute of Family Studies (Families, policy and the law), Australian Department of Social Services (Recognition of same-sex relationships)

Learn more here about the development and quality assurance of healthdirect content.
Last reviewed: July 2020

Back To Top
Related pages
Parental rights and finances
Surrogacy
Same-sex parents - two mums
Rainbow families
Need more information?
Same-sex families: services & resources | Raising Children Network
Like all families, rainbow and same-sex families need support. Get links to services for rainbow and same-sex parents, their children and their communities.
Read more on raisingchildren.net.au website
Same-sex parents - two mums
More than 10,000 Australian children live with same-sex parents. This article will help you consider the main questions about becoming a mum in a same-sex relationship.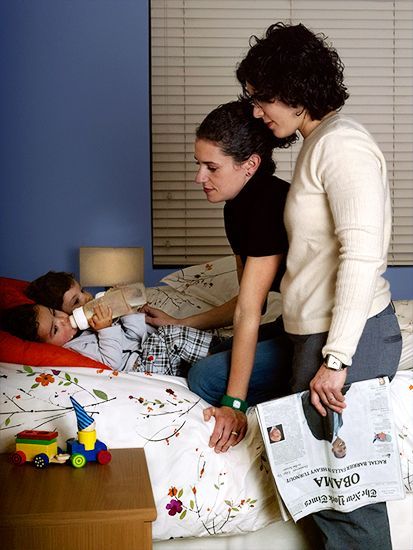 Read more on Pregnancy, Birth & Baby website
Same-sex parenting: a family story | Raising Children Network
'What makes us special isn't our family structure, but just us'. Two mums talk about family life and the joys and challenges of being same-sex parents.
Read more on raisingchildren.net.au website
Rainbow families
The term 'rainbow family' refers to a family with parents of the same sex bringing up a child. Find out more how to overcome some of the challenges and tips for going forward.
Read more on Pregnancy, Birth & Baby website
Information for rainbow families
While many of the experiences for families are similar, rainbow families can have a number of unique experiences, joys and challenges.
Read more on Beyond Blue website
Disclaimer
Pregnancy, Birth and Baby is not responsible for the content and advertising on the external website you are now entering.

OK

Need further advice or guidance from our maternal child health nurses?

1800 882 436

Video call
Contact us
About us
A-Z topics
Symptom Checker
Service Finder
Linking to us
Information partners
Terms of use
Privacy
Pregnancy, Birth and Baby is funded by the Australian Government and operated by Healthdirect Australia.
Pregnancy, Birth and Baby is provided on behalf of the Department of Health
Pregnancy, Birth and Baby's information and advice are developed and managed within a rigorous clinical governance framework. This website is certified by the Health On The Net (HON) foundation, the standard for trustworthy health information.
This site is protected by reCAPTCHA and the Google Privacy Policy and Terms of Service apply.
This information is for your general information and use only and is not intended to be used as medical advice and should not be used to diagnose, treat, cure or prevent any medical condition, nor should it be used for therapeutic purposes.
The information is not a substitute for independent professional advice and should not be used as an alternative to professional health care. If you have a particular medical problem, please consult a healthcare professional.
Except as permitted under the Copyright Act 1968, this publication or any part of it may not be reproduced, altered, adapted, stored and/or distributed in any form or by any means without the prior written permission of Healthdirect Australia.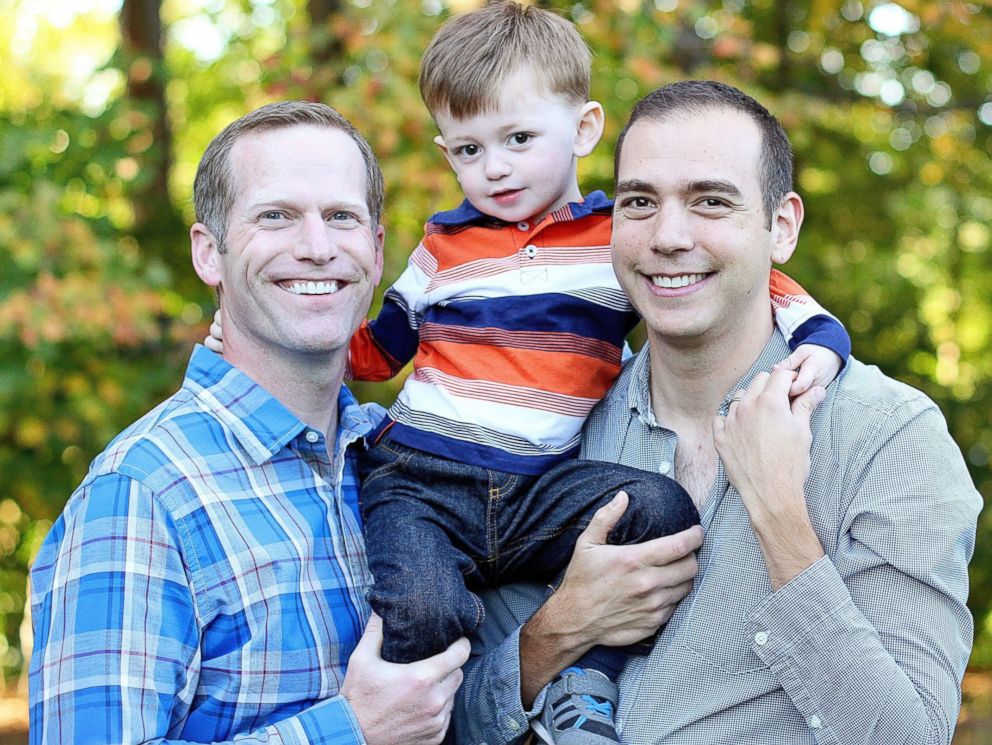 Support this browser is being discontinued for Pregnancy, Birth and Baby
Support for this browser is being discontinued for this site
Internet Explorer 11 and lower
We currently support Microsoft Edge, Chrome, Firefox and Safari. For more information, please visit the links below:
Chrome by Google
Firefox by Mozilla
Microsoft Edge
Safari by Apple
You are welcome to continue browsing this site with this browser. Some features, tools or interaction may not work correctly.

90,000 first interview with adoptive parents gay: we

Evgeny Erofeev and Andrey Vaganov Photo: Privat

Dmitry Vacedin

August 12, 2019

in an interview children and forced to flee from the Russian Federation because of the threat of losing them, for the first time she told her story - guardianship, open gay marriage in Moscow, persecution by the Investigative Committee.
https://www.dw.com/ru/%D0%BF%D0%B5%D1%80%D0%B2%D0%BE%D0%B5-%D0%B8%D0%BD%D1% 82%D0%B5%D1%80%D0%B2%D1%8C%D1%8E-%D0%B3%D0%B5%D0%B9-%D0%BF%D0%B0%D1%80%D1%8B-%D1%83%D1%81%D1%8B%D0%BD%D0%BE%D0%B2%D0%B8%D1%82 %D0%B5%D0%BB%D0%B5%D0%B9-%D0%B8%D0%B7-%D0%BC%D0%BE%D1%81%D0%BA%D0%B2%D1%8B -%D0%BC%D1%8B-%D0%BD%D0%BE%D1%80%D0%BC%D0%B0%D0%BB%D1%8C%D0%BD%D0%B0%D1%8F -%D1%81%D0%B5%D0%BC%D1%8C%D1%8F-%D1%80%D0%BE%D0%B4%D0%B8%D1%82%D0%B5%D0%BB %D0%B8-%D0%BA%D0%BE%D1%82%D0%BE%D1%80%D1%8B%D1%85-%D0%BF%D0%BE%D0%B8%D1%81 %D0%BA%D0%B0%D1%82%D1%8C/a-49853890
Advertising
Until this summer, Andrei Vaganov and Evgeny Erofeev, a same-sex couple who lived in Moscow with adopted children, had no problems with the state. They married in Denmark in 2016 and raised two adopted boys together. The situation escalated sharply after the Investigative Committee opened a criminal case against employees of the social security authorities who allowed Andrei to adopt children.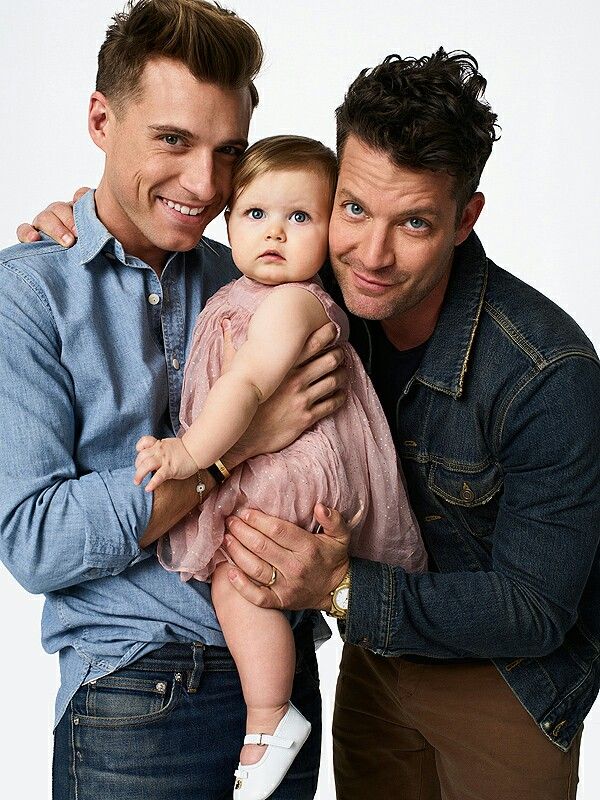 As a result, the family was forced to leave Russia.
Even while transiting through Ukraine, the men gave their first interview to DW correspondent Dmitry Vachedin. For the first time, they gave their names and spoke about themselves - about life in Russia in an open gay marriage, the adoption of children, the problems that arose and the flight from the country.
At their request, we are not yet able to reveal the whereabouts of Andrei and Evgeny, but they are in a country that they consider safe. We publish a conversation with them almost without abbreviations.
DW: Nobody knew about you until a week ago. Now everyone will talk about you. How do you feel about it? Difficult?
Eugene: I have always dreamed of fame (smiles. - Rev. ).
Andrey: Look, when Yura (son. - ed. ) and I left Moscow for Kyiv, I already understood that publicity and disclosure of personal data is a matter of time. Even then, correspondents contacted my former colleague, and my friends in the media told me that everything would become known anyway.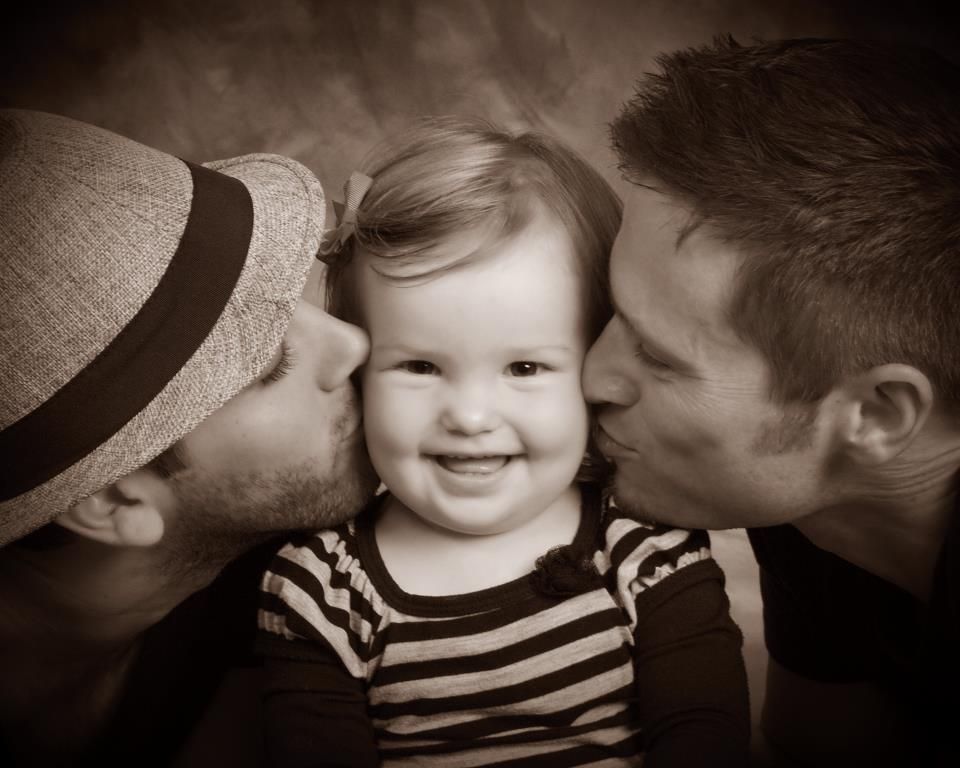 Our life has already changed irrevocably, as has the life of our parents.
- Then please introduce yourself.
Andrey: I am Andrey Vaganov, I am 44 years old. I am the official and only legal representative of the children. In their birth certificate, instead of the mother, there is a dash, only I appear there. Although Zhenya is also perceived as a parent, and when talking with children, we act as parents.
I am a consultant and have been teaching at various universities for almost a quarter of a century. At top universities like the Higher School of Economics. Once I was the head of the department, but now I am a visiting teacher who is invited to non-standard courses, let's say so. Frankly, it was teaching that made me realize that I want children. About 20 years ago, even before my thirtieth birthday, I realized that my main motivation for lecturing is to convey knowledge, self-confidence, and worldview to young people.
- Was your orientation a secret at these universities?
Andrey: I have always had a simple "don't ask, don't tell" attitude, like the Americans.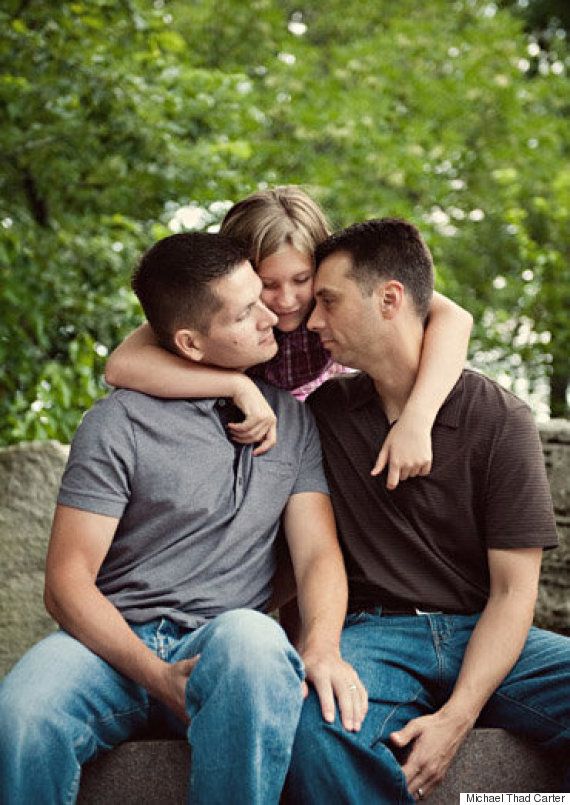 ("Don't ask, don't tell" - a principle in force in the US military from 1993 to 2010, according to which homosexuals were allowed to serve in the army only if they concealed their sexual orientation. - Rev. ). It is quite obvious that if I go into an audience with 300 people and according to statistics 4 gays, they understand everything in twenty minutes. One day, the dean got printouts of a closed student forum, where the girls discussed my appearance, and the boys told them that, they say, "it blooms not for you." No questions were asked, just the dean handed me printouts: "Read." Well, I read it, thanks, that's all.
Evgeniy: Andrei, of course, likes his mind. I know this because I was his student.
- Can you say a few words about yourself?
Evgeny: My name is Evgeny Erofeev, I am 32 years old. I have always worked only in banks since I was 18 years old. Currently unemployed. I met Andrey about 10 years ago, so our anniversary is coming soon.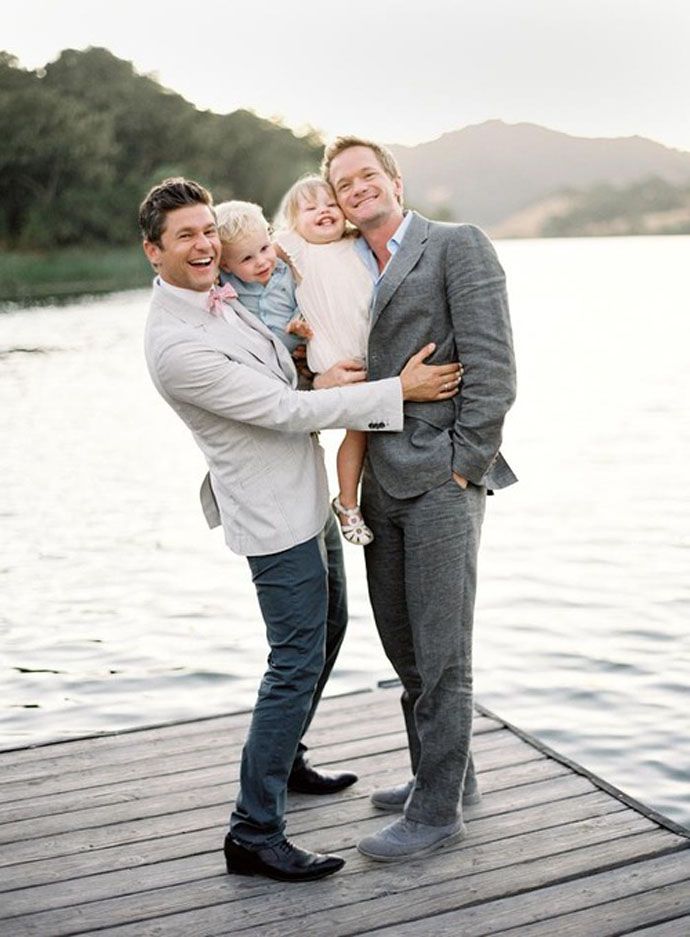 Evgeny Erofeev with children Photo: Privat

DW: Andrey, that is, you are a young successful assistant professor, you want to convey your worldview and therefore you are going to adopt a child?

Andrey: Not everything is so fast. For five years I thought about it, including about surrogate motherhood. But then I realized that this format does not suit me, because I do not want to be a Sunday dad. At some point, I was about 35 years old, I decided to go into custody. It was almost a spontaneous decision. Walk-walk - hop, and went: "I'll adopt." And then it turned out that I collected all the documents in three weeks. It really was very simple. I come to the tuberculosis dispensary, there are twenty people in line, but the manager himself leads me by the hand to the fluorography. And the transcript, which is done for a week, is given to me in ten minutes.

- Is it because everyone understood the importance and wanted to help to adopt as soon as possible?

Andrew: Yes.
And it was in every dispensary. In the Russian Federation, there are not many reasons for refusing adoption: this is health - that is, HIV, oncology, psychiatry, these are committed crimes against the person and outstanding convictions. Still need a small income, at the subsistence level, and living space. All. The only problem was getting an opinion that I could be an adoptive parent. Collected a whole commission. Ten women are sitting, asking why they wanted to adopt, why they are not married. I realized where everything was going and asked the chairperson in plain language if she suggested that I would fuck my own son. She said she didn't say that. Ten days later I had this conclusion.
- Did someone at this stage suggest that you are gay?
Andrei: I can't say that I'm very masculine, but I doubt that a fifty-year-old woman could see anything in me. It's not about that. I adopted in Kolomna, and was the first single male adopter there. And in our area in Moscow, too, the first.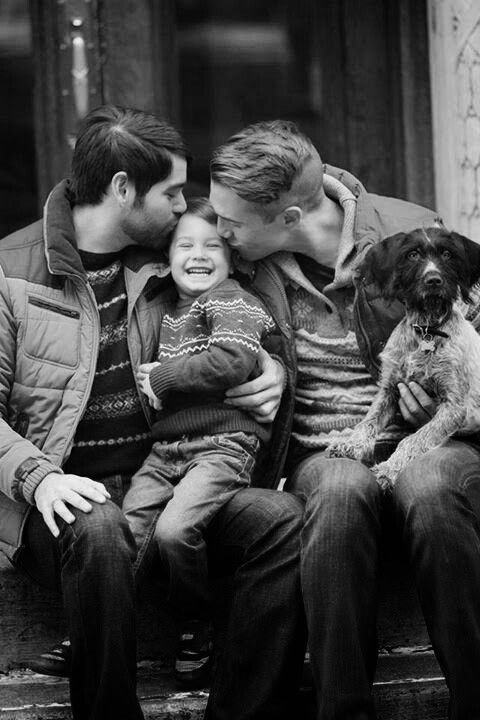 And all in Moscow by that time - only the fourth. Until now, in our country it is believed that a single man cannot adopt.
- What year was it?
Andrey: It was 2010. Denis was three and a half. The selection procedure itself is psychologically incredibly difficult. You come to a government institution, leaf through hundreds of photographs. I was kind of horrified. After two trips, I took a break for three months, I realized that I simply could not choose. It was something beyond. You sit and choose a child - and here they are, and there are hundreds of them. Three months later, I went to look at the database again, and Denis was there.
- Did Zhenya appear shortly after the adoption?
Andrey: Shortly before. With Zhenya, the situation was generally like in a movie. I invited him to curry on Saturday, he came to eat curry and on Sunday he stayed with me for good. It was September 19, and on October 5 I went to Denis.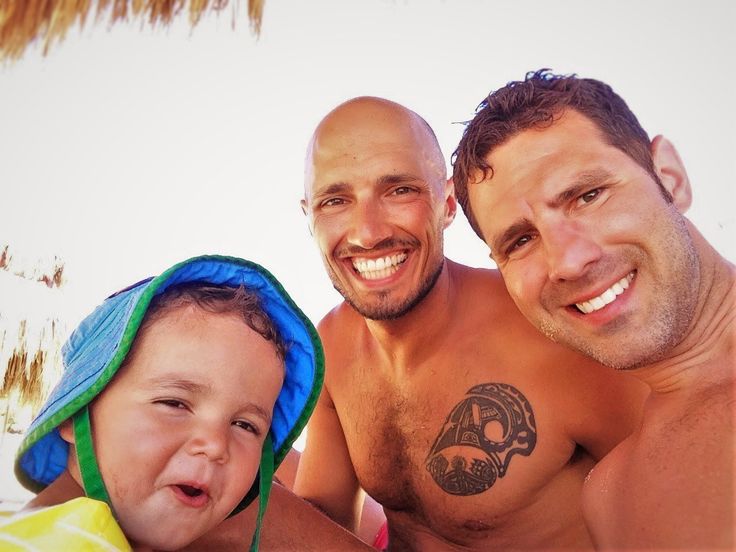 My wife was then 22 years old - I, frankly, had a little doubt.
- Zhenya, what was it like for you? Child at 22.
Eugene: It's okay, I live here. I didn't have any questions. I try to remember my emotions then, but no, there were no questions.
- Was the story of adopting a second child about the same?
Andrew: Approx. I again went into custody, quickly went through the formal procedures, called Kolomna. They said there was no one. But a few hours later they called back, they say that a boy has appeared. Well, that was Yura.
- What year is this?
Andrey: 2012. He was five and a half years old. Yura is younger than Denis by a year and a half.
- It turns out that you lived like an ordinary family until the authorities found out about you?
Andrey: In general, yes, but the clouds were gathering gradually. It was clear that the situation in the country was deteriorating.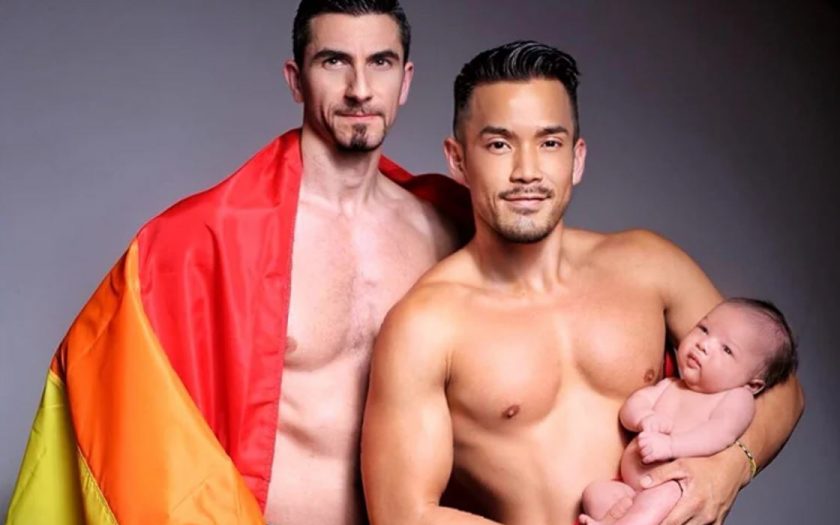 The first swallow is the law of Dima Yakovlev. At that moment, I started talking with Zhenya about the fact that we might need to leave the country. Zhenya was categorically against it then, he made a brilliant career. And then - the law on gay propaganda (a law establishing liability for the promotion of non-traditional sexual relations among minors. - Rev. ), and we immediately became people who violate the law. The situation began to deteriorate emotionally. Six months ago, the children mentioned that they began to tease them, they say, parents are motherfuckers. Before that, there were no questions from the children.
- Didn't you teach children to hide the fact that they have two dads?
Andrey: Never. Well, actually, their friends came to visit, everything is clear: here we are. In the end, we had a picture hanging over the matrimonial bed, where we were all four. Now we are very sorry that we did not take her with us. After the search, it may not have been left.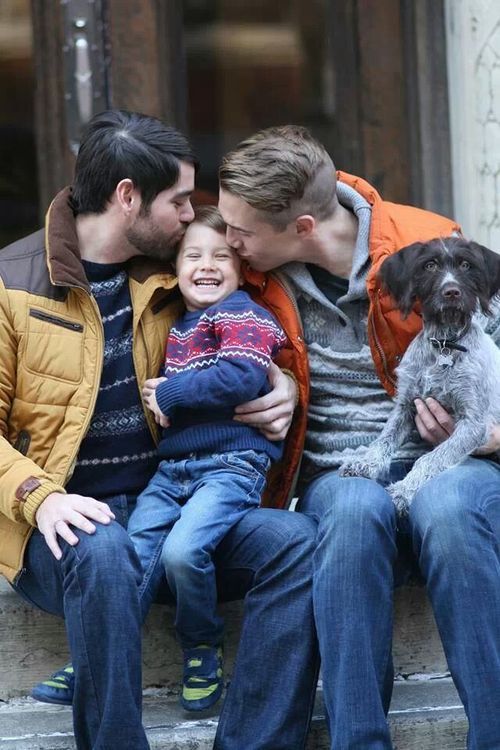 The message was very simple: I don't want to drive children into the ghetto. I don't want them to have even a suspicion that we have an abnormal family. I never even said that we have a special family. He just said that families are different.

A family portrait that hung in the Moscow apartment of Andrey Vaganov and Yevgeny Erofeev Photo: Privat

- So you didn't hide in Russia, but lived in an open gay marriage? And did it work?

Andrey: We are a normal family. We are very good parents, without any discounts. Parents to look for. Despite the fact that there are conflicts and excesses, and sometimes we do not know how to raise children. Nevertheless, we are conscious parents, so although we don't have a rainbow flag hanging on our balcony, we didn't hide. They lived an ordinary family life. They didn't go to gay clubs because there was no time left for this, they didn't fight for gay rights. I believe that it is necessary to fight for gay rights after citizens simply have rights.
If in Moscow you cannot get together without the risk of being detained for a public action, well, what a pride.
- But at some point the authorities found out about you.
Andrey: First, the police. I have Yura registered with the police. He is such a resident of the ghetto, he normally swears, competently and to the point. He waits exclusively squatting. Behavior patterns were learned in the first family, we adopted him quite late. Until he grows up and the volitional component starts working, it breaks through. In April-May, he first got into the police and said that he lives with two dads. After that, we asked the children not to talk about it.
Eugene: Then for the first time I felt scared.
Andrei: At the same time, the children started having problems with their peers. Once I go into the nursery and hear how one of the other called gay. And I sat them down and said: "A strange insult, because Zhenya and I are gay.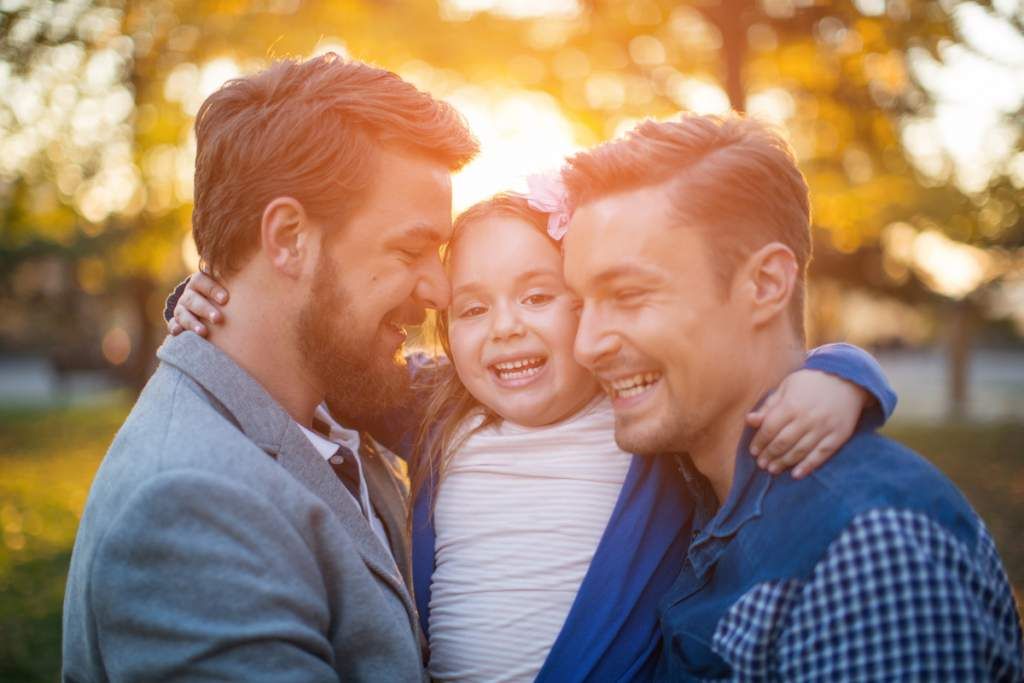 " And Yura cried. He could not believe that they were called names like that, but we are. For them, our family was such a natural history that they somehow did not identify us. Well, then, a couple of months later, Yura ended up in Roshal's clinic with suspected appendicitis. I was also delighted, because this is a good clinic. In fact, there was no appendicitis, he just ate a kilogram of carrots and half a loaf of burnt bread, made toast for himself.
But on the day I was picking him up from the hospital, the district investigator of the Investigative Committee called me and said that he wanted to talk to me and the child. I asked Yura what he talked about with the doctor. He said that the doctor asked when mom would come, to which Yura replied that he had two dads. Yura immediately understood: he must have said something wrong. I reassured the child, let's go to the investigator. That hour I talked with Yura in the presence of a guardian representative. And, on the one hand, after the conversation, the investigator began to talk to me much friendlier, because he realized that the doctor's suspicions were not confirmed.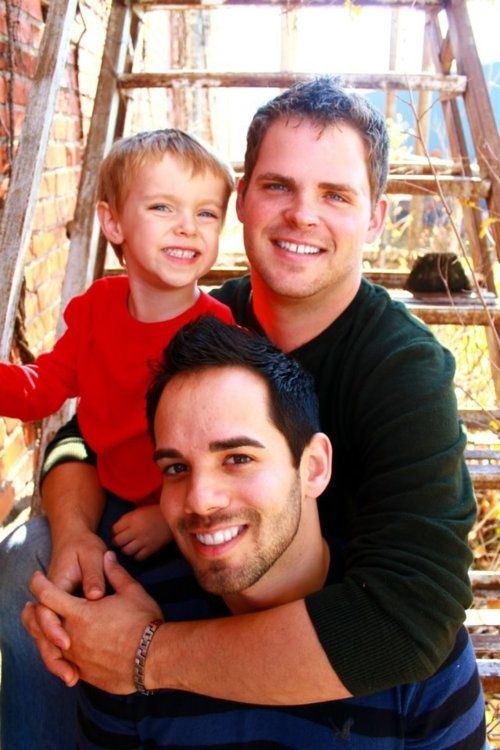 - So the doctor suspected that you had corrupted Yura?
Andrew: Yes. On the other hand, I saw that the investigator was nervous. They called him many times, a man came several times and demanded an urgent report. The investigator sent us for a forensic medical examination. I will not go into the description, this is a very unpleasant and shocking procedure for a child. Sexual offense check. We finished and went home. And while we were driving, the first publications in the media had already appeared.
- About what?
Eugene: A child in the hospital told about two dads, he reacted inadequately to the doctor's questions.
Andrey: Plus, the information quickly got to the Ombudsman for Children's Rights Anna Kuznetsova. She is actually the wife of an Orthodox priest. She turned to Bastrykin (Chairman of the Investigative Committee of Russia Alexander Bastrykin. - Ed. ) with a request to sort out the situation.
It turned out that this case acquired a political context. The investigator told me in plain text that there was nothing in this case, he wanted to close the check as soon as possible and go to barbecue. But everything turned out differently.
- What did the examination show?
Andrey: We were told that her results would be in a month. I talked to a lawyer, and he told me directly that with a very high probability we would have to leave the country. I didn't believe. And then a representative of guardianship calls me and asks me to voluntarily give the children to a social rehabilitation center until the results of the examination come. I called the lawyer again, and he said: "Well, you have to go." Yura and I got together in an hour and a half and soon found ourselves outside the Russian Federation. And soon Denis, who was with my parents, was also transported there. At this time, the criminal investigation was already connected. I was threatened that a murder case would be opened against me.
- Murder of whom?
Andrey: Children, of course. They tell me: "Bring them, prove that they are alive." I refuse. They say, "Well, then you killed them." I say: "Good. True, from Agatha Christie I know that there is no corpse - there is no case." They answer: "Life is richer."
Eugene: I was alone in Moscow. And a week later I was watching a series in the evening, and suddenly they began to knock on my door. I immediately knew who it was. It was scary. No one shouted "police, open it", it was all silent: the door was cracking, I had a feeling that it could be broken down by force. Half an hour later they stopped knocking, went to my parents' house and conducted a search there. At the same time, the representative of the Investigative Committee was drunk. They were looking for children and also a marriage certificate in Danish. I left the house at night, spent the night in the car, took a shower at the sports club, arrived at work and quit within half an hour.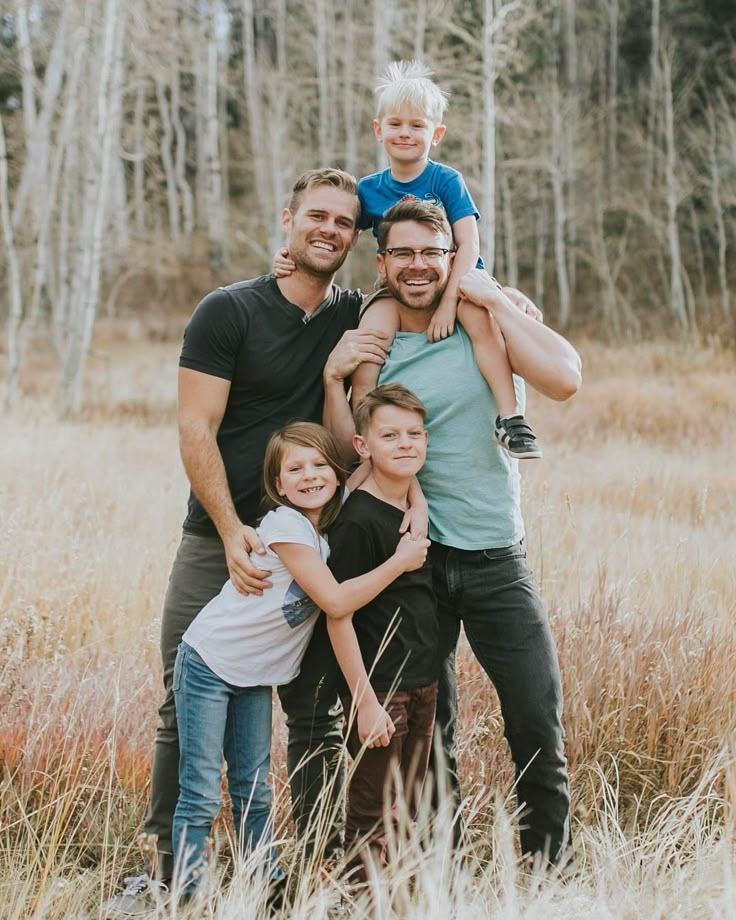 And then my friends took me outside of Russia. And then a door was broken into our Moscow apartment, we were woken up at night by an alarm system, and a search was carried out there. They searched my parents, Andrei's parents and his other relatives.
- But only one criminal case has been initiated, due to the negligence of guardianship authorities. How are your relatives related to him?
Eugene: As a drunken representative of the Investigative Committee said when he searched my parents' house: "Our powers are extremely extensive." This phrase describes the whole thing: our powers are very extensive - we do what we want.
- That is, you went abroad with your children because you were persuaded to give them away under the threat of criminal prosecution?
Andrei: Several lawyers explained it to me very simply. Understanding the logic of the development of the situation, the following will happen: the children are seized, psychologists work with them for some time, and on the basis of communication with the children, they initiate a criminal case against me related to violence.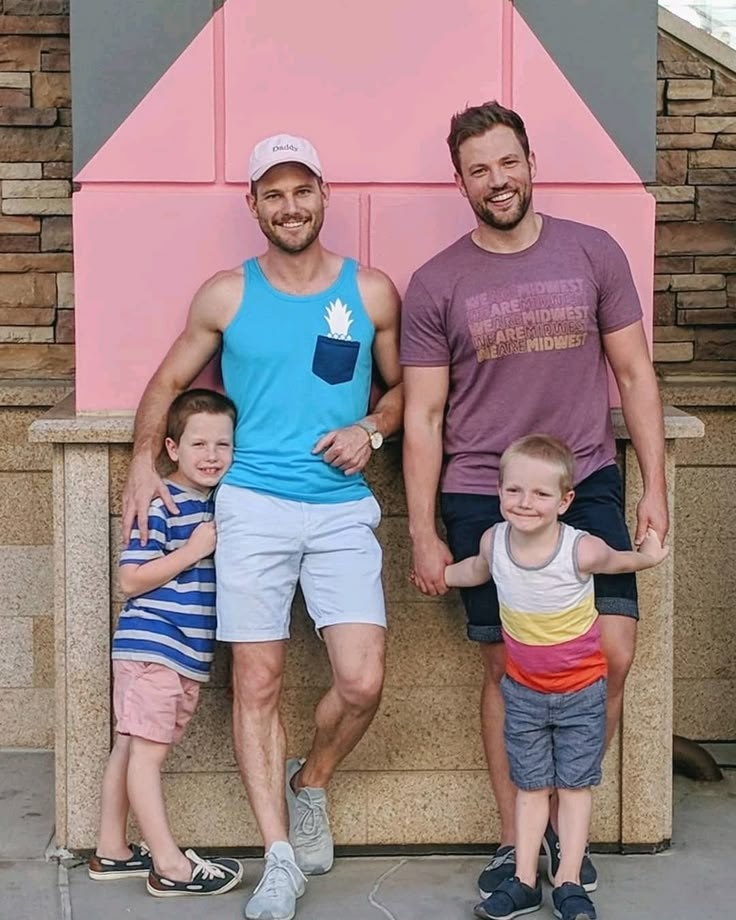 Eugene: With corruption.
Andrey: So I left for two reasons. Firstly, I did not understand how children could end up in an orphanage even for two weeks. Although family law lawyers assured that it would be for years. Even if the situation develops in your favor, you can't get them out of there quickly. Secondly, I was directly told that I would be arrested on a criminal case related to child molestation. Two people gave exactly the same assessment and gave examples of real cases. That was enough for me to get ready in an hour and a half.
- Why is the Investigative Committee doing this?
Evgeniy: There is Kuznetsova, an influential person who begins to put pressure on the UK. They have to react in some way. And then there are also excellent comments by Matvienko (Chairman of the Federation Council Valentina Matvienko. - Ed. ). Literally a day and a half before this story, she says that homosexual couples should not have children, and the case immediately appears.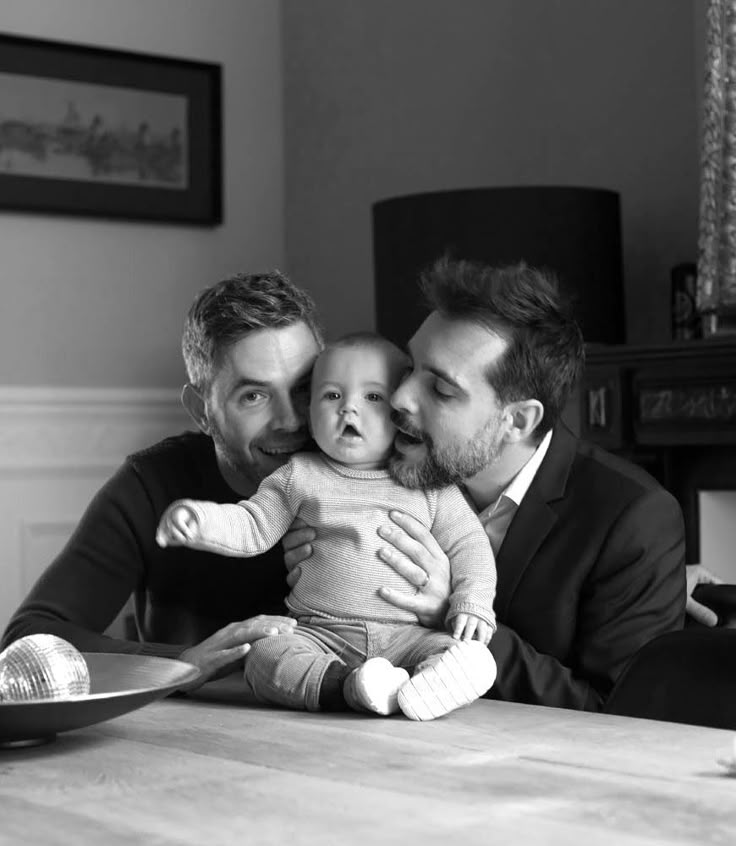 People hear, they want to move up the career ladder. And then the third person in the country says such things.
- Do I understand correctly that in the gray zone of Russian legislation there was an opportunity for same-sex couples to adopt children and now they want to close this loophole?
Andrey: This is not a gray area of ​​the legislation. The legislation is transparent and unambiguous, and there was no opportunity for gay couples to adopt. One person can adopt. This is very important, because from a legal point of view, Zhenya is an outsider for children. That is, this is not a gray area, this is not a loophole. There are a huge number of really single heterosexual women who adopt. And the risk of this situation is not that there are Zhenya and me or other gay couples. The problem is exactly that the current situation hits everyone. And it is clear that if the story of negligence reaches a negative end, then a witch hunt will begin.
Evgeny: In fact, gay couples who raise children are rare in Russia.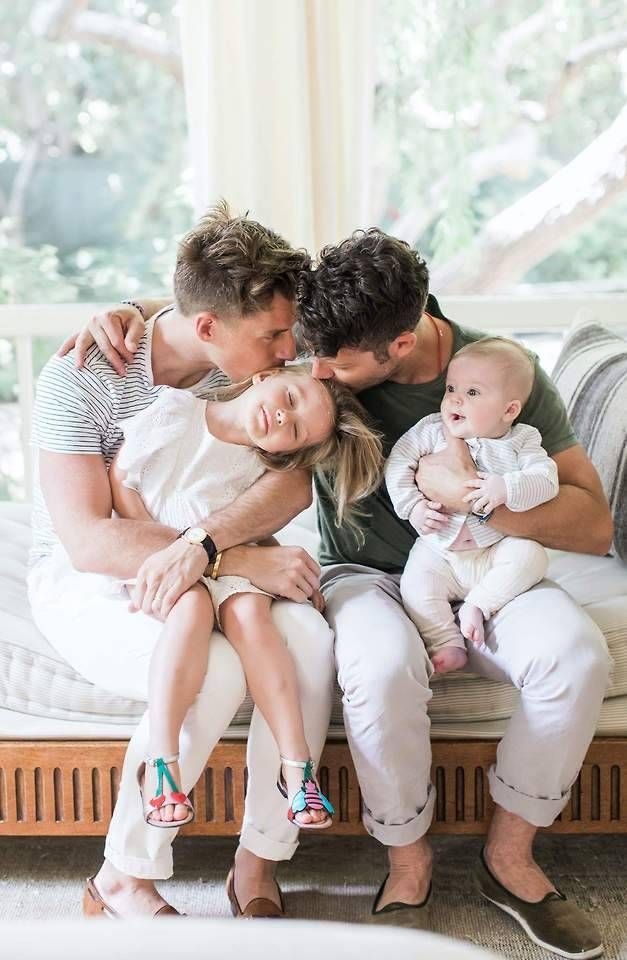 There are much more lesbian couples, the ratio is 95 to 5. And these lesbian couples just basically have their own children, because they can give birth to them. But guardianship should also monitor them, because she is responsible not only for adopted children, but for everyone - even relatives.
Andrey: Guardianship is accused of overlooking it in connection with the promotion of non-traditional values. This means that, in fact, any couple of two women can be deprived of blood children. After all, they propagate these values ​​with their lives. As we are. My photos have already appeared in telegram channels. And if you read the comments under articles about us in the media...
Eugene: ... burn, cut, kill everyone.
______________
Subscribe to our channels about Russia, Germany and Europe at | Twitter | Facebook | YouTube | Telegram
See also:
Love is illegal: how to fight homophobia in Russia?
To view this video please enable JavaScript, and consider upgrading to a web browser that supports HTML5 video

Write to the editor

Advertising

Skip this section Top topic

1 page of 3

Skip this section -families in Latvia and why the state does not want to recognize them - BBC News Russian ServiceBBC News, Russian Service

0284

How LGBT families live in Latvia and why the state does not want to recognize them

Subscribe to our newsletter "Context": it will help you understand the events.
Linda Zurika and Marta Herza have been living together for 8 years. From Linda's previous marriage, two daughters remained in the family, whom she and Martha are raising together. Despite the fact that women want to marry or register their relationship, they do not have such an opportunity in Latvia. The country does not recognize same-sex unions.
This creates a lot of inconvenience. It is necessary to separately talk about your relationship at school, clinic, when traveling - and in all these situations, depend on the favor of other people. Officially, Marta doesn't even have the right to take the child to the dentist.
The situation with the recognition of LGBT families in the country may change after the decision of the Constitutional Court, which in 2020 recognized the right to 10-day "paternity" leave for partners in a same-sex union. This decision set a precedent and ordered the Latvian Parliament to regulate the field of same-sex unions in general.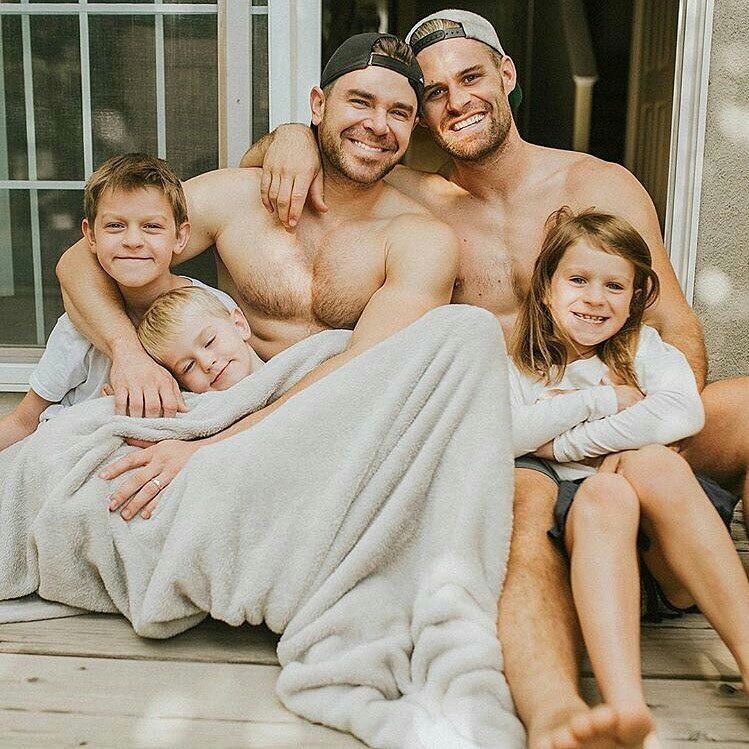 However, the conservative part of society responded to this step with a proposal to introduce other amendments to the Constitution. The national association "All for Latvia", "For the Fatherland and Freedom", LNNK proposes that only "the union between a man and a woman" be officially considered marriage.
BBC Russian Service video tells how same-sex families live in Latvia and what may change in their status in the future.
Topics
Women's rights
Latvia
9

Video, No entry for men! Sacred "women's forest" in Indonesia, Duration 3.28

Most viewed video
BBC Zelensky Interview, Duration 40.34

Video, Putin Explains Strikes on Ukraine: Top Quotes, Duration 1.

57

Video, "I, like my grandfather, become a refugee." Why are the Russians leaving for Israel?, Duration 3.34

Video, Dozens of rockets on Kyiv and other cities: Russia shelled Ukraine again, Duration 2.06

Video, "This is not a domestic war, but an aggressive war." Stories of Russians who fled from mobilization to Turkey, Duration 15.53

Video, "Terror and cruelty". The reaction of Western countries, Belarus and China to Russian strikes on Ukraine, Duration 4.