File newborn nails
How to Cut Baby's Nails Without Stressing Out
Cutting baby's nails can be a terrifying proposition for any new parent. Is it safe? How do you actually go about it? What if you accidentally cut baby's finger? Since you can't pay your pediatrician to trim those baby nails for you (we've tried), here's what to keep in mind.
In this article:
Do you really need to cut baby's nails?
How to file baby's nails
How to cut baby's nails
What to do if you cut baby's finger
Do You Really Need to Cut Baby's Nails?
Unfortunately, yes. This is one of those things you really don't want to do as a parent but have to anyway. "Cutting baby's nails is important to keep the nails clean and to help baby avoid unwanted and unintentional scratches," says Dane Snyder, MD, section chief of ambulatory pediatrics at Nationwide Children's Hospital in Columbus, Ohio.
As for when to cut baby's nails, there's really no set time—you should do it whenever they're long.
But keep in mind that baby nails grow faster than adults', and typically require trimming around once a week, says Kristen Slack, MD, a pediatrician at Children's Hospital of Philadelphia. Some babies are born with long fingernails, so you should start filing or cutting newborn nails right away. However, you may need to trim those baby toenails less frequently. "Often, toenails don't grow as quickly in the newborn period, so you may notice they don't need to be trimmed as often as fingernails," Snyder says.
Once you've resigned yourself to the reality that baby nails need a regular trim, there are a couple ways to approach the task: You can use a nail file to sand the nails down or nail clippers to cut them. Read on to learn the proper technique for both methods.
How to File Baby's Nails
Every pediatrician is different, but "I generally recommend families exclusively file a newborn's nails for the first few months of life," Slack says. "Even the most careful parent can accidentally snip a baby's fingertip with scissors or clippers.
"
First, get your hands on a baby nail file (they tend to be smaller than adult versions), says Gina Posner, MD, a pediatrician at MemorialCare Orange Coast Medical Center in Fountain Valley, California. Then file baby's nails to shorten them, rounding the edges so the corners aren't sharp. "It's often easier to file baby nails after bathing, when they're softer than usual, or while baby is sleeping, when they're more still than usual," Slack says. Same goes for baby toenails.
How to Cut Baby's Nails
Filing lowers the odds of accidentally cutting baby's finger, but "sometimes baby nails are bendable, so it's hard to file them," Posner says.
To cut baby's nails, get a baby nail clipper (many have safety guards to lower the risk of cutting baby). You probably won't be able to get a rounded nail corner with clippers, so it's often helpful to file down sharp corners afterward, if you can, Slack says. We're not going to lie: That first baby mani-pedi can bring on heart palpitations.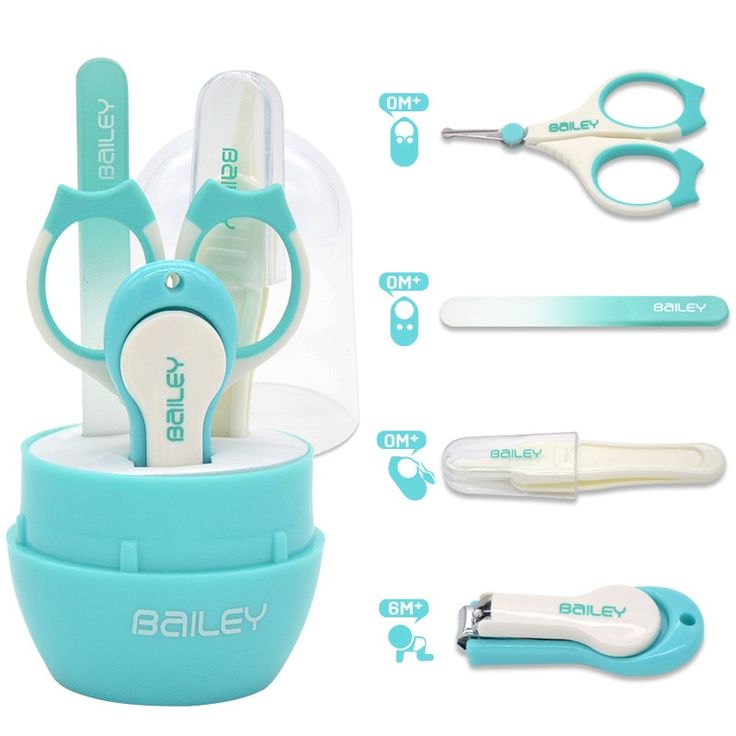 But you'll get the hang of it pretty quickly.
It can be tempting to skip cutting those baby nails altogether and bite them down instead—but resist the urge. "Parents shouldn't use their teeth to avoid risk of infection and create a more controlled trimming process," Snyder says. You'll also want to take a pass on tearing off the nails. "Definitely don't tear," Posner says. "You can tear too low and injure your child."
What to Do If You Cut Baby's Finger
No matter how careful you are, pinching baby's skin is a distinct possibility. If you do happen to cut baby's finger, you'll probably feel terrible–but you definitely wouldn't be the first parent to do it.
First things first: Don't freak out. Instead, try to assess the wound. "If you cut a lot, go to the ER," Posner says. If it doesn't look severe, Slack recommends applying pressure with a clean towel until the bleeding stops, then gently clean the area with soap and water. "If the cut continues to bleed after a few minutes, call your pediatrician for advice," she says.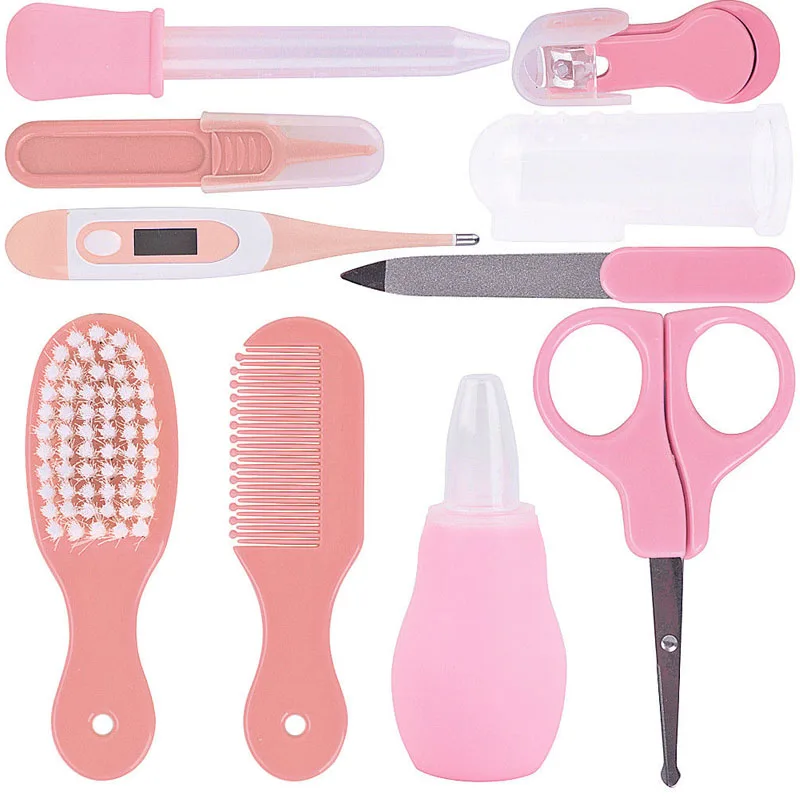 You should also call your pediatrician if you see any redness, swelling or pus-like discharge from the injury or nailbed.
You can apply Neosporin to the cut twice a day until a scab forms—but skip the Band-Aid, since it can be a choking hazard. "If a bandage is necessary, you'll need to tape or securely cover the area to prevent any pieces from coming loose," Slack says. Also, don't suck on the wound with your mouth, since you don't want to introduce any bacteria.
If you cut baby's finger, rest assured it's likely no big deal. "Most people just cut a tiny bit of skin, which is terrifying," Posner says. "But the reality is, it's going to heal just fine."
Published December 2018
Please note: The Bump and the materials and information it contains are not intended to, and do not constitute, medical or other health advice or diagnosis and should not be used as such. You should always consult with a qualified physician or health professional about your specific circumstances.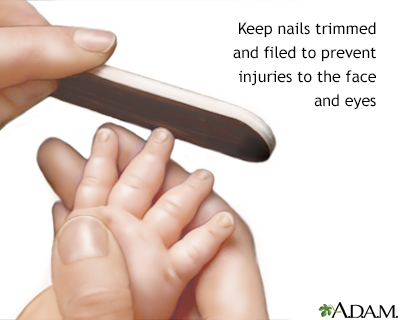 Plus, more from The Bump:
The Best Baby Nail Clipper for Stress-Free Nail Care
Baby's First Bath: How to Bathe a Newborn
Cradle Cap 101: How to Spot and Treat It
How to Trim Baby Nails (Step-by-Step Guide)
Is it finally time to trim your baby's nails, but you're feeling a bit unsure?
Trimming your baby's nails is probably one of the scariest firsts you'll experience as a new mother. Handling anything that could potentially cut your little one is no easy task, and the thought of accidentally drawing blood is daunting.
In this guide, we'll share all the tips and tricks you need to cut your baby's nails and keep them trim and tidy.
Table of Contents
Why Should I Trim My Baby's Nails?
How to Trim Your Baby's Nails
What Should I Do If I Cut the Skin?
---
Why Should I Trim My Baby's Nails?
Your baby's nails may seem pliable and softer than yours, but they can cause significant damage.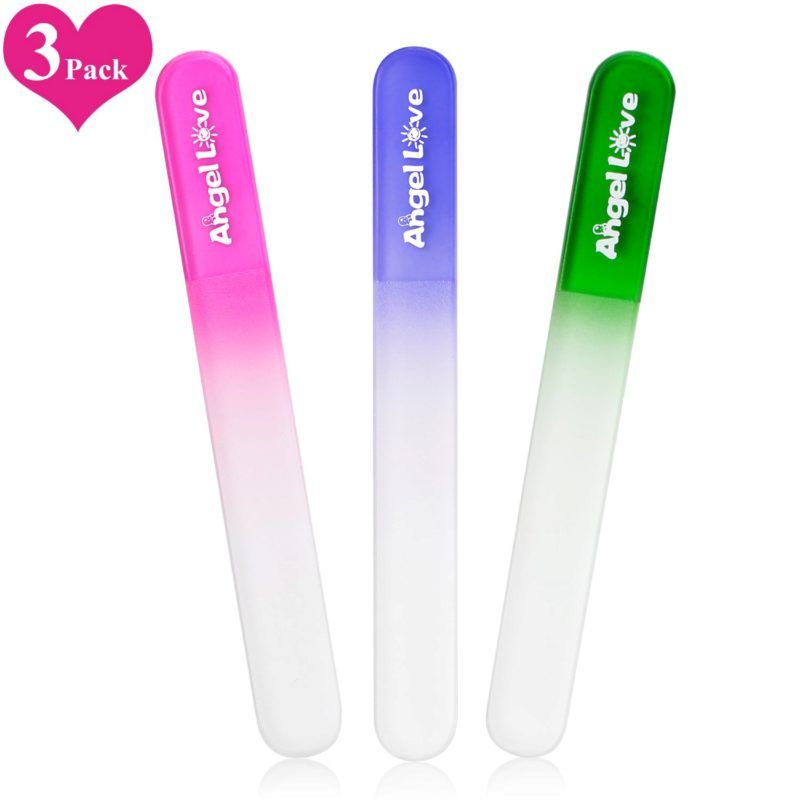 Those tiny claws are sharp! If you've ever handled a newborn with flailing arms or a 6-month-old trying to grab your lips, you know they hurt.
Unfortunately, young babies don't have control of where their fingers land. This is due mainly to their lack of muscle control, which doesn't fully develop until they're older (1).
Sometimes their fingers end up in vulnerable places, such as their own eyes. For a while, my little one had nothing but tiny scratches near the eye. Even though I would trim her nails at least once a week, it just wasn't enough.
Baby fingernails grow fast, and by fast, I mean lightning speed, or so it seems (2). Some moms report having to trim their baby's nails every few days — I had to do the same.
How to Trim Your Baby's Nails
There are several different tactics for trimming your little one's nails. The method you use will depend on what makes you and your baby comfortable.
Some moms find it comforting to have their partner assist in the process — one holding the baby and the other trimming the nails. Others may feel it's easier during feeding time or when their baby is fast asleep.
Before we get into the how-tos, these are some valuable tips we've learned through experience and years of helping others in their parenting journeys:
Find a good position: Sit in the rocker, place your baby in your lap, or lay them on the bed when they're sleeping. Find a place that works for you.
Visibility: Don't try to trim your baby's nails in a dimly lit room, even if they're sleeping. Sit by the window or beside a lamp — anything to give you enough light to navigate the process carefully.
Hold your baby still: The more their hands move, the bigger the chance you'll accidentally cut their finger. If your baby seems nervous, talk or sing while you work.
Use an emery board: If there are any rough edges, use an emery board to smooth them out.
Trim nails after a bath: They'll be softer and easier to clip.
Clippers
Clippers are the go-to method for many moms. Perhaps it's because most of us use them on our own nails. But it's probably also because they're less likely to cut a finger off (3).
You can get mini-clippers that are smaller and specifically made for tiny fingernails. Some even have ergonomic handles, making them easier to hold with bigger hands.
A good example is this Safety 1st Steady Grip nail clipper.
However, many moms report that they prefer a wider baby nail clipper since it cuts nails from side to side in one action.
Scissors
Not every mom is brave enough to use scissors — it does sound intimidating! But many swear by this method — especially when using baby nail scissors with blunt edges.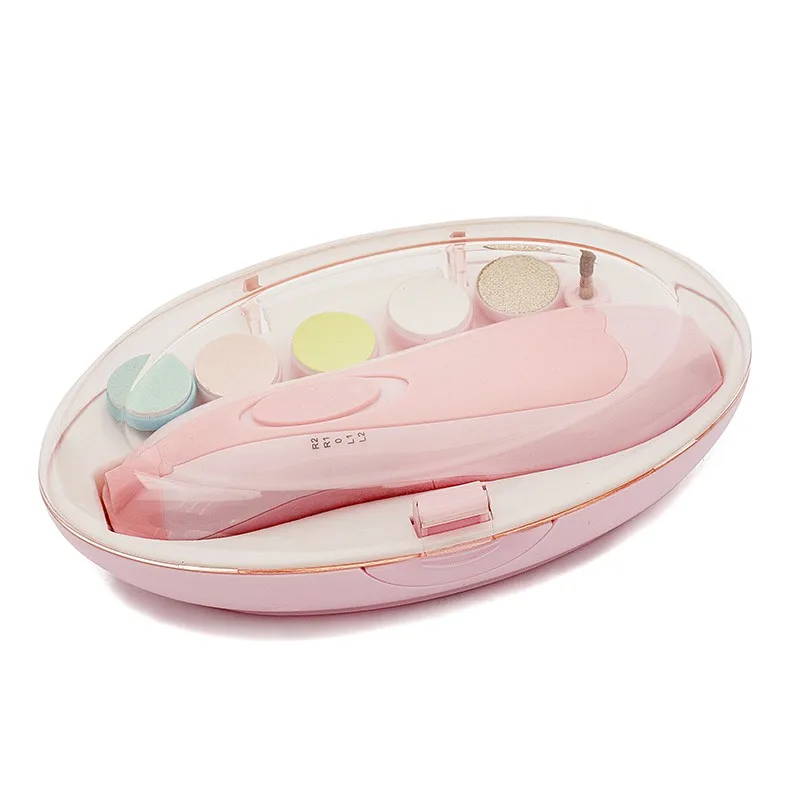 One of the upsides to scissors is the extra control they give you. You can easily see where you're cutting.
If you think scissors are for you, we recommend these Simba baby nail scissors.
File
Using a file is probably the safest way to trim your baby's nails — you'd have to file pretty hard to draw blood.
Experts recommend using a file or soft emery board if your baby is under one month old. At this age, their nails are soft, and there's no immediate need for trimming. However, some moms report that a file was useless on their newborn's soft nails.
But if filing the nails of a squirmy four or five-month-old is the easiest solution for you, take a look at this Baby emery board.
The How-Tos
Trimming your baby's nails is pretty much the same whether you're using a clipper, scissors, or a file.
Here's what you do:
Get a good hold on the finger: Be firm yet gentle; the finger just needs to be kept still.
Gently push back the fingertip: Use your finger and gently push the fingertip away from the nail (4). This creates some space for your chosen nail-trimming tool.
Do short, little clips on fingernails: Make these clips just above the white nail line. Going any shorter is not recommended. If you're using a file, gently file the nail to the same line.
Clip straight across on toenails: For the toenails, follow the steps above. But when you clip or file, do it straight across to prevent ingrown toenails, not in a curve.
What Not to Do
Even though you have free rein when trimming your baby's nails, there are two methods you should always avoid.
Don't bite your baby's nails: Staring at your baby's nails in need of a trim with no tool handy, you might get the urge to bite them off, but please don't. By biting their nails, you introduce germs from your mouth, which can trigger a viral or bacterial infection. It's also likely to leave sharp edges behind.
Don't tear the nails off: Even if it's just a tiny section of the nail, don't be tempted to pull it off — you could cause an ingrown nail by doing this. Ingrown nails are painful and can become infected.
Both methods could easily remove too much of the nail, causing injury to your baby's finger or toe.
What Should I Do If I Cut the Skin?
Accidents happen. Baby nails are tiny, and babies are squirmy. If you accidentally cut your little one, don't feel too bad — you're not alone. We've all been there (multiple times!).
Here's what to do:
Stay calm: Don't panic; there's no need to rush to the emergency room.
Rinse the finger: Take your baby to the bathroom and rinse the finger under cold, gentle running water. This will stop the bleeding.
Wrap with a tissue: Wrap the finger with a tissue and apply a little pressure. The bleeding should stop within a few minutes. Remove the tissue after the bleeding stops.
Don't put a bandage on: There's no need for a bandage, and it could become a choking hazard (5).
---
Feedback: Was This Article Helpful?
Thank You For Your Feedback!
Thank You For Your Feedback!
What Did You Like?
What Went Wrong?
Medically Reviewed by
Dr. Pierrette Mimi Poinsett, MD
Dr. Pierrette Mimi Poinsett is a veteran licensed pediatrician with three decades of experience, including 19 years of direct patient clinical care. She currently serves as a medical consultant, where she works with multiple projects and clients in the area of pediatrics, with an emphasis on children and adolescents with special needs.
Subscribe to Our Newsletter
We won't send you spam. Unsubscribe at any time.
How to care for and cut your newborn baby's nails
Home » Newborn Care
Contents
Caring for your baby's little fingers is an important part of a hygienic toilet.
The movements of the newborn are not yet balanced, and he can injure himself with his small but sharp nails. Therefore, nail trimming should be carried out from birth. The sooner you start caring for your nails, the faster the baby will get used to this procedure, and the sight of scissors will not cause him unreasonable fear in the future.
Nail care tools
A manicure set for a little man, like for an adult, must be individual. Under no circumstances should the items in the set be used for other purposes. It is better to buy it in advance, since we will start using it after the first bath.
Children's manicure set consists of the following tools:
Nail clippers. They cut off the main part of the nail.
Scissors. Useful for trimming the remnants of the nail after cutting with wire cutters and burrs. The sharp ends of the scissors can injure the baby when cutting nails, so manicure scissors for a child must have rounded ends or plastic tips.
Nail file. It should be with a soft coating and rounded edges. After cutting, the nails are filed with a nail file until all uneven edges are smoothed out.
After purchase, cutters and scissors should be washed in hot water and soap to remove grease. Then wipe with a cotton pad soaked in medical alcohol.
A list of essential items for a newborn
How to trim your baby's nails
The process of cutting nails for a small member of the family is both simple and complex. It is best to start it after bathing, when the skin and nails are steamed and soft. Before bathing, you need to prepare a manicure set: wipe the scissors and nippers with medical alcohol.
Trim the nails in a straight line with the nail clippers, pressing lightly on the tip of your finger. Cut off the sharp ends remaining in the corners with scissors. We complete the manicure procedure by filing the nails with a soft nail file and you're done. Toenails should be trimmed regularly as they grow back.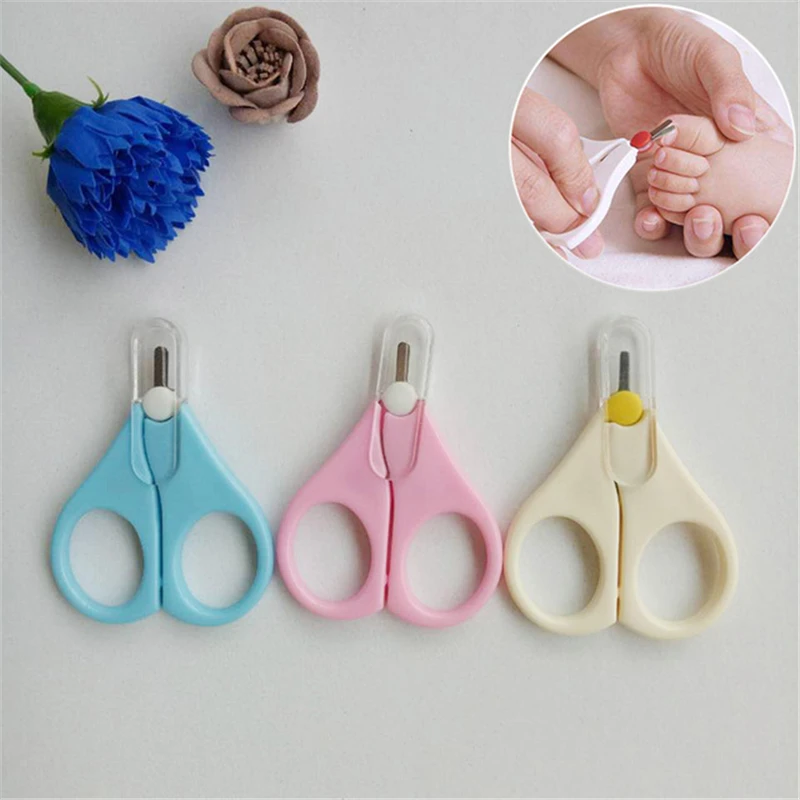 The blades of the manicure tools must be held perpendicular to the nail, otherwise it may be damaged. On the legs we cut the nails in a straight line, and on the hands we round. Do not cut the nail plate very short - this will cause pain to the baby and can cause an inflammatory process.
As you can see, nail care for a small person is no different from care for adult nails - everything is simple and clear, because we have been doing manicures for ourselves for several years. However, delicate arms and legs are in constant motion. How to cut the nails of a newborn without injuring the skin of the baby? Here are some practical tips:
Teamwork. One of the parents holds the child's arm or leg and distracts him with a calm and gentle voice, a toy. Another at this time conducts a manicure procedure.
It is convenient to cut nails when the baby is lying on the tummy. Then the movements of the limbs are somewhat limited. We simply bend the leg at the knee, and the arm at the elbow and do the necessary manipulations.
You can run the process while you sleep. In the deep sleep phase, the baby is relaxed, his fists open. The procedure is carried out carefully and slowly so as not to wake the baby.
The main thing is to take the baby's hand or foot carefully, gently, but firmly.
Finger still hurt
It's okay if you suddenly hurt the child's skin with scissors or nippers when cutting nails. The main thing is not to panic. First you need to attach sterile cotton wool or a bandage to the wound and stop the bleeding. Then treat the wound with brilliant green or other antiseptic. With a small cut, this is enough. If the wound is large, then it is necessary to apply a bandage with wound healing ointment. (first aid kit for a newborn)
With untimely and improper care, babies develop inflammation in the corners of the nail plate - panaritium. When such green pustules appear, it is necessary to treat them with hydrogen peroxide and apply a weak bandage with Levomekol ointment.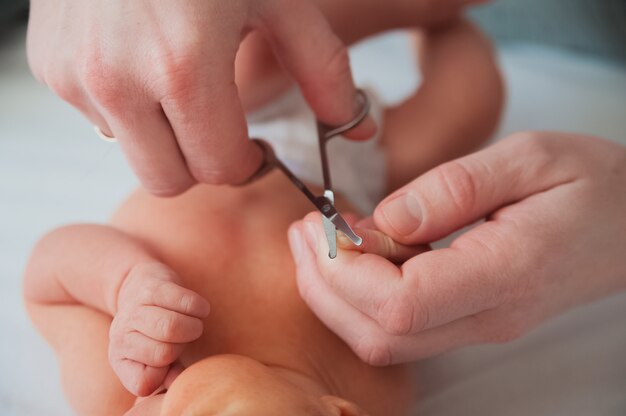 She will draw out the pus from the wound and heal it. If within three to four days the inflammation does not go away, you should contact your pediatrician.
Related:
Baby care (daily and weekly)
Baby Skin Care
Newborn ear care
How to cut the nails of a newborn? video
Do you want to be the first to read our materials? Subscribe to our telegram channel or VKontakte group.
We are in Zen - join us!
Our Blog in - Pulse Mail.ru
Share with friends
How to cut the nails of a newborn and a child at an early age
Understanding how to properly perform the procedure, what tools to choose, how to distract the child during the process and what to do in case of unforeseen injuries.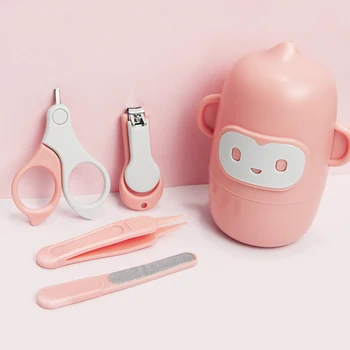 Source here and below: Unsplash
With the advent of the first-born in the family, a lot of small worries and questions arise that can stun any newly-made parents.
The nails of newborns are small and thin, like paper, but no less sharp for that, and therefore they must not be allowed to grow, otherwise the baby will constantly scratch his body and face.
Let's figure out how to cut a newborn's nails, when is the best time to do this procedure and what is required for this.
Nail cutting tools
We note right away that adult nail scissors are too sharp and not suitable for small children. Any awkward movement - and the sharp end can injure the baby. It is better to buy special children's scissors with safe rounded tips.
Now in specialized children's stores and pharmacies, there are a variety of kits for caring for children's nails. They include: special scissors with rounded ends, tweezers and a soft nail file.
Do not miss
Don't miss

Newborn hiccups after feeding: how to help him
There are also children's scissors with a thick blade, but for many mothers it is inconvenient to use them, so carefully select the right tool for you - this will save you from unnecessary torment and unplanned expenses.
Wipe the instruments with a cotton swab soaked in alcohol before starting treatment. The device can also be sterilized by immersing it in boiling water for 10 minutes. And the last important point: do not use scissors for other purposes. By appointment only.
How to cut your nails
The process of cutting nails in a child is no different from the same procedure in adults, and you need to approach it with confidence.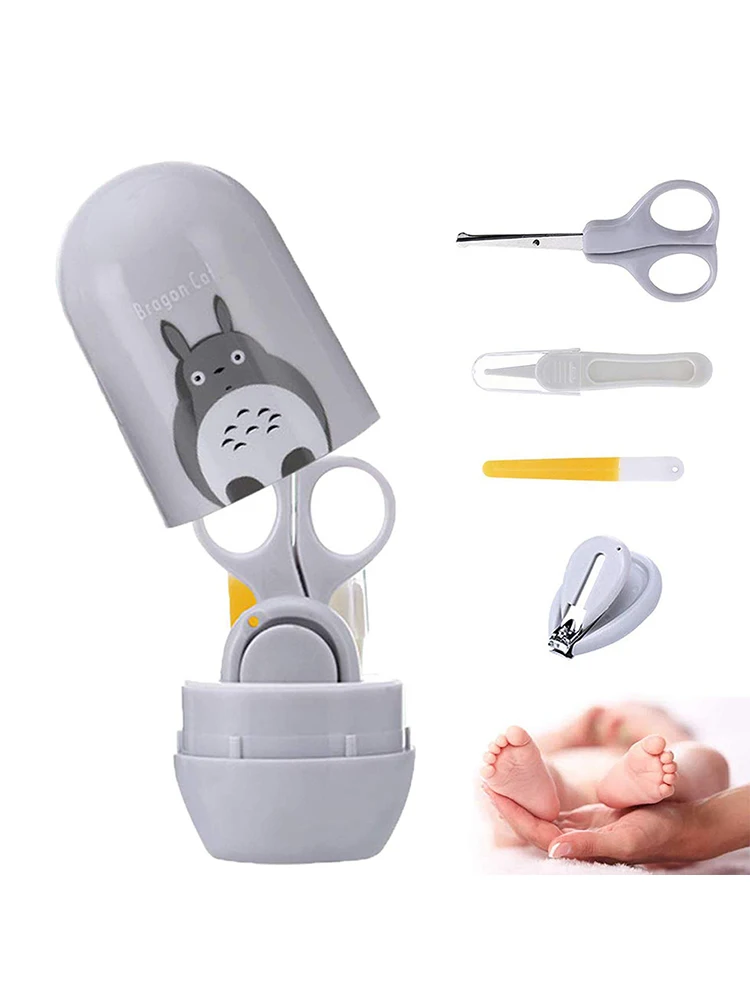 So, first of all, calm down. Usually, pediatricians do not recommend cutting the first nails of a newborn before reaching one month on the hands and up to three months on the legs, but these are general recommendations. Here you need to look individually. If they grow quickly, and the child begins to scratch himself, then it is better to cut them.
Do not miss
Don't miss

Which bottles are best for newborns and how to choose the right one
In the case of legs, it is better to wait for the recommended time, especially since they will not cause such discomfort as on the hands.
To make things easier for yourself, cut your baby's nails right after bathing. Steamed nails are soft and easy to trim. Slightly round the fingernails, and leave the toenails straight to prevent ingrowth later.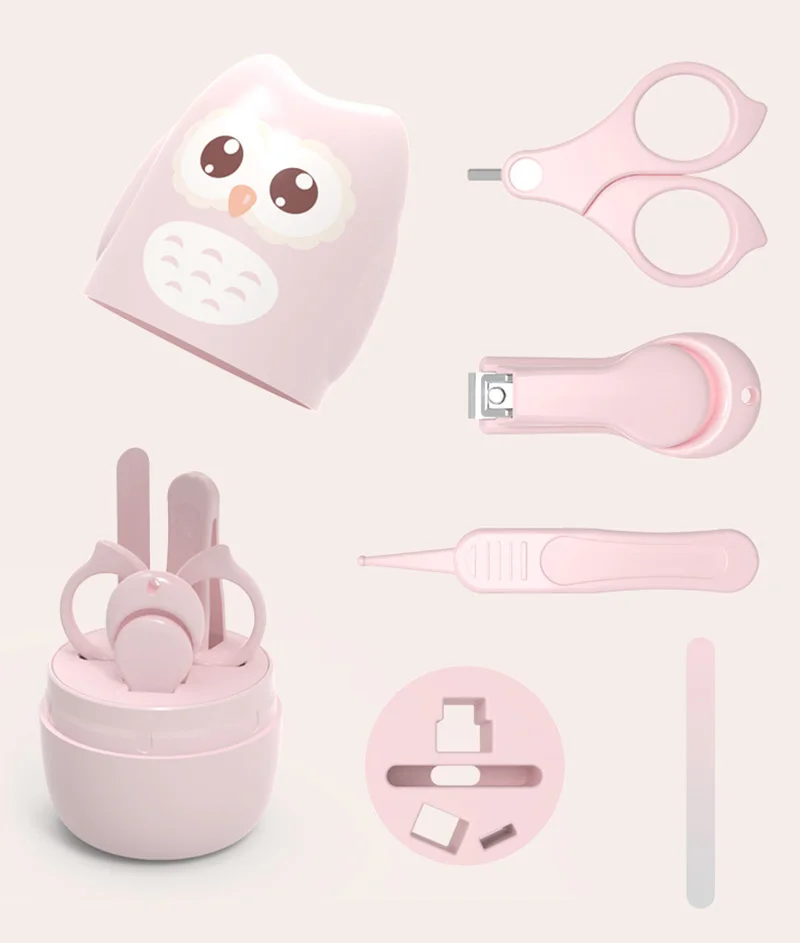 Do not cut "under the root", this increases the risk of ingrowth and injury. If you notice a tendency to grow into the skin, you can insert a thread under the corner of the nail and fix it with a band-aid. Can't manage on your own? See a podiatrist.
Do not miss
Don't miss

Blue nasolabial triangle in babies: when it's time to worry
Remember not to use the file for adults. It can cause serious harm. You can file with a children's nail file and only along the edge (without grinding), so that there is no violation of the soft nail plate. If the baby does not like the vibration from the process, then you should limit yourself to scissors.
It is necessary to carry out such a procedure constantly, as it grows, but not more than once every five to seven days.
You can see a visual process in the following video:
How to distract the baby during the process
Believe me, your baby is unlikely to lie still and wait until you finish the procedure. The child is constantly moving, but there are several tricks collected from pediatricians and pediatricians (including the famous Dr. Komarovsky) to make it easier.
Tandem action. One of the parents holds the baby's hand or foot and distracts him in every possible way while the other does a manicure or pedicure.
In a dream. It is very convenient to cut nails when the baby is sleeping. In the deep stage of sleep, the body is relaxed, and the fingers are not clenched into a fist. The main thing is not to rush, so as not to wake the baby or hurt him. Hold your hand gently but firmly. The whole process will take two to three minutes.
You can involve the child in the process, for example, let him hold the nail file.
Do not miss
Don't miss

5 Soviet recommendations for the care of babies, which it is time to forget
You can distract a newborn with a fairy tale, rhymes about fingers and a song.
Forget about the raised tone of voice and irritation. Nothing but a loss of confidence in yourself, you will not achieve. Do not pressure, shame or command. If the child is still naughty, then the best solution would be to leave him alone, and after a while return to this issue.
What to do if you cut your baby's finger while cutting it
For this case, prepare a cotton swab or bandage in advance and, in case of a cut, stop the blood with them, then treat the damaged area with brilliant green or other antiseptic. If the wound does not heal or begins to fester, use an antimicrobial ointment and consult a doctor.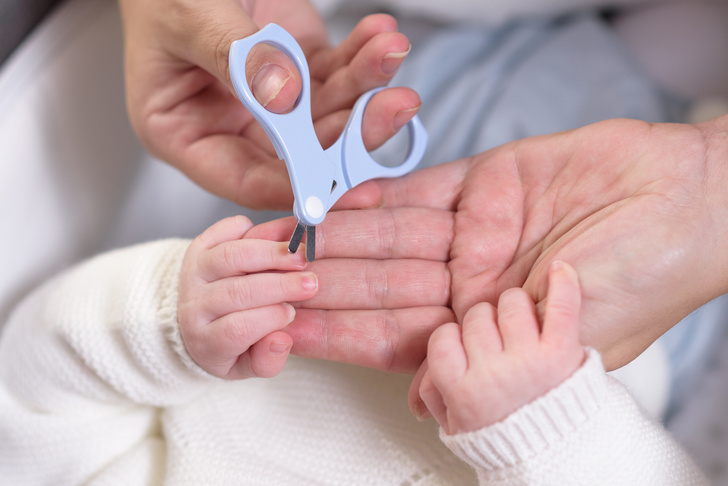 Do not forget to also cut off the burrs and then lubricate them with vegetable oil so that inflammation does not start in this place. But if redness has begun in this place, and the skin has become hot, you should not rely on folk methods from the Internet. Remember, surgeons have an important rule: one sleepless night due to pain (when your finger boils) is an occasion to immediately consult a doctor.
Do not miss
Don't miss

How to bathe a newborn: the right advice for an inexperienced mom
There are cases when the nail, for one reason or another, begins to grow unevenly or grows into the skin and inflammation begins. Someone tries to trim the ends themselves, but this will not solve the problem, and it will occur again and again. Here you can not take any initiative. Only the timely intervention of a surgeon will help.