Contractions during labor
Contractions and signs of labor
Donate
Contact
Events
DONATE
Home >
Pregnancy >
Labor & birth >
Contractions and signs of labor
Topics
In This Topic
KEY POINTS
Learning the signs of labor before your due date can help you feel ready for your baby's birth.

Signs of labor include strong and regular contractions, pain in your belly and lower back, a bloody mucus discharge and your water breaking.

If you think you're in labor, call your health care provider.

Not all contractions mean you're in true labor. Learning the difference between true and false labor can help you know when it's the real thing.
What is labor?
Labor (also called childbirth) is the process of your baby leaving the uterus (womb). You're in labor when you have regular contractions that cause your cervix to change. Contractions are when the muscles of your uterus get tight and then relax. Contractions help push your baby out of your uterus. Your cervix is the opening to the uterus that sits at the top of the vagina. When labor starts, your cervix dilates (opens up).
As you get closer to your due date, learning the signs of labor can help you feel ready for labor and birth. If you have any signs of labor, call your health care provider. 
What are the signs of labor?
You know you're in true labor when:
You have strong and regular contractions. A contraction is when the muscles of your uterus tighten up like a fist and then relax. Contractions help push your baby out. When you're in true labor, your contractions last about 30 to 70 seconds and come about 5 to 10 minutes apart. They're so strong that you can't walk or talk during them. They get stronger and closer together over time.
You feel pain in your belly and lower back. This pain doesn't go away when you move or change positions.
You have a bloody (brownish or reddish) mucus discharge. This is called bloody show.
Your water breaks. Your baby has been growing in amniotic fluid (the bag of waters) in your uterus. When the bag of waters breaks, you may feel a big rush of water. Or you may feel just a trickle.  
​If you think you're in labor, call your health care provider, no matter what time of day or night. Your provider can tell you if it's time to head for the hospital.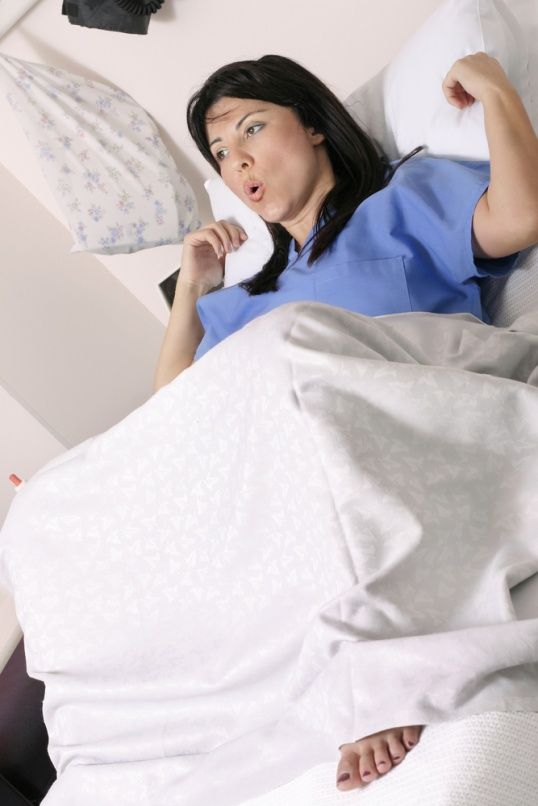 To see for sure that you're in labor, your health care provider measures your cervix.
What are signs that you may be close to starting labor?
You may be close to starting labor if:
Your baby drops or moves lower into your pelvis. This is called lightening. It means that your baby is getting ready to move into position for birth. It can happen a few weeks or even just a few hours before your labor begins.
You have an increase in vaginal discharge that's clear, pink or slightly bloody. This is called show or bloody show. It can happen a few days before labor starts or at the beginning of labor. 
At a prenatal checkup, your health care provider tells you that your cervix has begun to efface (thin) and dilate (open). Before labor, your cervix is about 3.5 to 4 centimeters long. When it's fully dilated (open) for labor, it's 10 centimeters. Once labor starts, contractions help open your cervix. 
You have the nesting instinct. This is when you want to get things organized in your home to get ready for your baby. You may want to do things like cook meals or get the baby's clothes and room ready. Doing these things is fine as long as you're careful not to overdo it. You need your energy for labor and birth.
If you have any of these signs, you may start labor soon. Learn the signs of labor so you know when to call your provider. 
What are false labor and Braxton-Hicks contractions?
Not all contractions mean you're in labor. You may have contractions on and off before true labor starts. These contractions are called false labor or Braxton-Hicks contractions. They soften and thin the cervix to help your body get ready for labor and birth. You may feel them in the weeks right before your due date. Learning the differences between true labor contractions and false labor contractions can help you know when you're really in labor.
It can be hard to tell the difference between true labor and false labor.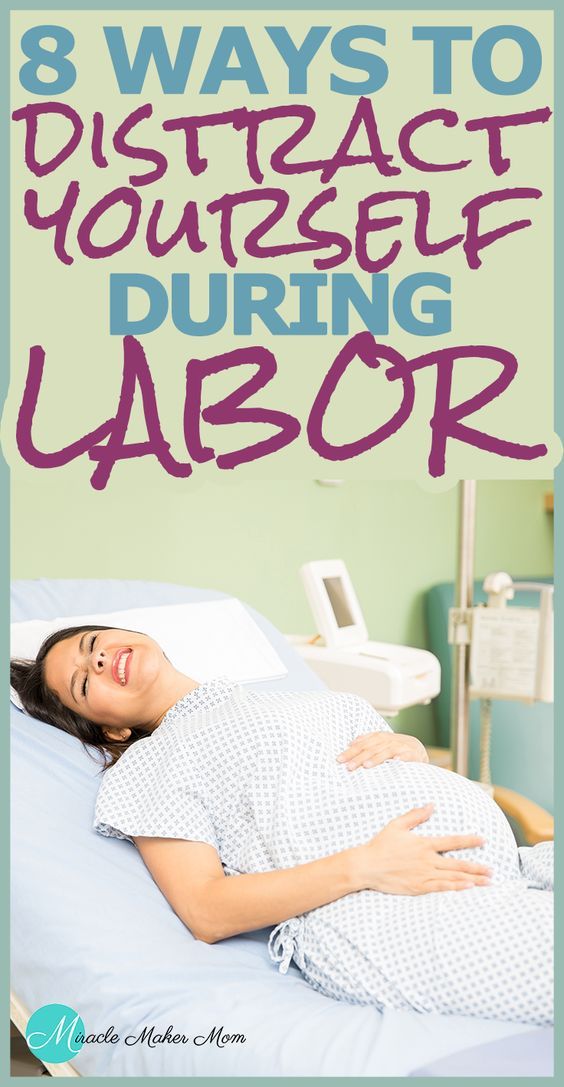 When you first feel contractions, time them. Write down how much time it takes from the start of one contraction to the start of the next. Make a note of how strong the contractions feel. Keep a record of your contractions for 1 hour. Walk or move around to see if the contractions stop when you change positions.
What is preterm labor?
Preterm labor is labor that begins too early, before 37 weeks of pregnancy. Premature babies (born before 37 weeks of pregnancy) can have health problems at birth and later in life. If you're not to 37 weeks of pregnancy and you have signs or symptoms of preterm labor, call your provider. Getting help quickly is the best thing you can do. Learn about risk factors for preterm labor and what you can do to help reduce your risk.
What are stages of labor?
Stages of labor include the whole process of labor, from your first contractions (stage 1) to pushing (stage 2) to delivery of the placenta (stage 3) after your baby is born.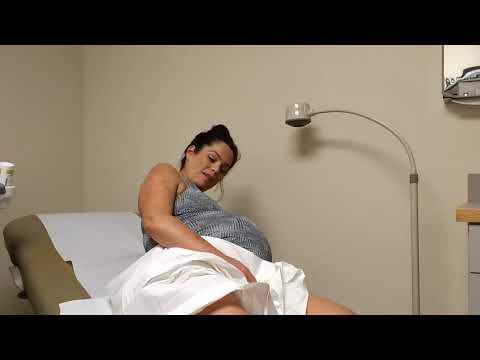 Learning about the stages of labor can help you know what to expect during labor and birth. 
Last reviewed: December, 2018
') document.write('
Nutrition, weight & fitness
') document.write('') }
') document.write('
Prenatal care
') document.write('') }
Signs, Progression & What To Expect
How does labor work?
As your pregnancy begins to wrap up, your body will prepare for labor and delivery. This is the process through which your baby will be born. Labor is often different for each person. Some have quick labors and some long, difficult labors. Other people may even experience labor that stalls or stops, leading to medical intervention.
Early labor
The average labor lasts 12 to 24 hours for a first birth and is typically shorter (eight to 10 hours) for other births.
Throughout this time, you'll experience three stages of labor. The first stage of labor is usually the longest and it ranges from when you first go into labor until your cervix is open. The beginning of this stage is called early labor. Early labor is described as dilating from 0 to 6 centimeters.
Active labor
As you progress and your contractions become stronger, you'll move into the second part of the first stage of labor called active labor. Active labor is dilating from 6 to 8 centimeters and then transitioning into the second stage as you dilate 8 to 10 centimeters. Your contractions will become even stronger during active labor and your cervix will open up quickly. The second stage of labor is when you push. This is the phase of your labor when you will actually give birth to your baby.
Afterbirth
The third stage is the point when you deliver the placenta. This is also called afterbirth.
During these stages, your body prepares for childbirth by going through dilation and effacement.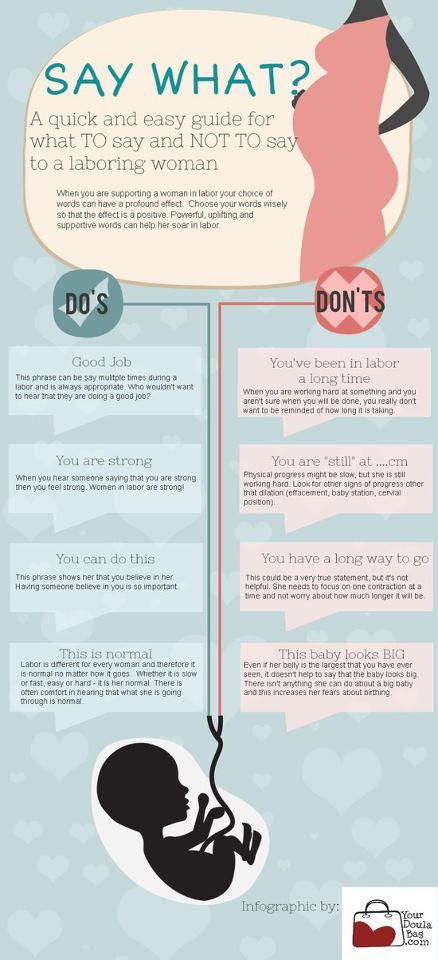 Dilation: This is a process where your cervix stretches and opens to make way for your baby's birth. Dilation is measured from 1 to 10 centimeters. Your provider will do a vaginal exam to check how dilated you are throughout your labor. You'll be 10 centimeters dilated in the second stage of labor for the delivery of your baby.
Effacement: The cervix not only stretches during labor but it also becomes thinner. The shortening and thinning of your cervix are measured in percentages. You'll progress from 0% to 100% effacement during your labor.
Think of your cervix as a round doorway that needs to stretch outward and get thinner before your baby can pass through it. This stretching and thinning are caused by contractions. Contractions can be described in a variety of ways ranging from uncomfortable, period-like cramps to a painful tightening of your abdomen. You might also feel a dull ache in your back and lower abdomen, as well as pressure in your pelvis.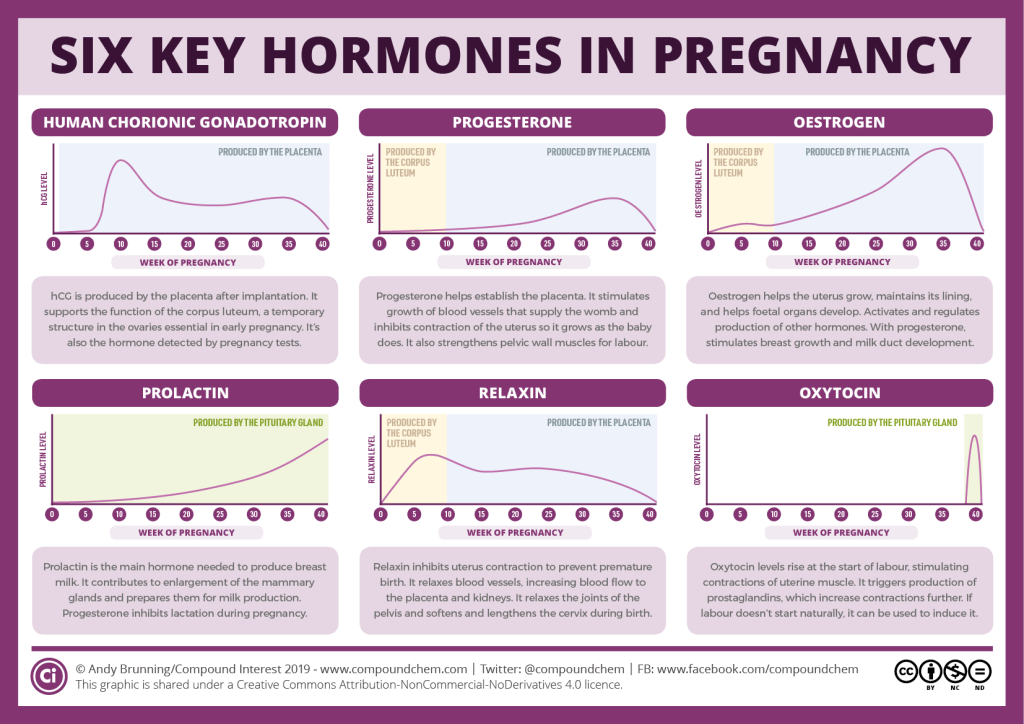 When you have a contraction, it's actually the muscles of your uterus tightening at regular intervals to dilate and efface (open and thin) your cervix. During contractions, your abdomen becomes hard. Between contractions, your uterus relaxes and your abdomen becomes soft. Even though they can be painful, each contraction helps move you forward through your labor.
How will I know I'm in labor?
It can be difficult to know when you're in true labor. First-time parents, in particular, might mistake other symptoms or irregular practice contractions (called Braxton Hicks contractions) for true labor. True labor has a pattern and progresses steadily over time.
When you're in true labor, you'll notice a pattern in your contractions. Instead of the irregular Braxton Hicks contractions you might have felt during your pregnancy that showed up and then went away randomly, these contractions will keep coming for an extended period of time. There are three things you'll want to look for when you are in true labor.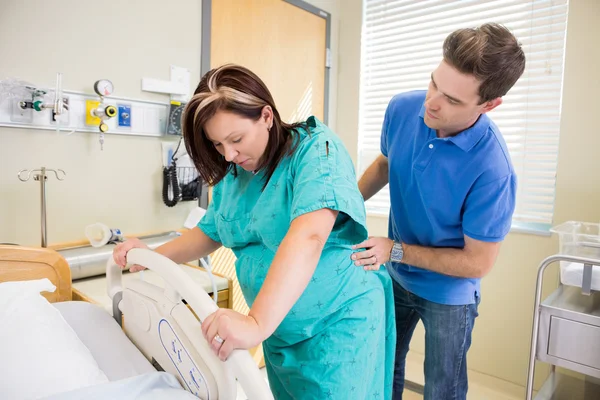 Frequency: How often are your contractions happening? Keep track of them with a journal or labor app on your phone to make sure they're coming at regular intervals.
Duration: How long are each of your contractions? As your labor continues, your contractions will last longer and longer. Use a stopwatch, watch a clock or keep the timer on your phone handy so you can record the length of each contraction.
Intensity: Are your contractions getting stronger? Contractions can get stronger and you might feel them more intensely as you move through the stages of labor. Keep track of how your contractions feel over time.
Are there any signs that I will go into labor soon?
Many women have several pre-labor signs that might hint that labor will start soon. These signs of labor include:
Backaches.
Diarrhea.
Weight loss.
Nesting (cleaning and organizing your home).
No one knows for sure what causes labor to start, but several hormonal and physical changes may point to the beginning of labor.
What are Braxton Hicks contractions?
Often called practice contractions, Braxton Hicks are irregular contractions that don't cause cervical change. Think of them as a test run for the real thing. They can start happening at the end of your pregnancy and can startle people into thinking they're in labor. This is called false labor.
A Braxton Hicks contraction will feel like a sudden, sharp tightening of your abdominal muscles. Even though this is very similar to how a contraction feels, Braxton Hicks contractions don't follow a pattern or progress over time. They may also stop when you lay down or relax. When you start to experience these practice contractions, keep track of them. Writing them down is the best way to tell the difference between true and false labor.
What is lightening?
Lightening is the process where your baby settles or lowers into your pelvis.
This can happen a few weeks or a few hours before labor. When this happens, you may experience some increased lower pelvic pressure. Because your uterus rests on your bladder more after lightening, you might also feel the need to urinate more frequently. You might notice that you're not as short of breath once your baby drops.
What's the mucus plug and what does it mean when it falls out?
During pregnancy, a thick piece of mucus called a plug blocks the cervical opening. This plug keeps your uterus closed off from the birth canal and the outside of your body and prevents bacteria from traveling into your uterus. When your cervix begins to soften, thin, and open, the mucus is expelled into your vagina. Not every mucus plug will look the same. Possible colors of the mucus plug can include:
Clear.
Pink.
Slightly bloody.
Labor could start shortly after you lose your mucus plug or it could begin several weeks later.
How do I time my contractions?
Once you're in labor, it's important to keep track of your contractions.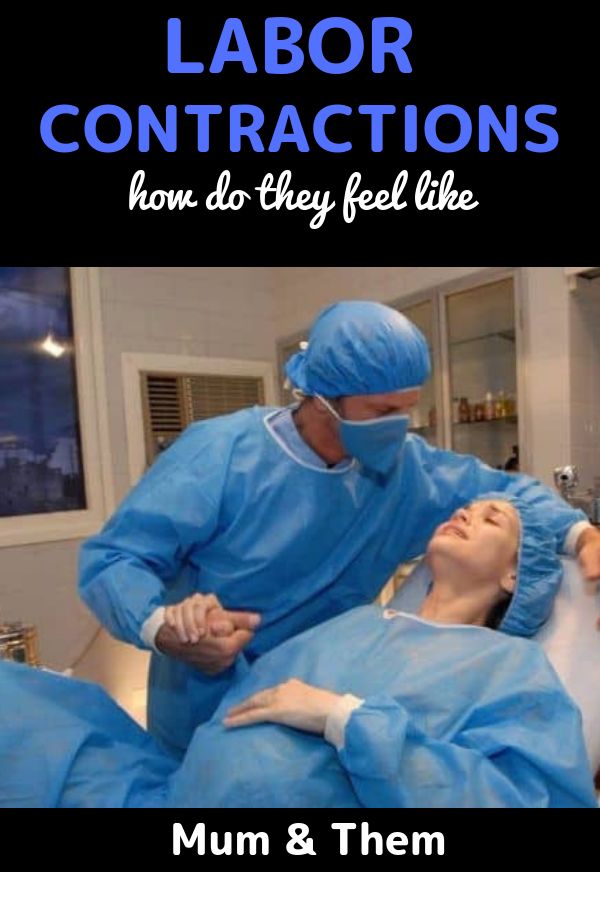 Your healthcare provider will need to know how long your contractions are lasting (duration), how often they're happening (frequency) and how intense they are. When you're timing your contractions, you will want to have a way to record each one – pen and paper or through an app on your phone – and a timer or clock. Make sure you keep track of each contraction from start to end, as well as the time between each contraction. This second measurement will help your provider know the frequency of your contractions.
It can be difficult to record the intensity of your contractions. This can really vary from person to person. Often, an easy way to keep track of the intensity of your contractions is to record when you cannot walk, talk or laugh during contractions.
Is there anything I can do to cope with contractions?
As you approach the end of your pregnancy, it's a good idea to talk to your healthcare provider about different ways to deal with pain and discomfort during labor.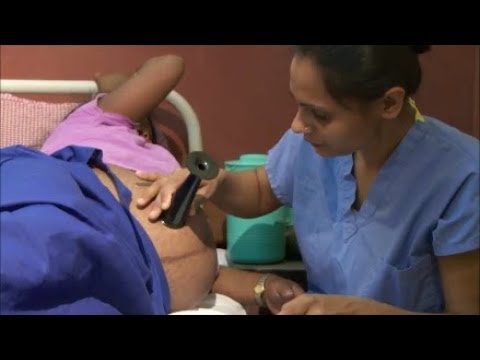 There are several options your provider will discuss with you to relieve pain.
There are also ways to deal with the discomforts of labor at home or without medication, including:
Distract yourself by taking a walk, going shopping or watching a movie.
Soak in a warm tub or take a warm shower. Make sure to ask your healthcare provider if you should take a tub bath if your bag of water has broken.
Sit on a birth ball.
Listen to music.
Dim the lights.
Use aromatherapy.
Get a massage.
Stay in an upright position. This can help with the descent and rotation of your baby.
Try to sleep if it's evening. You'll want to store up your energy before active labor and delivery.
How will I know when my water breaks?
You may be familiar with the common phrase "my water broke." This is actually the rupturing of your amniotic membrane. During pregnancy, your baby is inside a fluid-filled sac, also called your bag of water.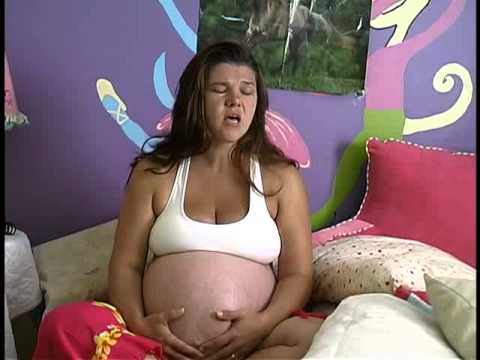 When this membrane breaks, you might feel a sudden gush or trickle of fluid. Like many parts of labor and childbirth, this experience can be different for each person. The fluid is usually odorless and may look clear or straw-colored.
Unlike urine leakage that some pregnant women experience, this won't stop. The amniotic fluid will often continue to leak.
If your water breaks, call your healthcare provider. Let your provider know what time your water broke, the amount (trickle or gush), the color of the fluid and the odor. Don't use tampons if your water has broken. Your labor might start right after your water breaks. Some women are already in labor when their water breaks while others don't experience the first stage of labor for a while after their water breaks.
When should I call my healthcare provider or go to the hospital?
If you ever have any questions, it's always a good idea to call your healthcare provider. Your provider can answer any questions you have about true labor versus false labor and discuss how you're feeling.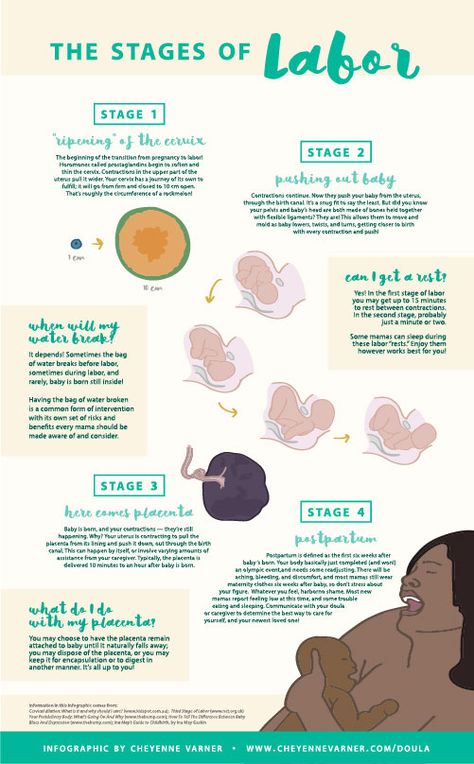 When you start to notice that you're having regular contractions, call your provider to talk about when you should go to the hospital. Some women are able to stay home throughout early labor, while others may need to come in sooner.
You should also call your healthcare provider if you:
Think your water has broken. This could be a sudden gush of fluid or a trickle of fluid that leaks steadily.
Are bleeding (more than spotting).
Experience contractions that are very uncomfortable and have been coming every five minutes, lasting for one minute and have been like this for one hour.
What happens when I get to the hospital?
When you get to the hospital, you will check in at the labor and delivery desk. Most people will be seen in a triage room first. This is part of the admission process. It's usually recommended that you only bring one person with you to the triage room.
From the triage room, you will be taken to the labor, delivery and recovery (LDR) room.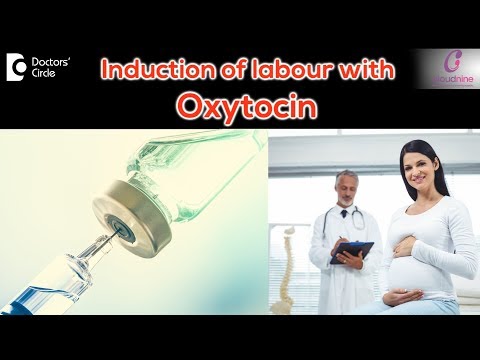 You'll be asked to wear a hospital gown. Your pulse, blood pressure and temperature will be checked. An external fetal monitor will be placed on your abdomen for a short time to check for uterine contractions and measure your baby's heart rate. Your healthcare provider will also examine your cervix to see how far labor has progressed. An intravenous (IV) line might be placed into a vein in your arm to deliver fluids and medications.
What does it mean to have labor induced?
Labor doesn't always start naturally or progress as it should. In these cases, your provider might talk to you about inducing labor. This is a medical procedure where labor is started by your healthcare provider. This could happen if you:
Are past your due date.
Have health complications like high blood pressure, preeclampsia, infection or diabetes.
Had your water break but labor didn't start.
Have low levels of amniotic fluid.
Your labor can be advanced or induced in several ways.
Your provider will advise you about the best and safest option depending on your health. Inducing labor can be done by using:
Medications (oxytocin) given through an IV (directly into your vein).
Breaking your amniotic sac (water).
Separating the amniotic membrane (the sac of fluid the baby is inside within your uterus) from your uterine wall. This is also called sweeping the membrane.
Softening your cervix and encouraging it to open with a medication that can be placed directly in your vagina.
Labor induction can take longer than spontaneous labor because the cervical ripening process takes time.
What are the different types of delivery?
There are two main types of delivery: vaginal and cesarean section (C-section). During vaginal birth, your baby will pass naturally through the birth canal. A C-section is a surgical procedure where your provider makes an incision (cut) in your abdomen and delivers the baby in an operating room.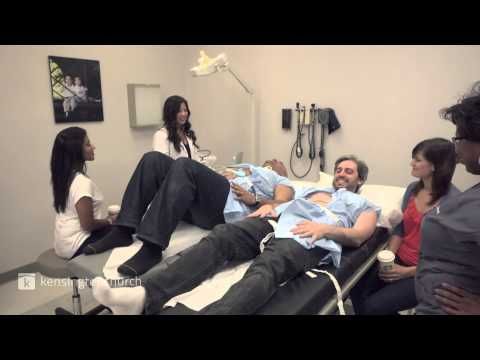 Vaginal delivery is the most common type of birth. However, sometimes you might need a C-section for a variety of reasons, including:
If your baby is not in the head-down position.
If your baby is too large to naturally pass through your pelvis.
If your baby is in distress.
If the placenta blocks your cervix (a condition called placenta previa).
If you have health issues or complications that make a C-section the safest option.
If there's an emergency situation that requires your baby to be delivered quickly.
In many cases, a cesarean delivery is not determined until after labor begins.
How long will I be in the hospital?
The length of your hospital stay can depend on the hospital where you deliver your baby and the type of delivery you have. Typically, you will stay in the hospital longer if you have a C-section delivery because it's a surgical procedure. You may also need to stay in the hospital for a longer period of time if you experience any complications or health issues during your delivery.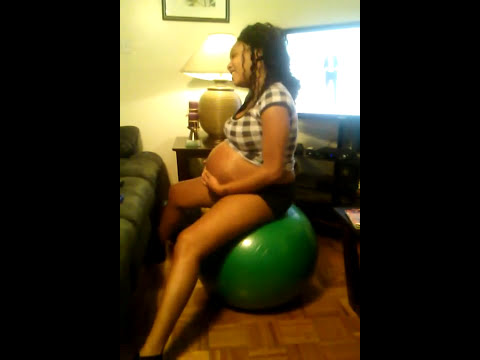 A note from Cleveland Clinic:
You're bound to a lot of feelings as you prepare to deliver your baby. It's normal to feel both excited and nervous. Discussing the signs and symptoms with your healthcare provider can help you know what to expect. Your partner and healthcare team are here to support you and will help you remain as comfortable as possible through the delivery process.
Stages of childbirth. From the first contraction to the birth of the baby
Experienced women in labor joke: "Don't worry, you won't miss the birth and you won't make a mistake!" But the young mother is still worried: what awaits her when the baby decides to be born?
First period: Labor
This is the longest period of labour. Usually at the birth of the first baby, it lasts from 7 to 12 hours.
How do you feel?
The birth process starts in different ways. Most women experience aching sensations in the lower abdomen, which gradually turn into distinct uterine contractions.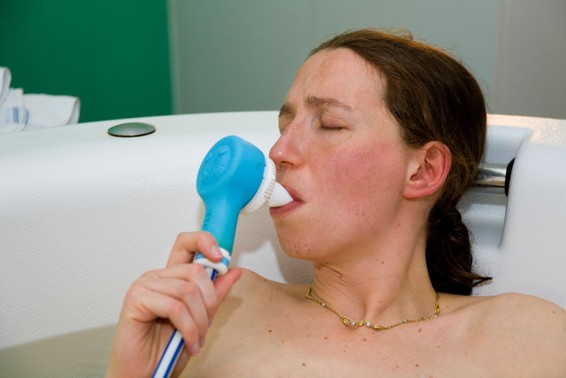 The frequency and strength of these contractions is increasing. The very first contractions take place at intervals of 10-15 minutes for 15-30 seconds and they are weakly felt, immediately before birth they last 60-90 seconds with an interval of 1-3 minutes. The main sign of the onset of childbirth, in contrast to the preparatory contractions, is the intensification of sensations during the contraction. In some women, the birth process begins with the fact that amniotic fluid is poured out, and only then contractions begin.
What's going on?
Preparing for childbirth, the cervix becomes softer. During contractions, it gradually opens up so that the baby can be born. The hormone oxytocin and prostaglandins, which are produced in response to the "Start the birth process" command, help her in this.
What is the baby doing?
Baby feels unusual discomfort. He is sensitive to the state of his mother and experiences similar feelings: if his mother is alarmed, he receives his dose of her stress hormones.
If the mother is calm, then he is easier to endure childbirth.
How to behave?
The ideal birth takes place in a state of complete rest. In order for oxytocin to do its job, a woman needs to relax and turn off her head. That is why in traditional obstetrics it is customary to exclude bright light, loud sound, extraneous interference in the course of childbirth - everything that makes a woman experience stress and emerge from her cozy little world.
Usually, at the very beginning of labor, the mother wants to lie down and fall asleep - this is a normal reaction. In the future, she may want to move or take the most unexpected position: some want to stand on all fours, others hang on the back of a chair, on a horizontal bar, or with the support of a person who helps in childbirth. Obstetricians believe that a woman should follow the dictates of her body.
How about various labor control techniques such as counting breaths? Purely individual.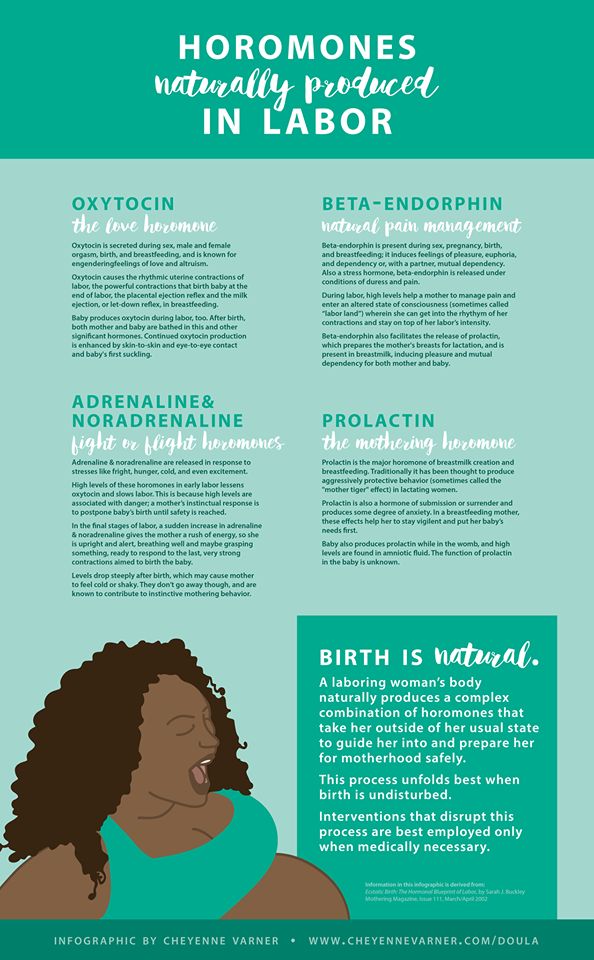 If you want to breathe according to the scheme, well, perhaps this is how it is easier for you to relax (by performing monotonous mental operations). But don't force yourself. The same applies to massage, which is taught in courses for pregnant women. Point out to your assistant in childbirth the area on the sacrum, the massage of which brings relief, tell him with what strength and intensity you need a massage. If you don't want to be touched, that's fine too.
Who will help?
An experienced midwife can provide peace and security to a woman, who will act as a buffer between the mother and the outside world, as well as calm her, instilling a sense of confidence. There are also many natural painkillers: acupressure, aromatherapy, etc. At the same time, a warm bath is an ideal and favorite method for women. In the bath, muscles relax and stress levels are reduced - this is exactly what is needed for calmness and the natural course of childbirth.
Second period.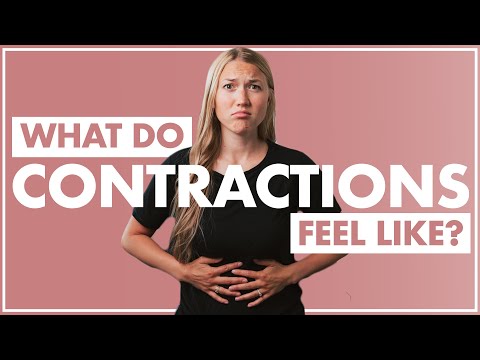 Attempts

During contractions, a woman feels detached from reality, but not so much as to "fall out of this world" completely. The closer the birth, the more detached she becomes. The duration of the push is very individual.

How do you feel?

Before that, you were lying, standing, walking, etc., but here you want to bend your legs in a fight and at the same time grab onto someone or something. A woman may want to squat down, she has a feeling that the chair is moving away. Many begin to make a rather loud, deep sound, similar to throat singing. A woman, seemingly weakened by long contractions, has a surge of strength.

What's going on?

The cervix has opened and the baby begins to move through the birth canal. At this stage, the bones of the mother's pelvis and the baby's head adjust to each other.

What is the baby doing?

The baby is not easy. Its head "squeezes" through a rather narrow passage.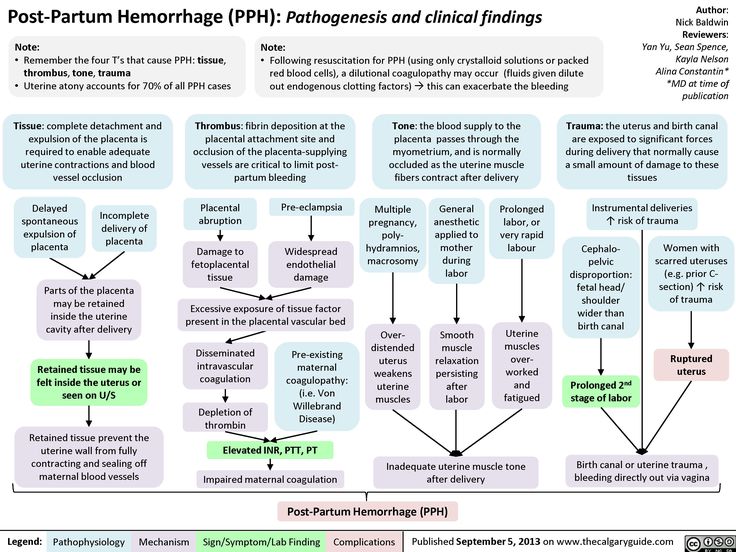 The skull of the baby is not hard, so it can change its shape for easier passage through the birth canal.
How to behave?
Listen to your body. Any painful sensation is a signal that the baby will be comfortable if you, obeying the command of the body, change position. It happens that contractions during this period fade for a while - this is not scary, so your body is preparing for the final chord.
Michel Auden writes in her book "Birth Reborn": "Many women give birth in a mechanically effective supported squatting position, as it maximizes the baby's downward pressure along the birth canal, minimizing the necessary muscle tension and oxygen consumption, provides maximum relaxation of the muscles of the perineum ... A woman can choose another position: facing him, spreading her legs wide. This position, in which the woman's legs are off the ground from time to time, is also very useful. It helps to relax the abdominal and perineal muscles, which helps the baby to descend through the birth canal.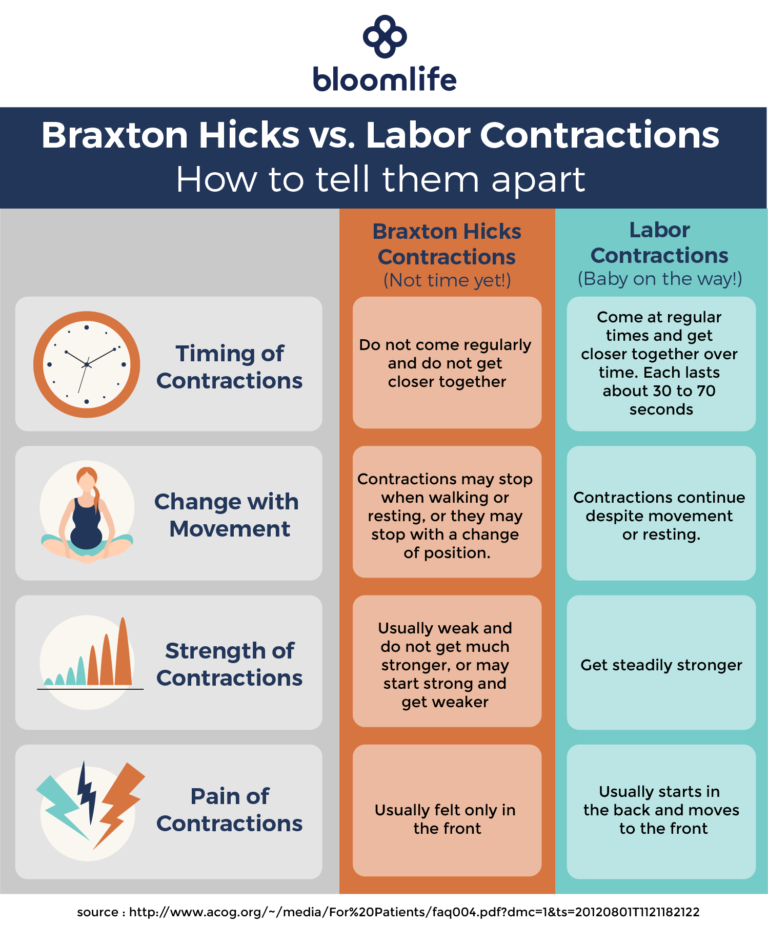 "
Who will help?
Childbirth assistant in this period supports the woman not only morally, but also physically. Even if a woman gives birth in an ordinary maternity hospital on a chair, she has a desire to try to lift the body, as if to fold in half. An assistant can support her under her back. Forcibly, on command, it is necessary to push the child out only if it is necessary to speed up the birth and the child needs help. The task of the midwife is not to demand "push!" like in a comedy series, but to give a woman an attitude like "let your child go out."
Third period: Birth
The baby is born - this is the most joyful period of childbirth.
How do you feel?
You have absolutely no control over the process. The expulsion of the fetus is a powerful reflex that is triggered as soon as the baby is ready.
What's going on?
A powerful surge of adrenaline makes the uterus literally push the baby out.
What is the baby doing?
He feels fear and discomfort. He expects the new world to meet him with love and tenderness.
How to behave?
Everything happens by itself. The main thing is not to start forcibly actively pushing the baby ahead of time. Let his head be ready to "emerge" and come out gradually. When the baby arrives, you will be overcome by a strong feeling of love. Let them put a baby on your stomach: admire it, hug it. This is how the strongest feeling of affection between mother and baby is formed.
Who will help?
The midwife will take the baby into her good hands. Agree in advance that you and the baby will not be separated if there are no fears for the health of the crumbs. Agree that the umbilical cord should not be cut immediately after the baby appears, but when it stops pulsing. Have your baby help you to breastfeed as soon as he gets a little comfortable (about 15 minutes).

The midwife will also remove the placenta - it will come off at the next special contraction. This is just a general description of how natural childbirth works. Yours may be a little different. Listen to your body and it will tell you the ideal plan for your birth.
media about INVITRO.
I confirm More
Back to list
Contractions: false or real / "Waiting for a baby"
February
Shortly before the birth, the expectant mother may be disturbed by training contractions, rhythmic contractions of the uterus, which quickly pass and appear occasionally. How to distinguish them from real contractions, and why they are needed, we will try to find out.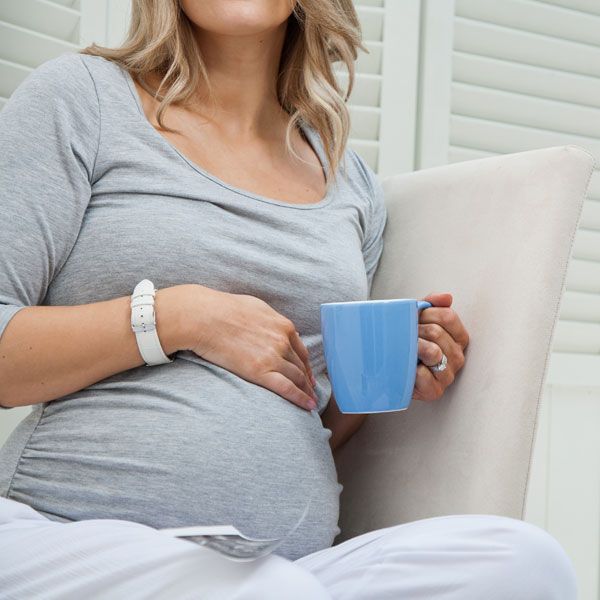 For the first time, the phenomenon of temporary contractions was described by the English doctor John Braxton Hicks. That is why they are called - Braxton Hicks contractions or false, training contractions, precursor contractions. In his scientific work of 1872, he argued that these contractions are short-term (from half a minute to 2 minutes) contractions of the muscles of the uterus, which are felt by a pregnant woman as an increase in the tone of the uterus. They appear after the 20th week of pregnancy. And during the day they happen often, but the expectant mother in the daytime may not even notice them. However, as time goes on, they intensify, becoming more and more obvious.
WHAT DO YOU NEED FALSE BROUGHT
The uterus is a muscular organ. And like any muscle that has to perform the work allotted to it in the body, it needs training. After all, if she hangs for all forty weeks like a bag, she will not cope with the load in childbirth. Thus, the purpose of training or false contractions is to prepare the uterus and cervix for childbirth.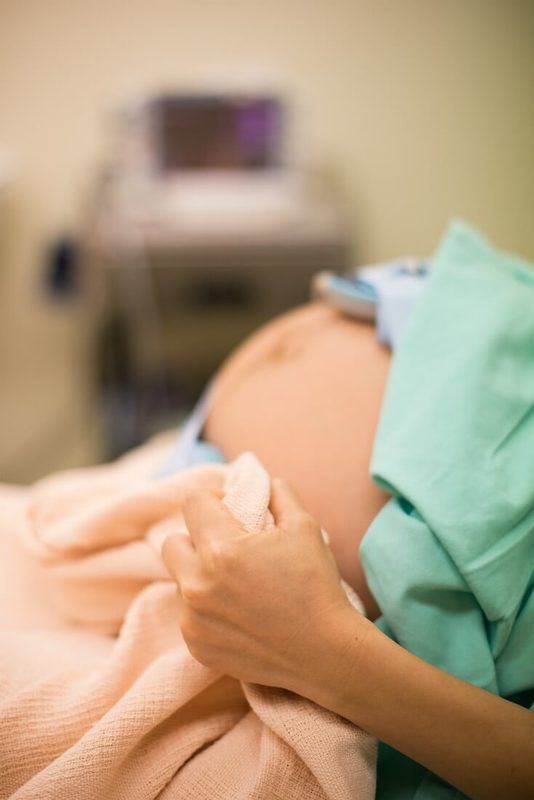 That is why one of the names of training bouts is contractions harbingers - harbingers of an approaching birth.
ARE FALSE PARTS PAINFUL?
As a rule, false contractions are painless, but with increasing duration they become more noticeable and bring more discomfort. However, in all women, they manifest themselves in different ways, someone does not feel them at all, and someone does not sleep at night, tossing and turning and trying to find a comfortable position for sleeping. It all depends on the pain threshold. The main thing in this situation is to stop being nervous about this and calm yourself with the thought that such training is necessary for the most important upcoming event - the birth of your crumbs. And to calm down a little and sleep better, ask your doctor to prescribe a sedative for you and get a special pillow for expectant and nursing mothers. With her, falling asleep and experiencing the discomfort of the last weeks of pregnancy will be much easier!
HOW TO LIVE WITH FREQUENT PARTS
Some expectant mothers complain that their Braxton Hicks contractions are frequent and cause significant discomfort, even when they are doing housework or other light physical activity.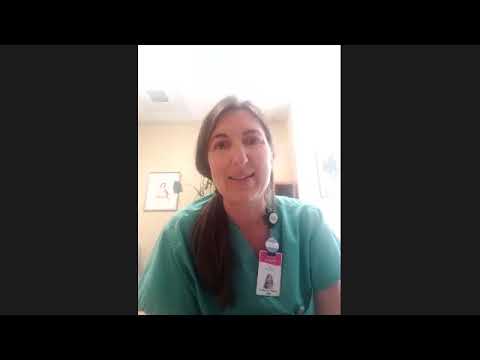 In such a situation, obstetricians are advised to lie down or vice versa, take an easy walk, in any case, change the type of activity. If training contractions bother you a lot, it is recommended to drink a glass of water, juice or herbal tea, calm down and get some rest. Ask someone close to give you a massage. Lie in silence. And to also benefit from training fights, try doing breathing exercises: practice breathing techniques in childbirth in practice.
HOW TO DIFFERENTIATE TRAINING FROM LIVING
The most important thing to understand is that real contractions are much more painful than Braxton Hicks contractions. You will understand it right away. In addition, the contractions that bring you closer to childbirth are more regular. The contractions begin in the lower back, spread to the front of the abdomen, and occur every 10 minutes (or more than 5 contractions per hour). Then they occur with an interval of about 30-70 seconds and over time the intervals between them are reduced.

Some women describe the sensations of labor pains as severe menstrual cramps, or sensations during diarrhea, when the pain rolls in waves in the abdomen. These contractions, unlike false ones, continue even after a change in position and when walking, constantly intensifying. As soon as you feel all these symptoms, call your ob-gyn - hour X has arrived. If in doubt, also do not be afraid to disturb the doctor. The doctor will ask you a few questions that will help him determine the type of contractions and eliminate all your doubts and worries. After all, it is always better to consult a doctor and trust his professional experience.
You should seek help if:
• you have more than four contractions an hour and they happen regularly
• contractions are accompanied by pain in the lower spine
• contractions are accompanied by watery or bloody vaginal discharge
• the contractions are so strong that it is very difficult for you to endure them
• there is a marked change in the child's movement, or less than 10 movements every 2 hours
• you think your waters have started to break
Alla Misyutina, Consultant Physician, Independent Laboratory INVITRO
Dear women, during labor, the body needs a lot of oxygen, so proper breathing is very important.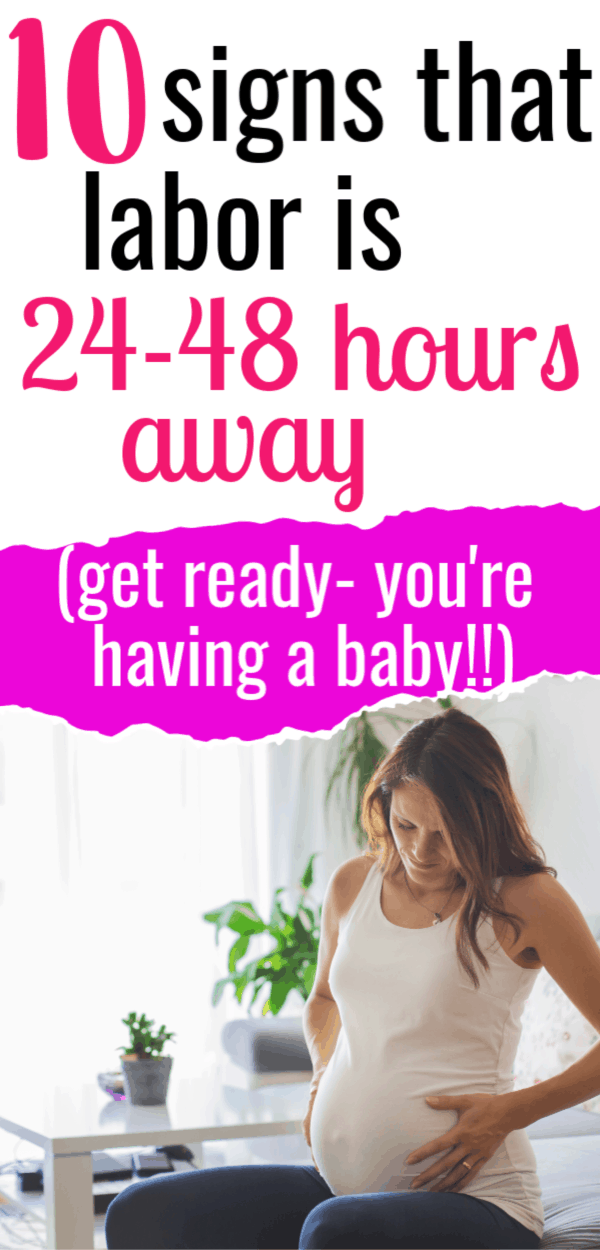 A large influx of oxygen into the blood of mother and baby alleviates the condition of the crumbs, which during childbirth experiences oxygen starvation. Special breathing techniques help to properly open the birth canal and make contractions and attempts as effective as possible.
Different types of breathing should be used at different stages of labor.
• During "false" contractions, breathing should be deep and slow. During the period when the contractions become more intense, it is necessary to use "pain-relieving breathing". This breathing is slow, deep, the inhalation is done through the nose, it should be longer than the exhalation through the mouth. More details: inhale is done at the expense of 1-2-3-4, and exhale - at the expense of 1-2-3-4-5-6. With the help of such breathing: mom relaxes, distracts from pain, focuses on the score; the baby receives as much as possible, so he needs oxygen.
• In breaks from contractions, you need to rest and breathe evenly without any effort, so that you can then easily follow the doctor's recommendations.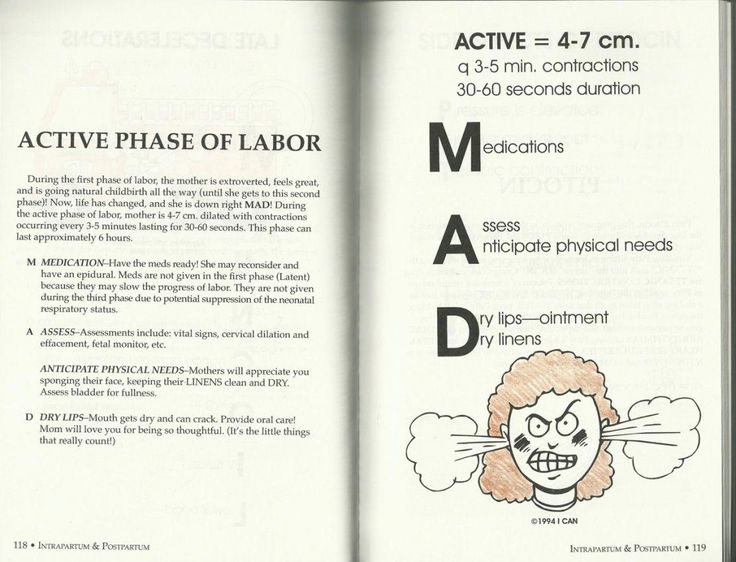 • During attempts, you need to exhale all the air from the lungs, then take a deep breath and push for up to 6-9 seconds. Quickly exhale all the air, quickly take a deep breath and again hold your breath for 6-9 seconds, and so on - about three times per attempt.
• In breaks from attempts to rest and breathe deeply, evenly and relaxed.
• It is very important to only push on the perineum and never push on the head. In this case, all efforts are wasted and will appear in the form of burst vessels in the eyes and on the face.
• In the period after the birth of the head, it is necessary to stop pushing and breathing shallowly, some call this breathing "dog-like", deep breathing can harm both mom and baby. Then everything goes on as usual, the main thing is to obey the doctor.
• After the baby was born, within half an hour the last stage of labor begins - the birth of the placenta. Special breathing is no longer required, at the doctor's command, push a little into the perineum and EVERYTHING! Dear women, pain during childbirth is good, it means that your baby will be born soon.

There is no need to resist the pain, this is a mistake that brings a woman and a child nothing but fatigue. On the contrary, it is necessary to concentrate and help in every possible way to give birth to a healthy baby.
BIRTH AGAIN
So, you have decided that this is no longer a "teaching", but the beginning of childbirth. In addition to contractions, the onset of labor can be indicated by the outflow of amniotic fluid and the passage of a mucous plug that closes the lumen of the cervix. The mucous plug can also come off 2-3 days before delivery. However, her departure does not always mean that it is time to go to the hospital. During pregnancy, the cervix is ​​tightly closed. With the onset of labor pains, its opening begins: the cervix of the uterus gradually expands to 10-12 cm in diameter (full disclosure). The birth canal is preparing to "release" the child from the womb. Intrauterine pressure increases during contractions as the uterus shrinks. And in the end, this leads to rupture of the fetal bladder and the outflow of part of the amniotic fluid.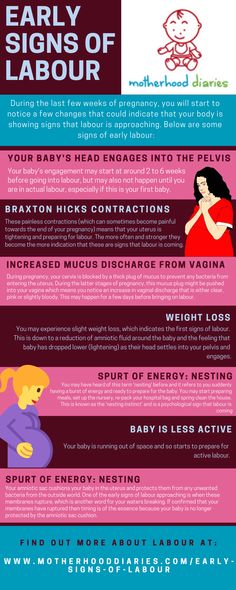 The first, preparatory, period of labor for women giving birth for the first time takes an average of 12 hours, and 2-4 hours less for those who have second births. At the beginning of the second stage of labor, contractions join the contractions - contractions of the muscles of the abdominal wall and diaphragm. In addition to the fact that different muscle groups are involved in contractions and attempts, they have one more important difference: contractions are an involuntary and uncontrollable phenomenon, neither their strength nor frequency depend on the woman in labor, while attempts to a certain extent obey her will , it can delay or strengthen them. Therefore, at this stage of childbirth, a lot depends on the expectant mother and her ability to quickly and correctly follow the commands of the obstetrician taking delivery. And most importantly - to tune in correctly and not allow panic and thoughts about something bad. Obstetricians and gynecologists recommend that mothers perceive childbirth as a holiday, a baby's birthday.