Are headaches in pregnancy normal
Pregnancy and Headaches: When Should I Worry?
Pregnancy is a beautiful thing to be celebrated, but few people fill you in on the not-so-great symptoms that may occur during the journey. Namely, heartburn, gas, constipation and, for some pregnant mamas, headaches.
While headaches can be just another normal symptom of pregnancy, should they ever be a cause for concern?
"Headaches are common in women both in and outside of pregnancy," said Kelley Saunders, MD, an OBGYN with Banner – University Medicine Women's Institute. "But whether they are normal or not should always be discussed with your doctor."
Here is some insight into what causes headaches during pregnancy, some remedies to treat them and why your doctor should be kept in the loop.
Is it a headache or something else?
It isn't always easy to tell what kind of headache you're having, but the most common types of headaches during pregnancy are tension-type headaches, migraines and cluster headaches.
Tension headaches are the most common kind of headache in pregnant women. It can feel like someone is trying to squish your head like a watermelon. If you carry your stress in your shoulders and neck, you may be more susceptible to this kind of headache.
Migraines are a particular type of headache that occur on one side of the head. For some women, migraines can get worse the first few months and then improve in later stages of pregnancy. For others, they may experience no change, decrease or difference in their migraines.
Cluster headaches are less common but can occur during pregnancy. You'll suddenly have severe pain around your eyes or temples usually about the same time every day.
The good news is that there are plenty of pregnancy-safe things you can do to prevent and relieve the most common pregnancy headaches.
Tips for relieving mild headaches
Get plenty of rest. Sleep is especially hard later in your pregnancy but is so important to physical and mental health. Find yourself a comfy prenatal pillow and snuggle away.
Drink plenty of water. Pregnant moms require more water than the average person. While you may want to avoid extra trips to the bathroom, adequate fluid intake is important for you and baby.
Eat regular, well-balanced meals. To prevent low blood sugar, eat small meals throughout the day. Avoid sugar, like soda and candy.
Get a prenatal massage. A full-body massage can release tension in the muscles of your neck, shoulders and back.
Use warm compresses on head, neck and shoulders.
Avoid triggers. Keep a journal to help identify specific triggers so you can learn what to avoid. Some common headache triggers include strong odors and nitrites or nitrates.
Try exercise and relaxation techniques. There's evidence that regular exercise can reduce stress and boost overall mood. Check with your doctor first before starting any new fitness routines.
Take acetaminophen to relieve symptoms (as approved by doctor).
Take caffeine in doses less than 200mg in a day (as approved by doctor).
If you have a history of migraines, however, your doctor may treat them differently during pregnancy. Discuss with your doctor what medications are safe to take during pregnancy.
Is my headache a cause for concern?
Sometimes. Headaches tend to be more common in the first and third trimesters, but they can occur in the second trimester as well. While there are common causes for headaches during pregnancy, it's important to note that headaches during the second and third trimester can also be due to high blood pressure, called preeclampsia.
"Preeclampsia is a pregnancy-related condition that requires prompt evaluation and management with an obstetrician or maternal fetal medicine specialist," Dr.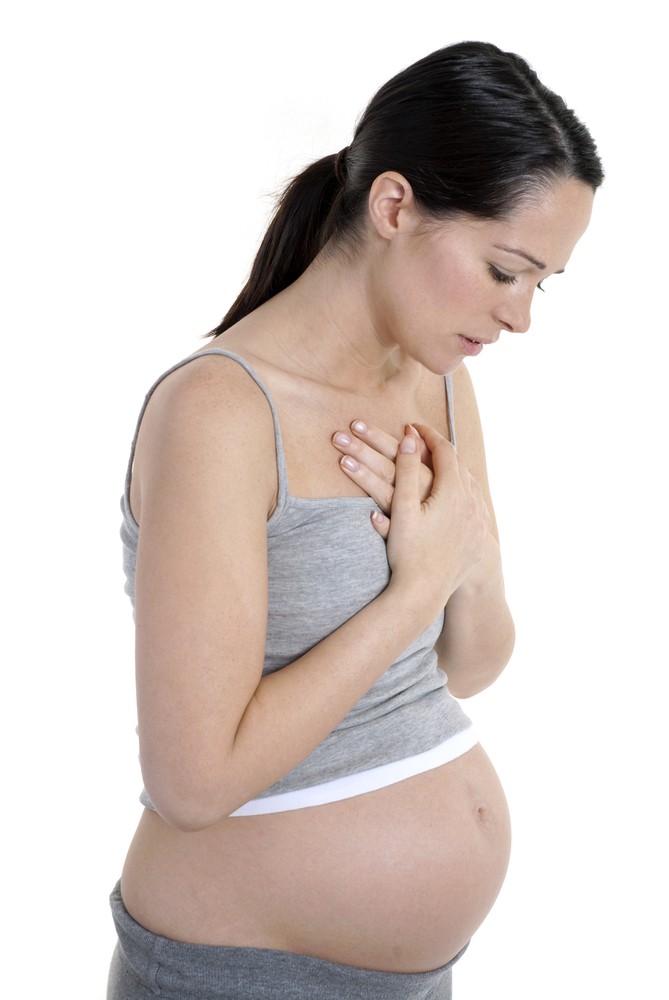 Saunders said. "Elevated blood pressure prior to pregnancy puts a woman at increased risk for preeclampsia."
When should I call my doctor?
Whether you experience headaches or not, it's always important to discuss your pre-pregnancy history, obstetrical history and concerns with your doctor for an individualized assessment and management plan. However, if none of the above treatments resolve your mild headache or your headaches become more frequent and severe, talk to your doctor to determine the cause.
"This includes new headaches that present after 20 weeks, a sudden onset of severe headaches, headaches associated with a fever, mental health changes, elevated blood pressure and vision changes," Dr. Saunders said. "It's important to keep an open line of communication with your physician and let them know about any changes in your health so they can rule out anything serious."
Got questions? We can help!
If a headache is keeping you up at night and your doctor isn't available, call the Banner Nurse Now line, a free health care service that offers advice 24-hours a day, seven days a week.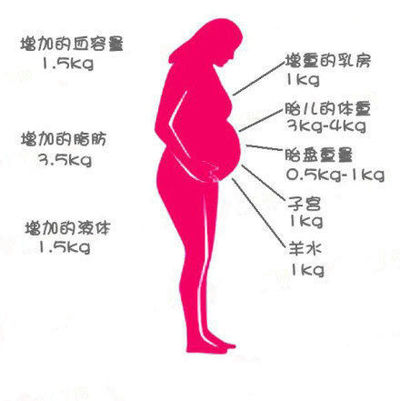 Call 844-259-9494.
Check out other pregnancy articles on our Banner Health blog
Pregnancy is an exciting, but also a bit scary time (especially if this is your first baby). Here are some other reads to help guide you through the trimesters and welcoming baby:
5 Tips for Having a Happy, Healthy Pregnancy
Expect the Unexpected: How Your Body Changes During Pregnancy
What To Expect In The Second Trimester
Understanding Pulmonary Embolism Risk During Pregnancy
Women's Health Pregnancy
Join the Conversation
What Causes Them and What You Can Do
If you're pregnant and having headaches, you're not alone. A medical review reports that 39 percent of pregnant and postpartum women have headaches.
Though during pregnancy you may have a different kind of headache than you usually do, most headaches during pregnancy aren't harmful.
Headache pain during the first trimester of pregnancy may happen for different reasons than headaches in the second or third trimester. In some cases, headache pain may be a sign of other health problems during pregnancy.
Tell your doctor about any headache you have during, before, and after pregnancy. Keep a journal to record how often you have headaches and how serious the pain is. Additionally, record any other symptoms you have.
Most headaches during pregnancy are primary headaches. This means that the headache pain happens by itself. It's not a sign or symptom of another disorder or a complication in the pregnancy. Primary headaches include:
tension headaches
migraine attacks
cluster headaches
About 26 percent of headaches during pregnancy are tension headaches. Tell your doctor if you have chronic headaches or migraine during pregnancy or if you have a history of migraine.
Some women with a history of migraine get fewer migraine attacks during pregnancy.
Migraine has also been linked to complications that happen later in pregnancy or after the birth of your baby.
Secondary headaches are a caused by a complication in the pregnancy, such as high blood pressure.
Headache pain may vary from one person to the next. You may have:
dull ache
throbbing or pulsating pain
severe pain on one or both sides
sharp pain behind one or both eyes
Migraine pain may also include:
nausea
vomiting
seeing lines or flashes of light
blind spots
First trimester
Tension headaches are common in the first trimester of your pregnancy. This may happen because your body is undergoing several changes at this time. These changes may trigger headache pain:
hormonal changes
higher blood volume
weight changes
Common causes of headache pain during the first trimester of pregnancy also include:
dehydration
nausea and vomiting
stress
lack of sleep
caffeine withdrawal
poor nutrition
low blood sugar levels
too little physical activity
sensitivity to light
changes in vision
Some foods may also cause headaches.
Your trigger foods may change during pregnancy. Common foods that may cause headaches in some people include:
dairy
chocolate
cheese
yeast
tomatoes
Second and third trimester
Headaches during your second and third trimester may have different causes. These include:
extra weight
posture
too little sleep
diet
muscle strain and tightness
high blood pressure
diabetes
High blood pressure
Headaches during your second or third trimester of pregnancy may be a sign that you have high blood pressure. About 6 to 8 percent of pregnant women ages 20 to 44 in the United States have high blood pressure.
The Centers for Disease Control and Prevention (CDC) warns that this treatable condition can cause serious complications for both mother and baby. This is most common after week 20 of pregnancy.
If you're pregnant, high blood pressure can raise the risk of:
stroke
preeclampsia
eclampsia
low oxygen flow to the baby
preterm delivery, before 37 weeks
placental abruption
low baby birth weight, which is less than 5 pounds, 8 ounces
Treatment for hypertension during pregnancy
Your doctor may prescribe medication to treat your high blood pressure.
You'll also need to cut down on salt and add more fiber to your daily diet. Regular exercise is also very important to help balance your blood pressure.
Other causes of headache during pregnancy include common infections and more serious illnesses:
sinus infection
low blood pressure
blood clots
bleeding
sickle cell anemia
brain tumor
aneurysm
stroke
heart conditions
meningitis or encephalitis
Talk to your doctor before taking your regular headache pain medication during pregnancy. Don't take aspirin and ibuprofen (Advil, Motrin etc.).
The CDC warns that these pain relief drugs can be harmful to your growing baby, especially if taken during the first trimester. Many women may take acetaminophen (Tylenol) during pregnancy. However, some studies suggest there may be effects from taking acetaminophen as well.
Your doctor can recommend alternative medications to treat headache during pregnancy and natural headache remedies, such as:
drinking plenty of water
rest
ice pack
heating pad
massage
exercise and stretching
essential oils, such as peppermint, rosemary, and chamomile
When to see your doctor

See your doctor if you have any headache pain at all during pregnancy. Get urgent medical attention if you have:

fever
nausea and vomiting
blurred vision
severe pain
headache that lasts longer than a few hours
frequent headache pain
fainting
seizure
Your doctor may recommend tests and scans to find out the cause of your headaches. These include:
checking your blood pressure
blood test
blood sugar test
vision test
ultrasound of the head and neck
heart or head scan
checking eye health with a scope
spine puncture
Headache pain during pregnancy is common. You may have tension headaches during your first trimester of pregnancy. This may happen because of the many changes that you're going through in a short period.
Headache pain may happen in the second and third period of your pregnancy for other reasons. Some causes of headaches in your mid to late pregnancy may be serious.
High blood pressure is a serious cause of headache pain during pregnancy.
You can have high blood pressure at any time in your pregnancy. You may not have any symptoms at all. Check your blood pressure at least once a day with a home monitor.
Tell your doctor if you have headaches at any time in your pregnancy. Let your doctor know right away if you have a personal or family history of migraine, high blood pressure, seizures or diabetes.
Take all medications and treatment exactly as prescribed by your doctor. Follow all diet and exercise advice carefully. See your doctor for all follow-up and regular check-ups. Most causes of headaches during pregnancy are treatable or preventable with the right care.
For more pregnancy guidance and weekly tips tailored to your due date, sign up for our I'm Expecting newsletter.
Headache during pregnancy and breastfeeding
Headache during pregnancy is quite common and is usually not a health hazard.
Noise, stress, fatigue, too little outdoor activity, lack of sleep, as well as too much sleep (especially in the second half of pregnancy), insufficient fluid intake and poor nutrition are the main culprits of pregnancy headaches.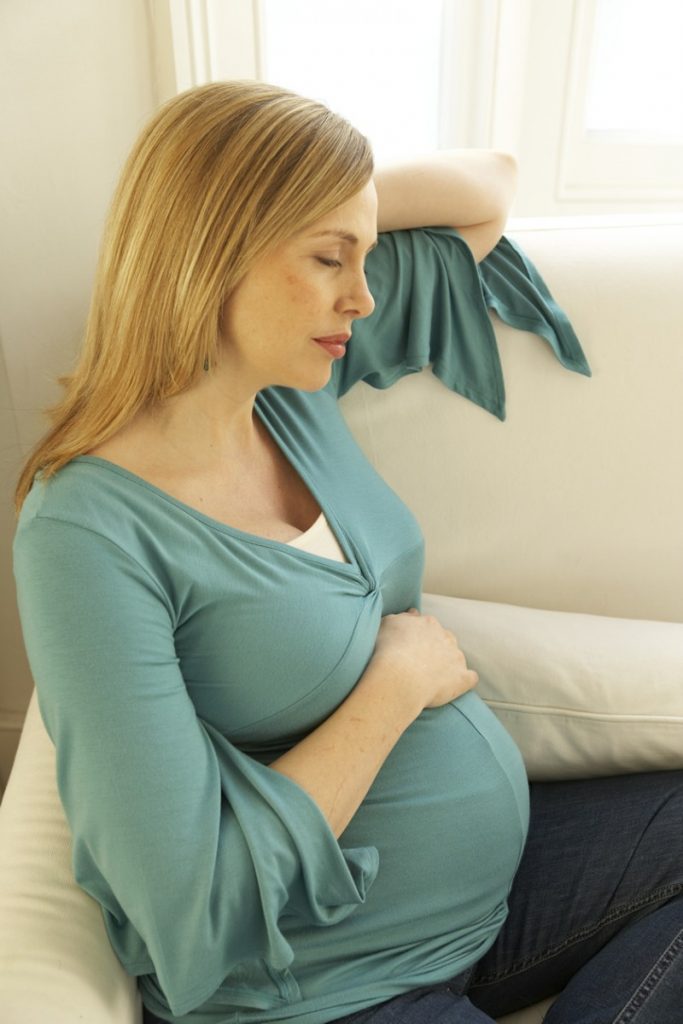 Pain that occurs in early pregnancy can be associated with hormonal changes. An increase in the synthesis of estrogen and progesterone, necessary for the development of the child, causes water retention in the tissues. Edema occurs, including in the brain tissues, where nerve receptors react with pain to an increase in pressure. Fortunately, this is not dangerous for the mother and fetus.
TREATMENT OF HEADACHE DURING PREGNANCY AND BREASTFEEDING AVAILABLE IN THE BRANCHES:
Treatment of headache during pregnancy and breastfeeding in the Primorsky district
Address: St. Petersburg , Primorsky district, st. Repishcheva, 13
Treatment of headaches during pregnancy and breastfeeding in the Petrogradsky district
Address: St. Petersburg , Petrogradsky district, st. Lenina, 5
Headache treatment during pregnancy and breastfeeding in Vsevolozhsk
Address: Vsevolozhsk , Oktyabrsky Ave, 96
Prevention of head pain during pregnancy
First of all, you need to relax.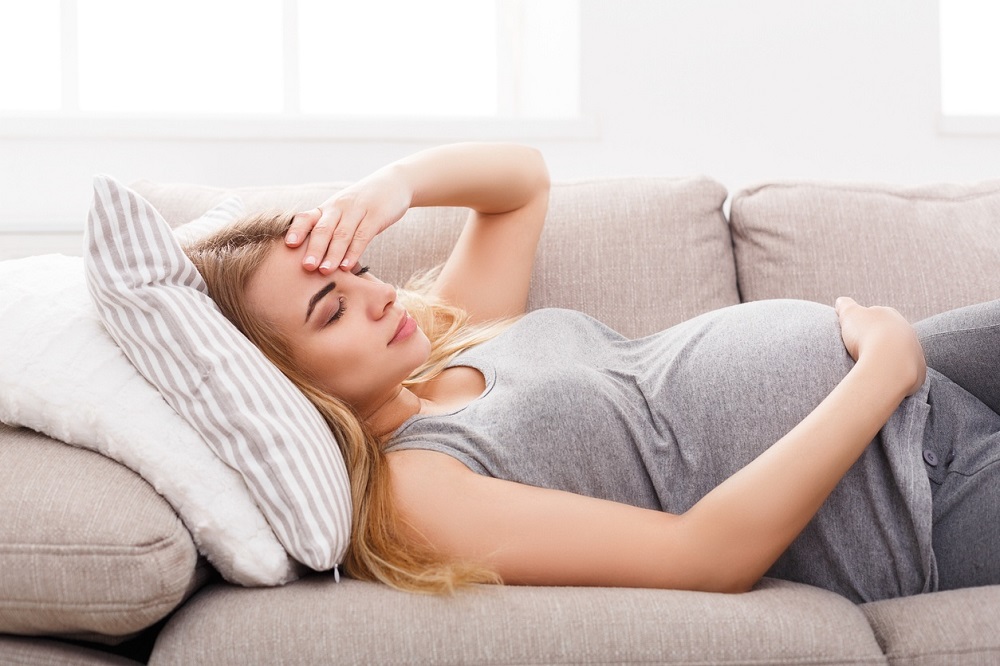 In fact, there are more important things than the mood of the boss, the colors of the wallpaper in the room, or the order in the closet. Every day you should provide yourself with 8-10 hours of sleep. It is necessary to remember about walks and regular meals, because hunger is manifested not only by sensations in the stomach, but also by a headache. Your diet should include sources of magnesium (buckwheat, flour, pumpkin seeds, cocoa, bananas), as a deficiency in this element often causes tension headaches. Such dull and not very severe pains can persist for a week.
Even slight dehydration causes similar problems, so don't forget to drink. It is worth remembering that not all drinks are equally good during pregnancy. Coffee, tea, or thick juices can cause fluid to be lost from the body or prevent it from being absorbed. The best is pure non-carbonated water with a low mineral content (up to 500 mg elements per liter), which will not overload the kidneys, which carry a double load during pregnancy.
It is necessary to remember about a comfortable bed, because the spine can also be the cause of the headache. The mattress should not be too hard, because on a hard base your bones and muscles are constantly in tension and do not rest, and not too soft, since in this case the load on the spine will be uneven.
Headache during pregnancy: when to see a doctor?
Headache may be a symptom of hypertension, which may signal serious toxicosis. With such headaches (appear, as a rule, in the morning in the occipital region and sometimes may be accompanied by ringing or noise in the ears and overexcitation), pressure should be measured regularly during pregnancy. If the norm is exceeded, you should consult a doctor.
Breastfeeding headache
The occurrence of headache during lactation and breastfeeding is often associated with chronic lack of sleep and fatigue of new mothers. It can be tension headaches and migraine pains. With the organization of your day and frequent rest, such pains go away on their own.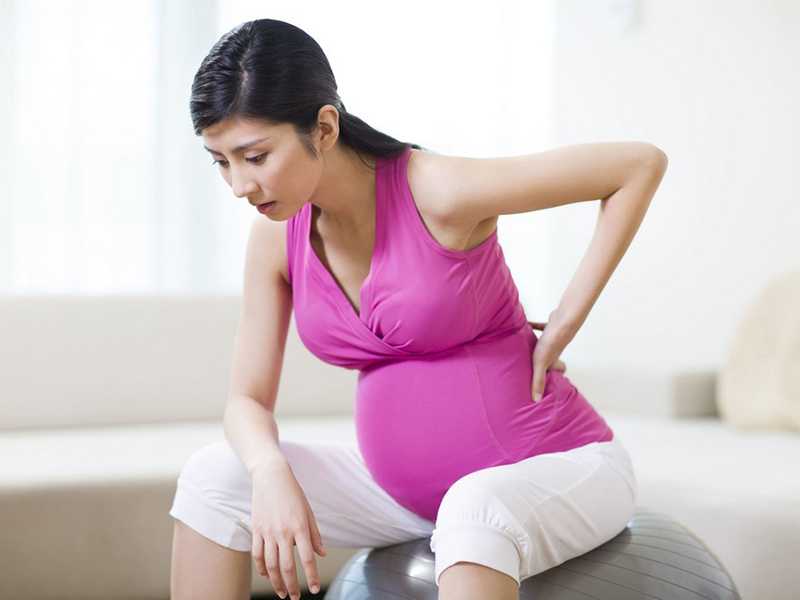 However, for more serious causes (hypertension, head injuries, infectious diseases), you should see a doctor who can examine you for other conditions such as intercostal neuralgia or sciatica.
Treatment of headache during pregnancy and breastfeeding
The intake and dosage of pain medication should be discussed with the attending gynecologist. Due to the fact that many painkillers (including analgin and aspirin) have an effect that is harmful to the unborn child (teratogenic effect), restrictions on the use of medicines are introduced during pregnancy. These restrictions remain for headaches and for the period of breastfeeding for the reason described above, since all medications pass into milk.
Paracetamol-based drugs are one of the recommended mild pain relievers.
However, we also emphasize that before treating a headache, it is necessary to identify its cause so that the headache does not turn out to be a symptom of a tumor in the brain.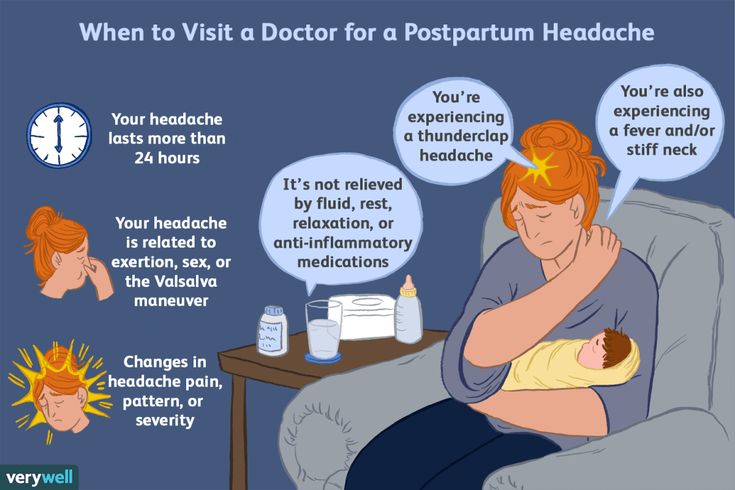 In our multidisciplinary clinic, you can undergo an examination and consult with competent doctors.
Reception by doctors:
Select branch"Dynasty" on Novocherkassky prospect, Krasnogvardeisky district"Dynasty" on Lenina, Petrogradsky district"Dynasty" on Repishcheva, Primorsky district"Dynasty" in VsevolozhskVisiting service
Child specialists
Online counseling
Volkonina Tatyana Evgenievna
Neurologist, pediatric neurologist
Gurbo Anna Gennadievna
Neurologist
Eroshina Ekaterina Sergeevna
Neurologist, epileptologist, cephalgologist, somnologist, acupuncturist, candidate of medical sciences, head of the neurological department
Irishina Yulia Anatolyevna
Neurologist, cephalgologist, parkinsonologist, candidate of medical sciences, highest category
Kolyada Alexander Alexandrovich
Neurologist, epileptologist, candidate of medical sciences, highest category
Krasnoperova Alina Viktorovna
Neurologist, cephalgologist, chiropractor
Loginova Anna Sergeevna
Neurologist, first category
Mariekha Elena Vladimirovna
Neurologist
Ponedelko Tatyana Sergeevna
Neurologist, vertebrologist, acupuncturist, first category
Ten Maya Viktorovna
Neurologist, cephalologist, doctor of functional diagnostics
Zinzerling Natalya Vsevolodovna
Neurologist, cephalologist, candidate of medical sciences
Headache treatment cost during pregnancy and breastfeeding:
Service name
Price in rubles
St. Petersburg
Vsevolozhsk
Primary appointment with a neurologist 1st stage
2100
1700
Second stage neurologist appointment
1900
1500
Primary appointment with a neurologist, level 2
2300
1900
Repeated appointment with a neurologist 2nd stage
2100
1700
Primary appointment with a neurologist Kolyad A.A.
3200
-
Repeated appointment with a neurologist Kolyad A.A.
2900
-
Primary appointment with a neurologist Yeroshina E.S./Irishina Yu.A./Tsinzerling N.V.
4000
4000
Repeated appointment with a neurologist Yeroshina E.S./Irishina Yu.A./Tsinzerling N.V.
3500
3500
Primary appointment with neurosurgeon Kholyavin A. I.
3300
-
Repeated appointment with neurosurgeon A.I. Kholyavin.
2900
-
Neurologist's report for reference
700
700
MANIPULATION
Piriformis blockade
2200
2200
Occipital nerve block
2000
2000
Blockade of the carpal tunnel
2900
2900
Blockade of sacroiliac joints
3100
3100
Suprascapular nerve block
2200
2200
Botulinum therapy
6200
6200
Infusion management of island back pain
1750
1750
Plasmolifting (1 procedure)
3300
3300
Trancranial polarization in Parkinson's disease (30 min)
1800
-
Pharmacopuncture
from 1700
from 1700
HEADACHE TREATMENT
Botulinum therapy for chronic migraine
35000 29500
35000 29500
Targeted migraine treatment (1 session)
17900
17900
BOOKING FOR PREGNANCY AND BREASTFEEDING HEADACHE TREATMENT
Surname First name Middle name*
I agree with the terms of processing
personal data
+7 (812) 407-20-75
How to deal with headaches during pregnancy.
How to deal with headaches during pregnancy.

Gimranov Rinat Fazylzhanovich
Neurologist, neurophysiologist, experience - 33 years;
Professor of Neurology, MD;
Clinic for Rehabilitation Neurology. About the author

Publication date: April 1, 2019

Updated: March 25, 2021

You probably knew about morning sickness, back pain, breast tenderness and other symptoms associated with pregnancy. But not everyone knows that a headache during pregnancy is quite common, especially if you have previously suffered from this ailment. The situation is complicated by the limitation of diagnostic methods and drugs approved for use during this period. In this article, we will look at the types of headaches, when to see a doctor about headaches during pregnancy, how to treat them, and, perhaps most importantly, how to prevent the occurrence of headaches during pregnancy.

Article content:
1 What are the causes of headaches during pregnancy?
2 Other common causes of headaches during pregnancy include:
3 Are headaches normal during pregnancy?
4 Safe cure for headaches during pregnancy.
5 When not to delay a visit to the doctor or red flags of pregnancy headaches.
What causes headaches during pregnancy?
It is primarily a migraine. What is a migraine? It is a throbbing, unilateral headache that worsens with movement, often accompanied by symptoms such as nausea, vomiting, photophobia, lacrimation, nasal congestion. The onset of a headache may be preceded by symptoms such as flickering, flashes before the eyes, numbness or tingling of the face or body, which is called an "aura".
But in women who had migraines before pregnancy, increasing estrogen levels may reduce the severity and frequency of migraines.
Another common type of headache during pregnancy is tension headache, it usually occurs after emotional experiences, after mental or physical stress, is characterized by pulling, squeezing dull pain in the temples, forehead and nape, there may be nausea, vomiting is uncharacteristic.
Other common causes of headaches during pregnancy include:
tendency to hypoglycemia (low blood sugar)
increase in the volume of blood circulation due to the appearance of the uterine-fetal-placental circle of blood circulation
stress
lack of sleep
blood pressure fluctuations
insufficient liquid
coffee refusal
vision change
Are headaches normal during pregnancy?
With so many fairly common causes, one might wonder: Are headaches normal during pregnancy? Answer: Actually no.
Headaches, no matter when they happen, are never normal. If there is a headache, then there is something that needs to be evaluated, diagnosed and treated. Talk to your healthcare provider about your headache, the doctor will evaluate the symptoms and recommend treatments. Of course, first of all it is Non-drug treatments for headaches:
apply a warm compress to the face or a cold compress to the back of the head
drink sweet strong tea
Avoid bright lights and loud noises, rest in a quiet dark room
eat often and in small portions to keep your blood sugar at the right level
take a warm shower or bath
have a good rest, sleep enough
walk daily in the fresh air
ventilate the room before going to bed
for the prevention of migraine attacks, follow a diet with a restriction of foods that can provoke an attack - these are hard cheeses, flavor enhancers, marinades, chocolate, Chinese dishes, grapes.
Other non-drug treatments for headaches during pregnancy (especially migraines) include cognitive behavioral therapy, various relaxation techniques (meditation, relaxation massage) and biofeedback - a method in which you, using special equipment, can see or hear the parameters of your organism and learn to control them. Reflexology can also be used.
Safe cure for headaches during pregnancy.
If non-drug treatments and headache prevention do not help, what can pregnant women take for headaches?
Be sure to discuss the issue of taking medications with your doctor.
The list of permitted drugs is limited , among them paracetamol can be noted, the instructions for the drug say that it does not have a negative effect on the fetus and, according to indications, can be prescribed to pregnant women. Ibuprofen, according to the official instructions, the drug is contraindicated for use in the third trimester of pregnancy. In the I and II trimesters should be taken with caution.
Rectal or soluble formulations can be used for rapid onset of effect. It is strictly forbidden to take drugs containing acetylsalicylic acid - aspirin, citramon, analgin, spazgan, baralgin, etc.
If the headache is accompanied by:
fever
impaired vision and speech
swallowing disorder
- weakness or numbness of the face or limbs
persistent increase in blood pressure
pronounced edema
These symptoms may indicate pre-eclampsia, focal lesions of the brain substance, infectious diseases and require an immediate examination by a doctor.
Was this article helpful?
You can subscribe to our newsletter and learn a lot of interesting things about the treatment of the disease, scientific achievements and innovative solutions:
Your e-mail

I agree with the privacy policy and the processing of personal data
Please leave this field empty.

We're sorry!
How can this article be improved?
Please leave this field empty.