Rash on chest back and stomach
Rash or Redness - Widespread
Is this your child's symptom?
Red or pink rash over large parts or most of the body (widespread)
Sometimes, just on hands, feet and buttocks - but same on both sides of body
Small spots, large spots or solid red skin
Causes of Widespread Rash or Redness
Viral Rash. Most rashes are part of a viral illness. Viral rashes usually have small pink spots. They occur on both sides of the chest, stomach and back. Your child may also have a fever with some diarrhea or cold symptoms. They last 2 or 3 days. More common in the summer.
Roseola. This is the most common viral rash in the first 3 years of life. (See details below).
Chickenpox. A viral rash with a distinctive pattern. (see that Care Guide)
Hand-Foot and-Mouth Disease. A viral rash with a distinctive pattern. It starts with tiny red spots and blisters on the palms and soles. (see that Care Guide)
Monkeypox. A rare viral rash that often starts on the face or genital area. It then spreads to the arms and legs. Not usually seen in children unless someone in the home has monkeypox.
Scarlet Fever. Scarlet Fever is a speckled, red rash all over. Has a sandpaper feel. Caused by the Strep bacteria. Starts on upper chest and quickly spreads to lower chest and stomach. No more serious than a Strep throat infection without a rash.
Drug Rash. Most rashes that start while taking an antibiotic are viral rashes. Only 10% turn out to be allergic drug rashes. (see details below)
Hives. Raised pink bumps with pale centers. Hives look like mosquito bites. Rashes that are bumpy and itchy are often hives. Most cases of hives are caused by a virus. Hives can also be an allergic reaction. (See that Care Guide for details)
Heat Rash. A fine pink rash caused by overheating. Mainly involves neck, chest and upper back.
Insect Bites. Insect bites cause small red bumps. Flying insects can cause many bumps on exposed skin. Non-flying insects are more likely to cause localized bumps.
Hot Tub Rash. Causes small red bumps that are painful and itchy. Mainly occurs on skin covered by a bathing suit. Rash starts 12-48 hours after being in hot tub. Caused by overgrowth of bacteria in hot tubs.
Petechiae Rash (Serious). Petechiae are purple or dark red colored tiny dots. They come from bleeding into the skin. Scattered petechiae with a fever are caused by Meningococcemia until proven otherwise. This is a life-threatening bacterial infection of the bloodstream. Peak age is 3 to 6 months old. Unlike most pink rashes, petechiae don't fade when pressed on.
Purpura Rash (Serious). Purpura means bleeding into the skin. It looks like purple or dark red larger spots. Widespread purpura is always an emergency. It can be caused by a bacterial bloodstream infection. Rocky Mountain Spotted Fever is an example.
Blister Rash (Serious). Widespread blisters on the skin are a serious sign. It can be caused by infections or drugs. Stevens Johnson Syndrome is an example.
Caution. All widespread rashes with fever need to be seen. They need to be diagnosed. Reason: some serious infections that can cause this type of rash.
Drugs and Rashes
Prescription medicines sometimes cause widespread rashes. Some are allergic, but most are not.
Non-prescription (OTC) medicines rarely cause any rashes.
Most rashes that occur while taking an OTC medicine are viral rashes.
Fever medicines (acetaminophen and ibuprofen) cause the most needless worry. Reason: most viral rashes start with a fever. Hence, the child is taking a fever medicine when the rash starts.
Drug rashes can't be diagnosed over the phone.
Roseola - A Classic Rash
Most children get Roseola between 6 months and 3 years of age.
Rash: pink, small, flat spots on the chest and stomach. Then spreads to the face.
Classic feature: 3 to 5 days of high fever without a rash or other symptoms.
The rash starts 12 to 24 hours after the fever goes away.
The rash lasts 1 to 3 days.
By the time the rash appears, the child feels fine.
Treatment: the rash is harmless. Creams or medicines are not needed.
Localized Versus Widespread Rash: How to Decide
Localized means the rash occurs on one small part of the body. Usually, the rash is just on one side of the body. An example is a rash on 1 foot. Exceptions: athlete's foot can occur on both feet. Insect bites can be scattered.
Widespread means the rash occurs on larger areas. Examples are both legs or the entire back. Widespread can also mean on most of the body surface. Widespread rashes always occur on matching (both) sides of the body. Many viral rashes are on the chest, stomach and back.
The cause of a widespread rash usually spreads through the blood stream. Examples are rashes caused by viruses, bacteria, toxins, and food or drug allergies.
The cause of a localized rash usually is just from contact with the skin. Examples are rashes caused by chemicals, allergens, insect bites, ringworm fungus, bacteria or irritants.
This is why it's important to make this distinction.
When to Call for Rash or Redness - Widespread
Call 911 Now
Purple or blood-colored spots or tiny dots with fever within the last 24 hours
Trouble breathing or swallowing
Not moving or too weak to stand
You think your child has a life-threatening emergency
Call Doctor or Seek Care Now
Bright red skin that peels off in sheets
Large blisters on skin
Bloody crusts on the lips
Taking a prescription medication within the last 3 days
Fever
Your daughter is having her period and using tampons
Your child looks or acts very sick
You think your child needs to be seen, and the problem is urgent
Contact Doctor Within 24 Hours
Widespread rash, but none of the symptoms above. Reason: all widespread rashes need to be checked by a doctor.
Seattle Children's Urgent Care Locations
If your child's illness or injury is life-threatening, call 911.
Bellevue
Everett
Federal Way
Seattle
Care Advice for Widespread Rashes
What You Should Know About Widespread Rashes:

Most rashes with small pink spots all over are part of a viral illness.
This is more likely if your child has a fever. Other symptoms (like diarrhea) also point to a viral rash.
Here is some care advice that should help until you talk with your doctor.

Non-Itchy Rash Treatment:

If you suspect a heat rash, give a cool bath.
Otherwise, no treatment is needed.

Itchy Rash Treatment:

Wash the skin once with soap to remove any irritants.
Steroid Cream. For relief of itching, use 1% hydrocortisone cream (such as Cortaid). Put it on the most itchy areas. No prescription is needed. Do this 3 times per day.
Cool Bath. For flare-ups of itching, give your child a cool bath. Do not use soap. Do this for 10 minutes. Caution: avoid any chill. Option: Can add 2 ounces (60 mL) of baking soda per tub.
Scratching. Try to keep your child from scratching. Cut the fingernails short. Reason: prevents a skin infection from bacteria.
Allergy Medicine for Itching. If itching becomes severe, give an allergy medicine, such as Benadryl. No prescription is needed. Age limit: 1 and older. If needed longer than a few days, switch to a long-acting antihistamine, such as Zyrtec. Age limit: 2 and older.

Fever Medicine:

For fevers above 102° F (39° C), give an acetaminophen product (such as Tylenol).
Another choice is an ibuprofen product (such as Advil).
Note: Fevers less than 102° F (39° C) are important for fighting infections.
For all fevers: Keep your child well hydrated. Give lots of cold fluids.

Return to School:

Most viral rashes can be spread to others (especially if a fever is present).
If your child has a fever, avoid contact with other children. Also, avoid pregnant women until a diagnosis is made.
For minor rashes, your child can return after the fever is gone.
For major rashes, your child can return to school after the rash is gone. If your doctor has given medical clearance, your child can return sooner.

What to Expect:

Most viral rashes go away within 48 hours.

Call Your Doctor If:

You think your child needs to be seen
Your child becomes worse
And remember, contact your doctor if your child develops any of the 'Call Your Doctor' symptoms.
Disclaimer: this health information is for educational purposes only. You, the reader, assume full responsibility for how you choose to use it.
Last Reviewed: 10/17/2022
Last Revised: 09/16/2022
Copyright 2000-2022. Schmitt Pediatric Guidelines LLC.
Pityriasis rosea - NHS
Pityriasis rosea is a relatively common skin condition that causes a temporary rash of raised red scaly patches on the body.
It can affect anyone, but it's more common in older children and young adults (aged 10 to 35).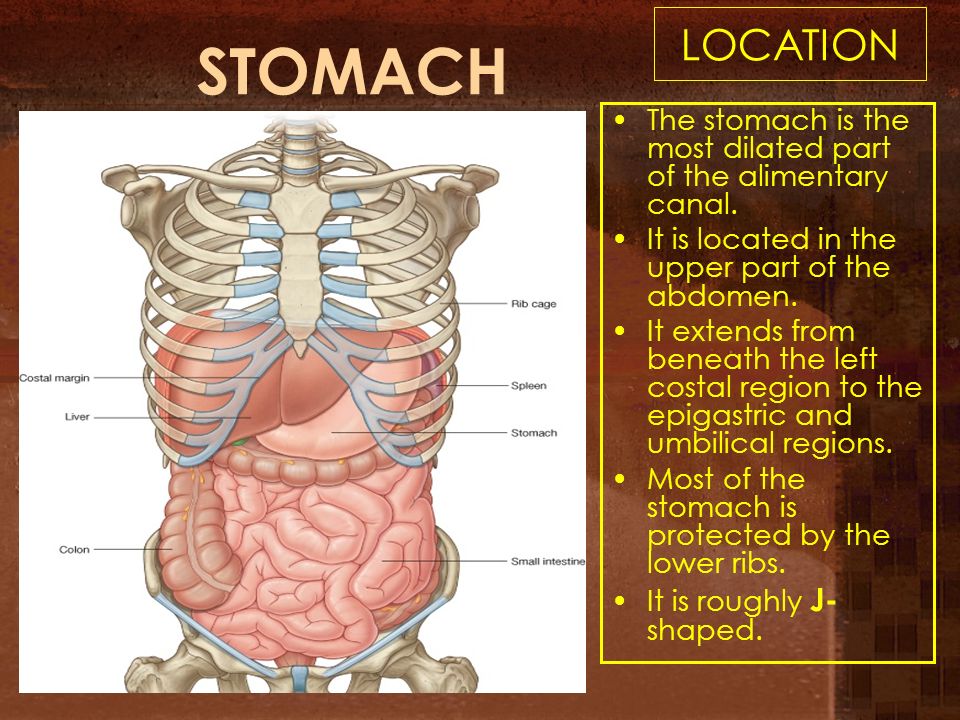 Symptoms of pityriasis rosea
Feeling unwell
Some people feel unwell for a few days before they get the rash, with symptoms such as a headache, high temperature and joint pain.
The herald patch
Credit:
DR H.C.ROBINSON / SCIENCE PHOTO LIBRARY https://www.sciencephoto.com/media/260599/view
A single pink or red oval patch of scaly skin, called the "herald patch", usually appears at least 2 days before a more widespread rash develops.
The herald patch ranges in size from 2cm to 10cm. It can appear on your tummy, chest, back or neck, and less often on your face or scalp, or near your genitals.
Widespread rash
Credit:
ISM/SCIENCE PHOTO LIBRARY https://www.
sciencephoto.com/media/694054/view
Up to 2 weeks after the herald patch appears, a more widespread rash develops, which may continue to spread over the following 2 to 6 weeks.
This rash is small, raised, scaly patches that usually range in size up to 1.5cm. Most people get many patches on their chest, back, tummy, neck, upper arms and upper thighs. The face is not usually affected.
The rash is not painful, but it can be itchy.
In light-skinned people the patches are usually a pinkish-red. In dark-skinned people the patches can sometimes be grey, dark brown or black.
Both the herald patch and rash usually last for 2 to 12 weeks, although they can last for up to 5 months.
After the rash has gone, you may have some darker or lighter areas of skin. These should return to normal within a few months and will not leave permanent scarring.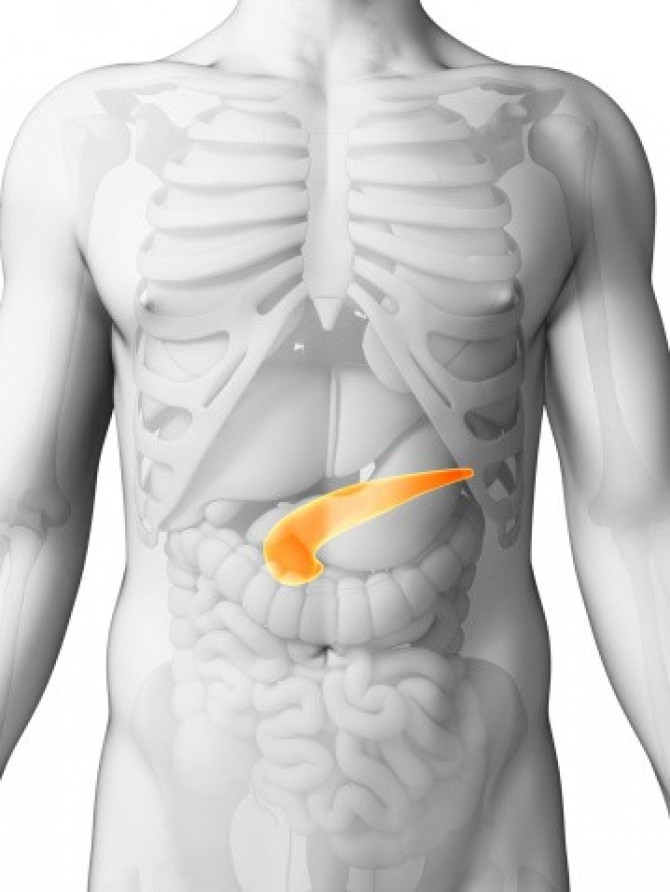 When to see a GP
See a GP if you have an unexplained rash. They'll usually be able to confirm whether it's pityriasis rosea, or another skin condition such as eczema, psoriasis or ringworm.
If the GP is uncertain, they may refer you to a skin specialist (dermatologist).
Treating pityriasis rosea
Pityriasis rosea usually gets better without treatment within 12 weeks. Treatment is not needed unless you experience discomfort and itching.
Possible treatments for pityriasis rosea include:
emollients – creams that moisturise and soothe the skin. Some emollients can be used as soap, and are often recommended, because normal soap can irritate the rash. You can buy these over the counter from most pharmacists
steroid creams or ointments – such as hydrocortisone and betamethasone cream. These are prescribed by a GP and can reduce swelling and relieve itching
antihistamines – if you're having trouble sleeping because of the itching, a GP may prescribe an antihistamine that will make you feel sleepy, such as hydroxyzine or chlorphenamine
UVB light therapy – if other treatments do not work, you may be referred for UVB light therapy
What causes pityriasis rosea?
It's not known what causes pityriasis rosea. One theory is that the rash may be caused by a viral infection.
Pityriasis rosea is not contagious and cannot be spread to other people through physical contact.
Pityriasis versicolor
Pityriasis versicolor is another common skin condition that can be confused with pityriasis rosea, as the rash may look similar.
But there are important differences between these 2 conditions. Pityriasis versicolor is caused by a yeast infection and can be treated with antifungal medicines, including antifungal creams and antifungal shampoos.
Page last reviewed: 13 March 2020
Next review due: 13 March 2023
Rash on the chest, arms, back ✅ Red rashes on the body | Online consultation
2020-05-28
Good afternoon. Please describe your problem. When did the rash appear? Perhaps you can attach a photo to the chat?
I was already at the dermatologist, and they told me that I have folliculitis, and I can smear it with mirror. A month has passed and it didn't really help, there are a small amount of rashes on the skin, mainly the chest, and a little back and back of the arms, and recently it began to appear a rash on the stomach, literally a little, but initially they were like red dots and today it has become like transparent bubbles.
Send photo now
this is a photo of the chest, approximately such a rash periodically appears
and this is what began to appear on the stomach, the first photo is what I said as a transparent bubble
and about the dryness of the skin, on the ribs, you can say that the skin is dry and flaky up to the armpits, and the same dryness on the legs
Is the rash sensitive? Itchy? Hurts?
those that, like pimples, do not hurt, occasionally itch. Mostly large inflammations (pimples) hurt, they appear but not so often. Those that have recently appeared on the stomach sometimes itch
Are the rashes scattered one by one? No grouped parcels? Do you have any manifestations of allergies?
Yes, mostly one at a time, no grouped ones.
There are no manifestations of allergies, for 2 years now I have been eating practically without junk food, I drank a course of Perfectil for 30 months, it seems like it should improve the condition of the skin, but I don't notice what. I also drank toxfighter in powder twice to cleanse the body, in general, somehow it doesn't help much.
helps*
Have you had a hormonal panel?
(Vіdpovіd prihovat)
That's right, there could be a reason. Therefore, it is necessary to pass these tests. As well as bacterial culture of a swab from the nose, throat and skin. This is necessary to exclude bacterial carriage (Staphylococcus aureus) as the cause of this disease.
The elements of the rash must be treated with a gel ... 10 days. Just don't confuse the gel.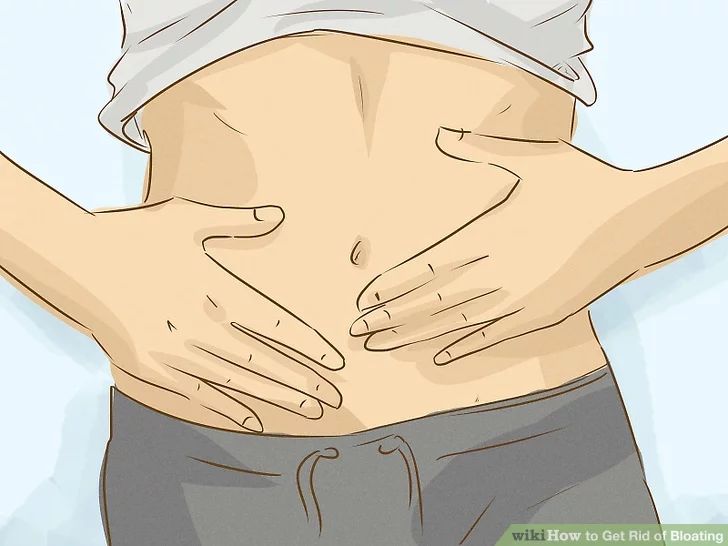 Understood you. And what can you say and advise about dry skin?
I think that dry skin can be associated with atopic skin. That is the skin that occurs in allergy sufferers. In order to keep the skin at standard humidity, you need to use emollients. There are different lines of brands of such funds. They are sold in pharmacies. Creams, lotions, bath products. They retain moisture in the skin, structuring the epidermis. Application should be daily, after showering on slightly damp skin
For example, aderma, uriage, bioderma, mustela, avene, lipikar, eucerin, etc.
(Vіdpovіd prihovat)
Exacerbations for this pathology are noted just in winter.
Risk factors (dry air from heating, woolen and synthetic clothing, additional chlorination of hot water in winter)
Okay, I understand you, thanks, I think this information is enough for me.
Then I issue an advisory opinion.
Good
Thank you for your feedback!
Start an online consultation
Rash on the chest in men and women: what could be the causes
Acute pimples on the chest and ribs, unusual rashes, may signal a current illness or allergy. Therefore, this problem cannot be simply ignored. You need to check and find the cause of the rashes. Why transparent pimples may appear on the abdomen, chest and ribs.
Possible causes of rashes on the chest and abdomen
Allergy
The reaction of the body to allergens is usually manifested by rashes, irritations on the body, and also locally sprinkles on the chest, abdomen and back.
You need to remember: have you tried something new from food, have you got a new cosmetics or a pet.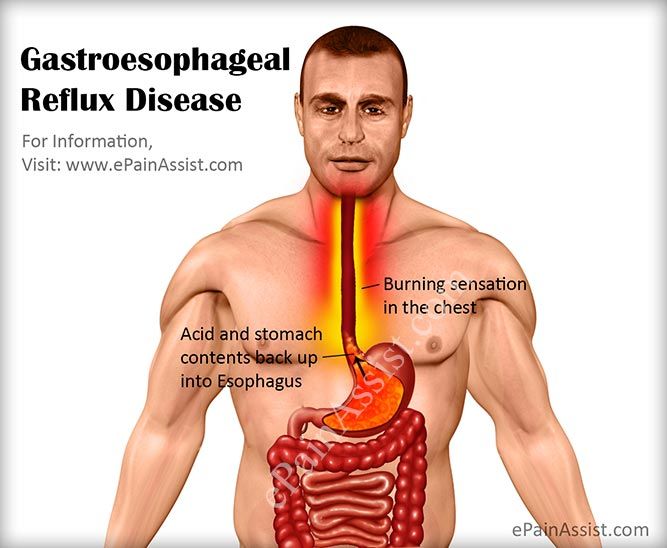 Skin diseases
exanthema - small rash, spots;
Lichen planus Violet papules with severe itching;
atopic dermatitis - local irritation, dryness of the skin or the appearance of small dots;
psoriasis 一 round-oval plaques with clear edges that itch slightly;
urticaria - blisters with severe itching;
prickly heat 一 sprinkles with small, transparent pimples and dots on the surface of the skin. Occurs in response to overheating.
Viral and infectious diseases
Rubella, shingles, chicken pox, meningitis, syphilis. In addition to the appearance of red pimples of different diameters and a small rash all over the body, some of these diseases still have symptoms such as fever, fever, feeling unwell, dizziness.
Diseases of internal organs
Hormonal disorders, kidney failure, dysbacteriosis, tumors and blood diseases.
Poor hygiene or influence of external factors
Tight clothing, accumulation of dirt, excessive sweating manifests itself in the form of a small rash and red pimples on the face, chest and back.
What to do and whether to see a doctor
Cases when you need to urgently see a doctor: in addition to pimples on the chest and rashes, you have pain, fever, feeling unwell, headache, chills.
In other cases, an examination by a doctor is also required in a planned manner.
Until you get to the doctor, a few recommendations:
eliminate possible irritating factors: synthetic clothing, tight bras for women, washing powder, cosmetics, etc.
do not scratch or scratch the rash on the abdomen;
do not self-administer ointments and sprays;
If it itches a lot, you can apply a light, fragrance-free moisturizer or take an antihistamine.
Causes of a rash in children
Naturally, only a pediatrician, dermatologist or allergist can correctly determine the cause of rash , diagnose and prescribe treatment for a child.
But parents themselves can provide initial assistance, relieve itching and help the baby, knowing the main signs and causes of the rash . At the first stage, it is important to determine the nature of the rash - infectious , allergic or none of the above.
Causes of rashes in children:
1. Newborn acne . For the first time may occur in newborns at the age of 1 - 2 months. As a rule, such rashes are hormonal in nature, are not contagious and are not allergies . A rash in the form of pimples, sometimes with a white dot in the middle, appears on the head, body of the baby. If there are no purulent compartments, then the rash goes away on its own and does not require treatment. Acne can also occur in teenagers. They most often appear on the face as black dots and are associated with hormonal changes in the body of a teenager and increased work of the sebaceous glands.
To prevent acne, there are cosmetic lotions, washing gels and other products. In case of inflammation, it is better to seek advice from a pediatric dermatologist or cosmetologist, because. antibiotic treatment may be needed;
2. Urticaria is an allergic reaction on the skin of a child, accompanied by itching and blisters on various parts of the body, in some cases fever and disturbed chair child. The blisters appear suddenly and can disappear just as quickly, but sometimes they disappear only after a few days. The causes of urticaria can be various factors: hormonal disorders, malfunctions of the liver, kidneys, consumption of foods that caused an allergic reaction (fish, eggs, citrus fruits, etc.), insect bites, reaction to sunlight, temperature changes, emotional stress etc. Urticaria may be chronic and not go away for a long time, and acute - disappearing after a few hours. For the treatment of urticaria, it is important to identify the underlying cause that caused it;
3.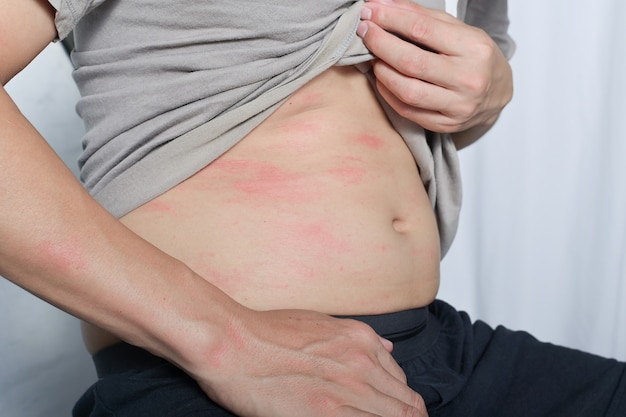 Food allergy manifests itself as spots pinkish red. It is slightly convex, edematous in places of scratching and is accompanied by itching. It is localized, as a rule, on the baby's cheeks, but can also appear on other parts of the body. It can occur in both infants and adolescents. If the baby is breastfed, then the allergy that has arisen is associated with the products consumed by the mother. If the newborn is artificially fed, then an allergic reaction may appear on the mixture. In older children, food allergies can be caused by fish, eggs, nuts, chocolate, strawberries, and other foods;
Allergy, as a rule, is accompanied by edema, which in turn, if not properly treated and provided with untimely assistance, causes suffocation . If an allergy of any nature occurs, a pediatrician's consultation is required to help in choosing the optimal mixture for the baby, or a pediatric dermatologist - allergist to refer older children to laboratory tests ;
4.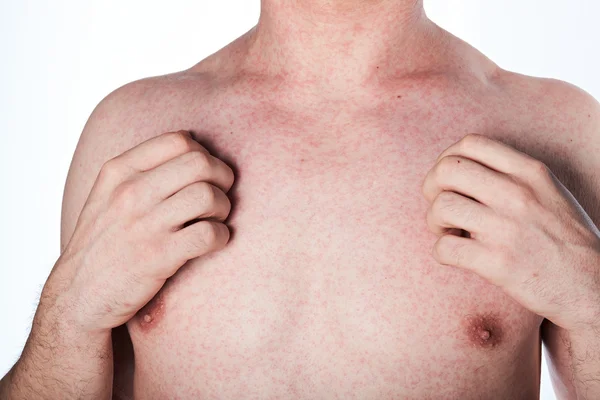 Household allergies . It can occur in both newborns and older children. It usually appears as pimples all over the body and is accompanied by lachrymation, sneezing. The causes of such a reaction of the body can be washing powder and other detergents, dust, plants, animal hair, etc. An allergic rash differs from an infectious rash in that the child does not have a temperature with it, he does not have general ailments, there is no loss of appetite, drowsiness;
5. Prickly heat . It occurs mainly in infants. It manifests itself in the form of red pimples all over the body, especially in the inguinal zone. The affected areas must be smeared with a special baby cream, air baths more often for the baby and a diaper change;
6. Roseola (erythema infectiosum) is an acute childhood viral disease affecting only children under 2 years of age. Very often, roseola is confused with SARS or rubella .
At the beginning of the illness, the baby's temperature rises sharply, which lasts 3-5 days, and after that the child becomes covered with a red-pink rash that disappears in 5-7 days. This is not a dangerous disease, it does not require treatment, and if it occurs, the child should be given only antipyretic drugs;
7. Windmill . This is a common childhood infectious disease that requires treatment. The incubation period of this disease can last from 11 to 21 days. Occurs at any age. It is accompanied by a rash on the skin and mucous membranes in the form of red spots, in the center of which blisters with a yellowish liquid are localized. Accompanied by itching. As the disease progresses, the blisters burst, crusts form, leaving scars if the child has scratched the blister and brought the infection. The disease can also cause fever and headache;
8. Measles is an acute infectious disease that is quite rare due to the use of vaccinations.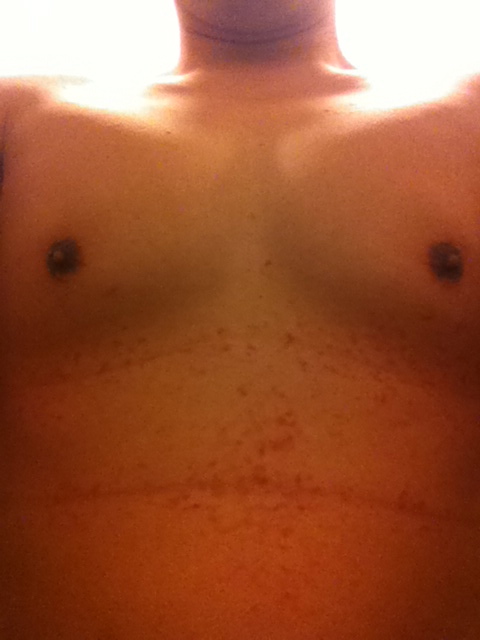 In addition, this virus is rarely activated in babies under 8 months old, because. they are protected by their mother's immunity. The disease begins with symptoms of a common cold - coughing, lacrimation, sneezing and fever up to 40 C. Then the child develops white spots on the mucous surface of the cheeks, nasal discharge, severe headache, photophobia. Then, within a few days, red spots of various shapes appear on the face, neck, near the head and further throughout the body. The disease is contagious within a week of the onset of the first symptoms. The virus is dangerous with complications such as: meningitis , pneumonia , development of deafness, brain damage and even death;
9. Scarlet fever is an acute infectious streptococcal disease. Begins with sore throat, high temperature, enlarged tonsils , in some cases with plaque. Then a small dotted rash appears on the back, chest, knees, armpits, groin and quickly spreads throughout the body and face.
Only the area around the mouth remains white. Throat and tongue become very red. By the end of the disease, peeling of the skin on the toes and hands begins;
10. Rubella is an acute infectious disease . The disease begins with a slight increase in temperature and swollen lymph nodes in the parotid and cervical region. A small rash also appears on the face and behind the ears, and then all over the body. Rubella is very dangerous for pregnant women, and complications can occur in older children and adolescents. In children, the disease proceeds in a fairly mild form;
11. Meningitis is an inflammation of the membranes of the brain and spinal cord. Rash in meningitis is not the main symptom. However, with this disease, rashes appear on the back of the throat, as well as on the hips, back, buttocks in the form of a red rash of various shapes. Symptoms of meningitis include very high fever, severe headache, vomiting, photophobia, and neck muscle tension.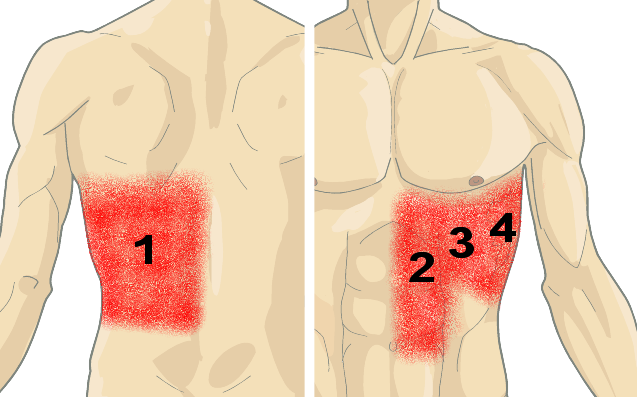 At the slightest suspicion of meningitis, parents should immediately consult a doctor. Timely help with this disease will save the child's life;
12. Streptoderma is a skin infection caused by Staphylococcus aureus. The disease affects, as a rule, the paranasal and perioral region. In the beginning, redness appears around the nose and mouth, then small bubbles with liquid. When they burst, yellow crusts remain. The disease may be accompanied by fever;
13. Herpes is an infectious disease accompanied by the appearance of blisters on the skin and mucous membranes, in children it is most often located on the lips. This disease is extremely rare in newborns, because. they are given maternal immunity. It affects children from 3 to 4 years of age. In addition to a rash, the disease may be accompanied by a sore throat, fever.
There are a lot of skin rashes and diseases in children, they can be very similar, but some are completely harmless to your child's health, while others pose a threat not only to the general condition, but also to the child's life! Do not take risks, and if you have any doubts, if any spots, rashes and other symptoms appear, contact your pediatrician, who, if necessary, will refer you and your child to a pediatric dermatologist, allergist, neurologist or other highly specialized specialist, depending on the nature of the rash and the severity of the skin disease.